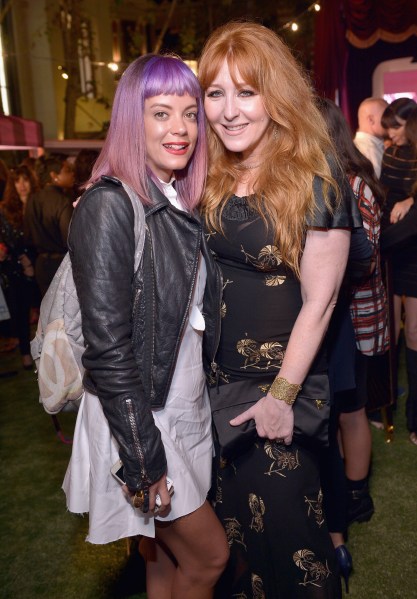 Celebrity makeup artist Charlotte Tilbury dominates the beauty game overseas and backstage at Fashion Week. She's the go-to face-painter for the likes of Kate Moss, Lily Allen and the entire Delevingne family. And this month, she's rolling out her line of products in America.
Before too long, Ms. Tilbury will surely be a household name (at least in the most fashion-conscious of households) in the U.S., too. She's been launching her eponymous makeup and beauty line at luxury department stores throughout the country to great fanfare — the launch at Bergdorf Goodman was so mobbed, this reporter couldn't cop a single champagne flute. Her most famous product is her Magic Cream, which was the stuff of backstage legend long before it became available to the public.
Next, she's launching Charlotte's Supermodel Talking Gift Box for $265, which will be available in stores in November. The box includes a small screen that shows Ms. Tilbury giving instructions for how to apply the makeup that's included — perfect for any YouTube makeup tutorial addict.
We asked Ms. Tilbury a few questions via email about the natural look, eyebrow-bleaching, and the best makeup looks for redheads.
The bare (or at least seemingly bare) face is having a moment right now. As a makeup artist, do you have any appreciation for the look or does the thought of leaving the house without mascara make you cringe?
Personally, no one has ever seen me without makeup, not even my husband! At night, I take off all my makeup and then apply a soft smoky eye – I like to call it my bedroom eyes.
You cannot create a beautiful painting without a beautiful canvas to start with. Skincare and base is key to any mesmerizing look. This is especially important for the "no-makeup" trend. Use a nourishing cream that will flood the skin with moisture — my miracle-working moisturizer Magic Cream plumps, hydrates and softens skin in seconds. Follow with Wonderglow – this is the ultimate beauty flash that has an amazing Fluorescent Core Technology to re-emit natural light through the skin for a beautiful lit-from-within effect. I call it my Gisele-in-a-Jar.
Now apply concealer to targeted areas, but feel confident to let your naturally beautiful skin shine through. If you, like me, prefer a tiny bit more coverage use my Light Wonder foundation for a truly perfected and gorgeously glowing complexion.
What about strong eyebrows? Do you think they are going anywhere anytime soon? Or will the bleached-out look, popular on runways, catch on in real life?
Bleached Brows is a difficult, high-fashion look to pull off from runway to real-way. I believe that brows are the pillars of the face, and can frame your face. By bleaching them, you therefore lose structure to your face.
Cara [Delevingne] kick-started the trend for full, handsome brows, and since then they've been everywhere. My 3-Way Shape, Lift & Shade Brow Lift Tool shapes, fills and highlights for Cara-worthy brows.
You recently made-over Kim Kardashian. Kate Moss is another famous client of yours. Do these two, who are seemingly polar opposites, have anything in common when it comes to beauty?
Kate has the perfect face for beauty – a heart-shaped face, rosebud pout and hynotizing almond-shaped eyes. She's a complete chameleon and can embody so many looks. Kim has incredible skin, killer facial framework and doll-like proportions – she loves The Dolce Vita, channeling the Mediterranean style of Penelope Cruz, Sophia Loren and Monica Bellucci.
However, all of these models and celebrities are like you and me – they wake up with the same problems, tired and dehydrated skin, etc. They just know the secrets to enhance their assets, which is what my brand is all about – decoding the artistry, I've created it so that every woman can put their best foot forward in life.
Do you have any advice for women with red hair? If a client has red hair, how does that impact that way you make her up? I once read that redheads should never wear both a bold eye and bold lip at once — is that true?
With flame-red hair you need to think about polishing the pale – I like my Retoucher pen in Fair for correcting any redness or under-eye bags. If you are blessed with a scattering of freckles, embrace sheerer coverage in your foundation. I have been known to draw on more freckles – I like them that much. To achieve the perfect red-head visage, I adore my own Light Wonder foundation – it's great for building just the right amount of coverage without caking.
Elongate your eyes into a coquettish Feline Flick with my quick fine line Shodo pen. Embrace earthy, burnished bronzed tones to enliven reddish brown eyes, and spark emerald-green eyes. Energise your eye look with Rock n' Kohl in Elizabeth Violet along the upper lash line whilst wearing the Dolce Vita look.
Redheads suit a surprising array of lip colours – pink tones, peachy-coral tones, poppy-reds, and plums are all options. My K.I.S.S.I.N.G lipstick in Penelope Pink is a pastel petal hue that works wonderfully with blushed, opalescent cheeks. Red Carpet Red is the perfect Matte red for redheads. Don't feel restricted to opaque lip colours – dab on ravishing Unleash Me Lip Lustre to create a subtle red wash on the lip. Clinique's Chubby Stick in Richer Raisin goes on as a romantic, deep, translucent berry hue.
Redhead Rules:
I. Wear black mascara – you want to frame your eyes, don't be tentative about it with brown.
II. Play with neutrals – Rock n' Kohl Verushka Mink looks sexy smudged underneath green eyes.
III. Don't be afraid of colour clashes. Purple and green glimmer gorgeously around the eyes. Have a play with the darker hues of The Rebel palette – bright greens don't always have to be an overstatement.
IV. When choosing a blush – First Love, and Ecstasy both work beautifully on redheads.
You're nothing short of a smoky-eye empress. What is your advice for achieving this look?
Blend, blend, blend! My Rock Chick Luxury Eye Palette is colour-coded, which takes the guesswork out of creating a classic, smoky eye. Use the Prime shade all over the lid, up to the brow bone and then apply the Enhance shade across the lid, like a windscreen wiper, blending back and forth. Then, using a smudger brush, work the Smoke shade on the outer V corner of the lid and into the crease. For night-time drama, apply the Pop shade with your ring finger in the centre of the lid for sexy, smoky, mesmerising eyes á la Kate Moss & Brigitte Bardot.