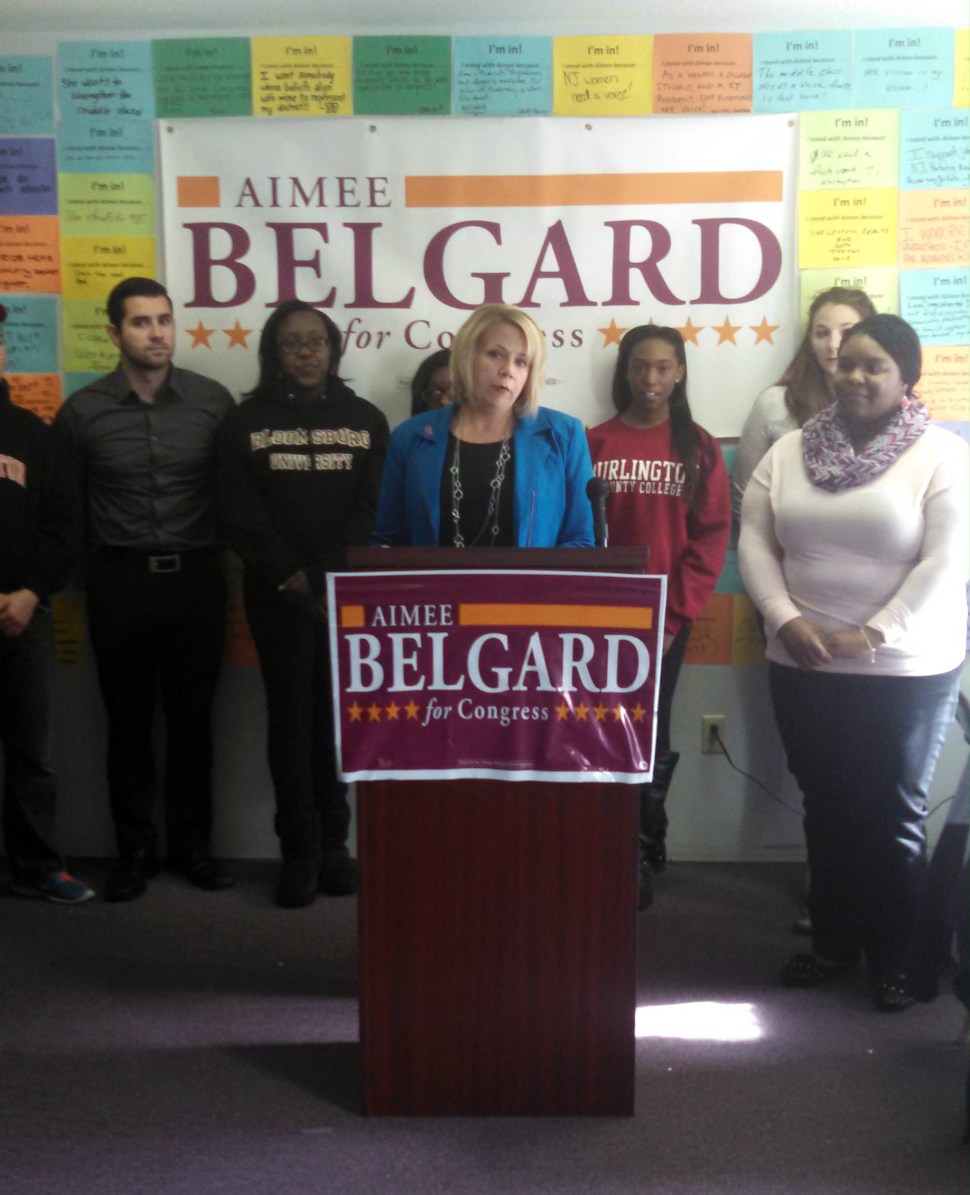 WILLINGBORO – Aimee Beglard, with just a week to go in South Jersey's third district congressional race, today ripped into her opponent Tom MacArthur with more gusto than perhaps ever before in the contest, calling the Republican an "out-of-touch, north Jersey CEO" and the "number one" self-funding congressional candidate "in the country."
Belgard, speaking to a small group of supporters at a campaign office in the Rancocas Valley Professional Arts Building about college affordability, stressed the need for increased funding for the country's Pell Grant program, which faces cuts under House Republicans' most recent congressional budget. But she was heavily critical when it came to talk of her opponent, who she said "would worsen" the problem if sent to congress next month.
"The fact is, his reality is very different than that of most Americans," Belgard said of MacArthur, a former insurance executive and mayor of Randolph. "And college affordability isn't something he needs to worry about. He's a multimillionaire, North Jersey CEO, who has poured 5 million dollars of his personal fortune into a race for congress into a district he's not even from. And when you considered how he obtained that wealth, from Russian and Chinese oil companies, disaster victims, underpaying his own workers, his reality becomes even less relatable."
MacArthur has been unclear on whether he'd support the Republicans' budget, proposed by Representative Paul Ryan of Wisconsin earlier this year, saying only that he wouldn't comment on a "hypothetical" when asked by Beglard at a debate earlier this month how he'd vote on the legislation. Among the education-related cuts included in the Ryan budget is $125 billion in reductions to the Pell Grant program over the next ten years.
Belgard said that during a recent meeting with the Asbury Park Press editorial board, the two were asked specifically about the cuts to the program, which provides need-based grants to low-income undergraduate and certain post-baccalaureate students. She said when it came to what MacArthur would do, he answered that he wasn't "familiar enough to answer that."
"How can he say he'll go to Congress and fight for the people of Burlington and Ocean Counties when he doesn't even know what those interests are?" Belgard asked today. "It would be reckless to college students and/or our future to send MacArthur to congress when he has know clue about the most basic assistance necessary to create the new generation of American opportunity."
Vying to replace outgoing U.S. Rep. Jon Runyan in CD3, Belgard and MacArthur are at the center of one of the most high-profile races in the country, with national organizations from the Democratic Congressional Campaign Committee to the American Action Network continuing to put up resources on behalf of both candidates. MacArthur himself has opened up his own personal coffers to his campaign, dumping a whopping $4 million into the race — with an additional $1 million just last week, according to the candidate's FEC filings.
Indeed, the contributions make MacArthur the top self-funding congressional candidate in the country — nearly a million dollars ahead of the next-highest spender, Curt Clawson of Florida, with $4,017,543.
"You know, Tom MacArthur doesn't even believe we need a minimum wage," she said. "The interesting thing is, if you look at the numbers, Tom MacArthur has spent 5 million dollars in this race. It would take a person working in the third district over 240 years working 50 hours a week at minimum wage level to earn what Tom MacArthur has spent in this race. This is a real crisis in the United States."Asked what she sees as the biggest issues in the race now that things have come down to the wire, Belgard reiterated her positions on securing funding for the district's Dix-MacGuire-Lakehurst Joint Base, improving the quality of healthcare, and raising the minimum wage.
Recent polling puts MacArthur 10 points ahead of the Democrat, though today she said most other polls show the two neck-and-neck and she "doesn't actually give a lot of weight" to the one that shows a closer contest.
"Most of the polling except for one poll had myself and Mr. MacArthur neck-and-neck, or maybe a little bit ahead," she said. "So that one poll I don't actually give a lot of weight to. I will say that I think it's very telling that last week, Tom MacArthur put another million dollars into this race. He is now the number one self-funder in the entire country. So he's got to be a little worried. We must be doing something right."