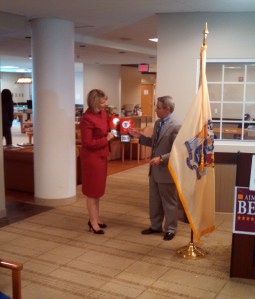 WILLINGBORO – Congressional candidate Aimee Belgard today brushed off intimations that her campaign efforts in the third district have been scorned by South Jersey's Democratic establishment, arguing that she's seen an "outpouring of support" from allies throughout Burlington and Ocean County and condemning the partisan politics that lead to questions about party allegiances.
"No, I mean the outpouring of support that I've received throughout communities in Ocean and Burlington Counties has been phenomenal, and I think it shows just from the number of people who are in this room today that people are behind me," Belgard said during a presser in the Willingboro Senior Center this afternoon, where she accepted an endorsement from the National Committee to Protect Social Security and Medicare.
Vying against Republican businessman Tom MacArthur in CD3, Belgard has held her own against the competition, raising hundreds of thousands of dollars in campaign contributions as MacArthur self-funds his own. Recent polls put the two neck-and-neck among voters in the district (though other show MacArthur holding a slight lead), and the Democrat's campaign early on caught the attention of national organizations like the Democratic Congressional Campaign Committee, which has dropped $1.3 million on negative attack ads against the Republican.
But political observers have noted that Belgard's enterprise seems to have been met with silence from democrats in South Jersey, many of whom seem to be sitting this one out or else placing their chips elsewhere. PolitickerNJ reported earlier in the race that Belgard seems to lack the same level of support the late John Adler, the last Democrat to win the third district seat, received in 2008, and the Philadelphia Inquirer noted in an article last week that South Jersey's Dems seem to be more heavily invested in the campaign of state Sen. Donald Norcross, brother of political power broker George Norcross III, in the first district — despite that race being considerably safer than Belgard's own.
Belgard today denied those perceptions — or at least brushed them off as inconsequential. Asked by PolitickerNJ if she lent any credence to the Philly.com article's crux, she said no, then pointed to her background, rattling off a list of her experiences working as a public advocate in the district, first as a volunteer with the American Cancer Society and the YMCA, then as an elected official in Edgewater Park, and now as a freeholder in Burlington County.
"People see me … as somebody who really pushes up my sleeves and wants to get things done for the people," she said. "To me, it's not about being Republican or Democrat, it's about being a voice for the people. And for me it's always about serving the people in my community here in the third district."