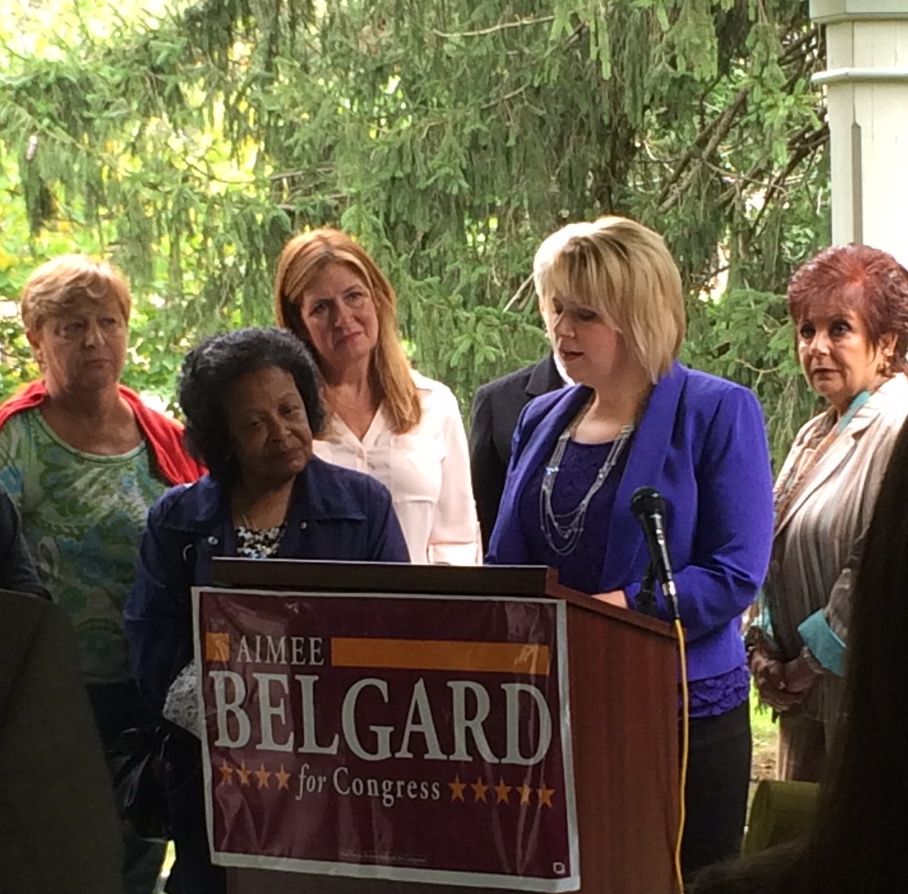 MOUNT LAUREL – On the same porch where she launched her bid for South Jersey's third congressional seat against North Jersey businessman Tom MacArthur late last year, Aimee Belgard, Democratic candidate in CD3, today launched an attack on her Republican opponent and his refusal to support equal pay for men and women in the workplace.
"Last Friday I learned some interesting things about my views on pay equity from Mr. MacArthur, when he explained that pay equity was nothing but a 'talking point' for me," Belgard said, referring to her heated debate with MacArthur last week when the two appeared on NJTV's On The Record together. "Well, I'm a woman, a mother, and an American — but how could pay equity possible mean anything to me?"
That half-hour interview, their first joint on-air appearance of the season, saw Belgard and MacArthur spar over a number of issues, from either candidates' insurance backgrounds to the latest attack ads released by both camps. But one of the most intense moments came when Belgard penalized MacArthur's position on pay equity, criticizing him for refusing to support legislation like the Paycheck Fairness Act, which would add procedural protections to the Equal Pay Act of 1963 and the Fair Labor Standards Act to ensure equal pay for women.
A former CEO and insurance executive, MacArthur defended his stance on the grounds that any new legislation might result in "unnecessary litigation" for employers and employees.
"Now I'm paraphrasing, but he basically said CEOs already go out of their way to pay women fairly. You know what his evidence was? His evidence was he gave one woman at one company a raise," Belgard said, making quick work of the conservative. "Now if this reminds you of Mitt Romney's 'binders full of women', well it sure does. Mr. MacArthur just doesn't get it, and this startling ignorance is the last thing we need in Congress."
The comments drew thunderous applause — and laughter — from the small crowd of women activists that joined her outside the Alice Paul Institute, birthplace and home of women's suffrage movement leader Alice Paul in Burlington County, where the candidate appeared today for her latest public appearance and first press avail in recent memory. She called on Congress to pass the Paycheck Fairness Act, arguing that "nothing is more fundamentally at stake [in this race] than economic opportunity."
"These are not unreasonable regulations," Belgard said, referring to the legislation, which would require employers to show that wage discrepancies are based on factors other than sex and increase transparency by allowing women to inquire about what their male counterparts are making without fear of termination. "It doesn't place an undue burden on businesses. It would simply make critical changes to a 50 year old law that has not accomplished its mission."
But Belgard's comments also seem to hint to a sudden redirection in the candidate's campaign. Criticized for hiding from press and making few public appearances in recent weeks, particularly by MacArthur's camp, Belgard was both accessible and alive today, taking questions in stride from the few reporter's who showed up with notebooks in hand to cover what many are calling most competitive congressional race in the state.
She took the high road when asked whether her campaign has been aggressive enough in painting MacArthur, a former Randolph mayor who move to the district only last year when outgoing U.S. Rep Jon Runyan announced he'd be retiring, as a carpetbagger — a criticism many think is her strongest case against him.
"My race has really been about what I stand for more so than attacking my opponent for whatever his issues may be," she said to applause. "And for me, I am from South Jersey, I love South Jersey, and that is what drives me to run. Because I see the hardworking middle class folks of South Jersey and the Jersey Shore region struggling. They need a voice. It's the people that drive me in South Jersey that push me forward and give me the energy to continue this race."
She also deflected a comment about one of the most tumultuous aspects of her campaign — its relationship to the Democratic Congressional Campaign Committee, which threw its support behind the Democrat earlier this summer and has since spent some $1.3 million in ad buys in the district smearing her opponent. Out of the three ads run so far, two have been taken down under pressure from the MacArthur campaign, which has made an easy target out of the association even as Belgard has denied any collaboration between the two.
"I am certainly not going to do anything illegal – I have worked to hard to get to where I am I this race to cross any line," she said when asked if there's been any effort to distance her campaign from the national organization and the problems its caused. "For me, it's about making sure I stay on target with my race, I'm very proud of what I've done. Even if you look around here today, the phenomenal support that I have and the people that are helping me with my race, that's what I stay focused on."
"For me, it's not about being a Republican or Democrat. It's about serving the people that you represent," she said.
Chris Russell, spokesman for the MacArthur Campaign, issued a statement in response.
"The bottom line is this: Tom MacArthur has practiced pay equality as a business leader, while Aimee Belgard just talks about it as a politician," Russell said. "Tom MacArthur started from middle-class roots, built a small business into a large company, and created and preserved thousands of good-paying American jobs for both women and men. Tom did it by treating people fairly, and promoting a culture of honesty and mutual respect that helped people build a better life for them and their families.
"On the other hand, Aimee Belgard is a career politician and trial lawyer whose empty candidacy is built on regurgitating partisan talking points that are fed to her by the same special interests and party bosses in Washington bankrolling her race," he added. "Worst of all, from her discredited personal attacks against Tom, to her repeatedly raising taxes, to her pocketing taxpayer-funded pay raises, to her laying off police officers, Aimee Belgard has demonstrated a stunning pattern of deception and dishonesty that make her a perfect fit for Washington, DC – which is exactly the reason voters shouldn't send her there."
Belgard's next debate with MacArthur will take place tomorrow with the League of Women Voters at William Allen Middle School in Moorestown at 7:30 p.m.