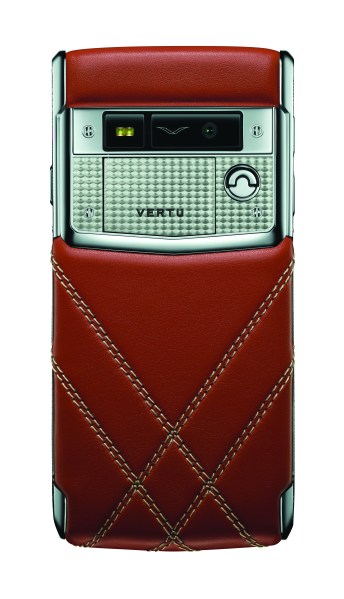 What would happen if one of the world's most fabulous cars was also a phone? O.K., perhaps a tad far-fetched. Instead, purveyor of deluxe smartphones Vertu and carmakers Bentley have partnered for fall to create a limited edition of 2000 highly wantable, grown-up phones. This is not a selfie-snapping machine, nor the device to lend your toddler for a diversionary, tabletop banging session at Sunday brunch.
Vertu manufactured the phones at their base in rural England, collaborating with Bentley on materials. "The partnership allows customers to experience the Bentley brand while out of the driving seat," said Bentley's Kevin Rose. That may be pushing it a bit but this thing definitely feels like something from the bottom of a billionaire's Christmas stocking. Bentleys are by far the most discreet luxury cars. The Continental, for instance, barely carries any signature branding at all. It just passes by on the freeway in a flash of sleek and glorious, chrome-free paintwork, begging the question, "What IS that car???" However, trad-freaks can relax. From the comfy Newmarket tan-colored leather, solid-sapphire crystal screen and chrome details, to the Bentley logo quietly positioned on the back of this phone, heritage and luxe auto-elements are hard at work here.
Tech-wise, this beast has all the bells and whistles of a top smartphone, plus Vertu's concierge service of curated experiences via "Vertu life." On purchasing a phone, clients have instant access to a global network spanning hard-to-get restaurant reservations, vacations and last-minute theatre tickets. There is even a Vertu for Bentley app with wallpapers and a 3D Bentley-inspired clock. The smartphone also boasts surround-sound stereo speakers and, Vertu claims, a professional quality camera thanks to their ongoing partnership with Hasselblad.
The first of the Vertu for Bentley models, to be proceeded by four future designs, is available in select Vertu Boutiques worldwide beginning this week, starting at $17,100.