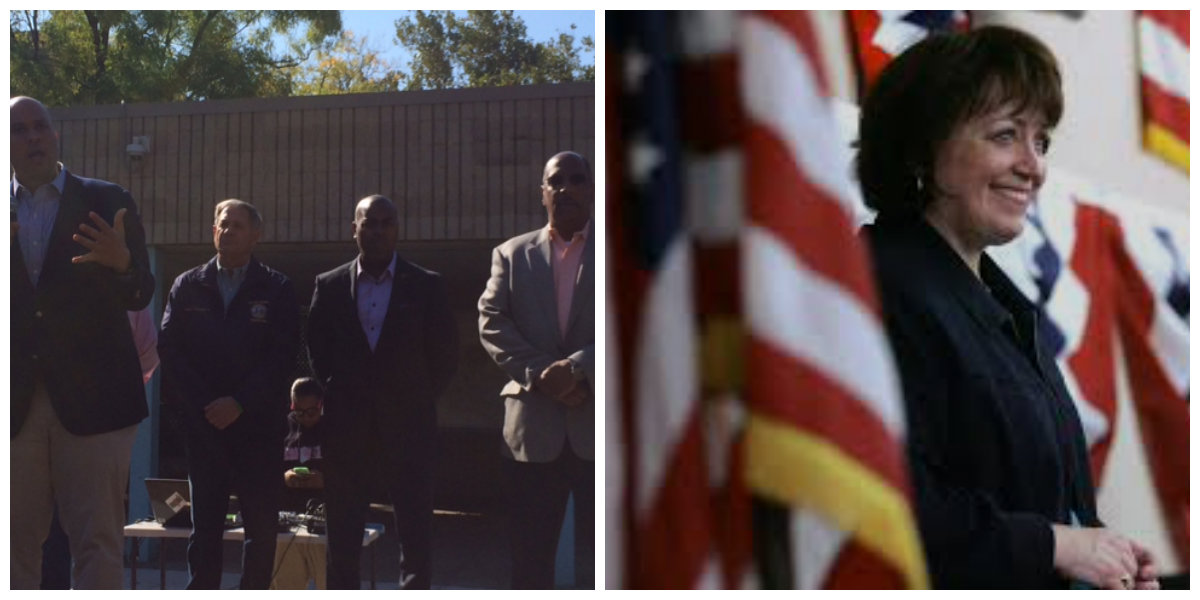 BERGEN COUNTY, N.J. – Republican incumbent Bergen County Executive Kathleen Donovan and her Democratic challenger, Freeholder Jim Tedesco, engaged their respective bases on a sunny Saturday in Bergen with 10 days left before Election Day.
Tedesco spoke to a crowd of more than 50 people at rally held by what was termed as the Bergen County African American Voters Coalition at Mackay Park in Englewood. Tedesco told PolitickerNJ why ensuring that he gets the African American vote is a key part of his plan to defeat Donovan.
"The minority vote is very important to the base of the Democratic Party, and to me personally," Tedesco said. "I've worked very hard to show my commitment to them. Education, health care – no one should be treated any differently. We're going to make Bergen a more inclusive and diverse county."
Tedesco was flanked by prominent local and statewide African American politicians, including state Assemblyman Gordon Johnson (D-37), Newark Mayor Ras Baraka and U.S. Sen. Cory Booker (D-NJ), as well as Democratic Freeholders David Ganz and Joan Voss, who are seeking reelection in November.
"We are ten days away from a very important election for this community. I'm not just talking about the Senate race. I'm really talking about all the way down the ticket. These are such important elections for everything that made Bergen County strong for me to grow up in, from our parks, our communities, our schools and our streets," said Booker, who was raised in Harrington Park and who is also seeking reelection against Republican challenger Jeff Bell. "The reason why I love the candidates who standing here with me is that they have a commitment to this community, to all of its diversity."
On the other side of the aisle, Donovan attended a series of events around Bergen, including a Halloween parade in Hasbrouck Heights and a ceremonial burning of flags hosted by veterans in Bogota. Donovan seemed satisfied by the way her reelection campaign has gone to this point.
"We're doing everything that we believe in the right thing to do. We're getting our message out to the people," Donovan told PolitickerNJ. "Every place I was today, the people encouraged me."
Donovan also feels encouraged by the support of the New Jersey Laborers Union, one of the state's most powerful unions, which also endorsed Donovan for county executive in 2010.
Tedesco has been endorsed by the Northeast Regional Council of Carpenters, another potent labor force in state politics. Yet Donovan still thinks she has enough labor support to help her get reelected.
"The Laborers were good to me four years ago," referring positively to Laborers leader Ray Pocino, who has praised Donovan's recent support for the Bergen-based American Dream Meadowlands and LG Electronics development projects. "They've been good friends ever since."