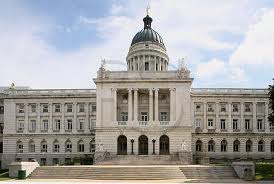 HACKENSACK – A recent Bergen County Freeholder resolution and a cease and desist notice highlight that in the final five weeks before the Bergen County Executive election, both sides of the aisle are trying to inflict as many paper cuts as possible.
At a work session on Wednesday, the Bergen Freeholder Board voted in favor of a non-binding resolution calling on Bergen County Executive Kathleen Donovan to reimburse the county of Bergen for all costs associated with the publication of the summer and fall editions of a publication known as "Bergen Blast."
The resolution refers to the state Election Law Enforcement Commission (ELEC) rule that deems certain political communications as campaign contributions if made within 90 days of an election. Copies of the fall edition of the "Bergen Blast" newsletter were distributed at the Bergen County senior picnic in Paramus last month.
County attorneys determined that the newsletter might violate the ELEC rule prohibiting such publications within 90 days of an election. Bergen County Executive Kathleen Donovan, a Republican who is running for reelection, agreed to personally reimburse the county $878 for the printing costs of the fall edition of "Bergen Blast," which focused on her in several stories.
But Wednesday's resolution demands that Donovan also reimburse the county for all of the costs associated with creating, printing, and distributing the summer edition of the newsletter.
The resolution passed by a margin of 4-0 with one abstention. Freeholders David Ganz, Joan Voss, Tracy Zur and Jim Tedesco, all Democrats, voted in favor; Democrat Freeholder Steve Tanelli and John Felice were absent, while Republican Freeholder Maura DeNicola abstained. Tedesco is the Democratic candidate running for county executive against Donovan.
"I'm wondering if the freeholders are going to reimburse for the meeting they had last night that had no agenda, was only 15 minutes, and probably had hundreds of thousands of dollars worth of salary in the room, so they can present a political resolution," replied Jeanne Baratta, Donovan's chief of staff.
A copy of a September 26 letter obtained by PolitickerNJ also indicates that Alan Marcus, a prominent consultant public relations executive, has retained counsel and implied potential future legal action regarding recent claims made against him.
"Please be advised that our firm is counsel to Alan C. Marcus, and The Marcus Group, Inc., who have retained our firm to protect against further false and defamatory statements made regarding Mr. Marcus, and his company, by the Democratic Committee of Bergen County, Inc., Bergen County Republican Organization, and Freeholders, and any false or defamatory statements made regarding Mr. Marcus and his Company by any Democratic or Republican candidates currently campaigning for office," writes attorney Joseph B. Fiorenzo of the law firm Sokol, Behot and Fiorenzo in a letter addressed to Ganz, the freeholder chairman.
The letter was also sent to Bergen Democratic Chairman Lou Stellato, Bergen Republican Chairman Bob Yudin, and all county freeholders and candidates in both parties.
Marcus, who managed Donovan's victorious campaign in 2010, is now distanced from Donovan after a series of controversies. One issue has reportedly drawn the attention of federal prosecutors, who have subpoenaed records relating to a public-relations contract that Bergen Community College officials proposed to Marcus' firm. After criticism of the deal emerged, Marcus turned down the contract.
"Mr. Marcus is unaware that of any "investigation" by the U.S. Attorney Office into any conduct he has engaged in with [Bergen Community College]'" Fiorenzo's letter continues. "By any objective measure, there simply existed no evidence that Mr. Marcus was, in any way, the subject of any investigation or scrutiny by the U.S. Attorney's Office.
"This is a private communication for you for one purpose and one purpose only. It is to inform you of the facts regarding the false and defamatory allegations that have been publicly made about Mr. Marcus and his Company, and to put you on notice that if you or anyone on your behalf participates in uttering such false and defamatory statements, you will be held accountable," added Fiorenzo as the letter concludes. "Furthermore, so there is no misunderstanding, Mr. Marcus has not been involved in any campaign since 2010, he is not involved in any campaign currently, nor does he intend to become involved in any campaigns in the future. As such, he will not allow himself or his Company to be made a campaign issue here to satisfy the personal objectives of a candidate or a political party."
Tedesco slammed the letter sent on behalf on Marcus.
"This threat of a lawsuit by Alan Marcus is a heavy handed attempt to intimidate our campaign. This is nothing more than shameful political thuggery and it will not work. It is unbelievable that a man like Marcus could become the most powerful figure in the Donovan administration," said Tedesco in a written statement on Thursday. "This speaks volumes about County Executive Donovan's poor judgment, which is also reflected in numerous other ways, such as her endless lawsuits and legal battles and her refusal to consolidate the county police and sheriff's office.
"There is no question that Marcus exercised inappropriate influence in the Donovan administration and that he has used this influence to gain wealth and power," Tedesco continued. "He was so determined to exercise complete control over the administration that he tried to have anyone who got in his way fired – even the County Executive's own Chief of Staff.
"He tried to use his political clout to land another lucrative contract with the county college – trying to collect $7,500 a month for very nebulous duties. His allies on the college board are also Donovan backers. When his contract became an immediate controversy for Donovan, he clumsily claimed he never wanted it in the first place. That is nonsense," Tedesco added. "The U.S. Attorney's Office hit the college with a subpoena that specifically named Marcus and his company. Just like you can't have an ice cream cone without ice cream, you can't have a subpoena without an investigation."
Baratta's reply to the accusations and counter-accusations centered on Marcus was brief.
"This administration has no dealings with Alan Marcus," said Baratta.