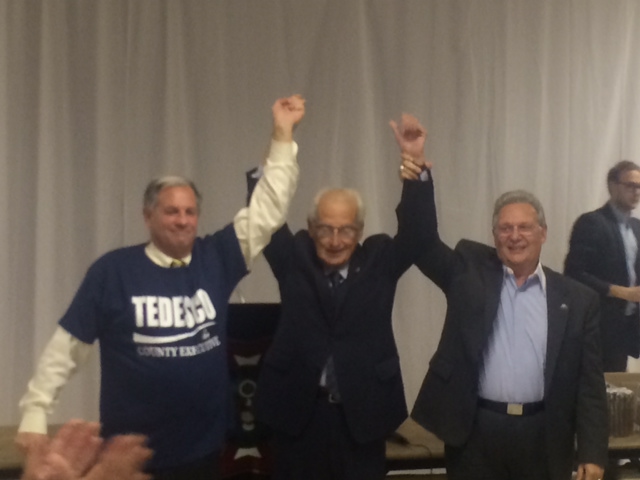 LITTLE FERRY – At a Thursday night rally in Little Ferry, Jim Tedesco, the Democratic candidate for Bergen County Executive, stood before more than 100 public safety personnel and told them precisely what he would do if elected in just five days.
"I will do three things on January 1: my children and my grandchildren will hold the Bible, and I will get sworn in. The next thing I will do is sign the contract for the Bergen County Sheriff's department," said Tedesco, noting that the law enforcement agency has not had a contract for four years. "The third thing I will do is realign the Bergen County Police Department into the Sheriff's department. I will be there for you."
Tedesco listed his own personal safety bona fides to those assembled: 38 years as a volunteer firefighter in Paramus, where he once served as mayor, a son-in-law who is a Ho-Ho-Kus police officer and a son who is a 12-year veteran of the New York City Fire Department. Tedesco then called on the crowd to use their own personal connections to help him on Election Day.
"I know a lot of you don't live in Bergen County, but you know friends, you have relatives. There are lot of people that you have connections to," Tedesco said. "It's those people that you have to make sure that you call on Monday and say go and vote on Tuesday."
The question of the proposed realignment of the Bergen County Police Department and the county's Sheriff"s Office has been one of the most contentious of the Bergen County Executive's race. Republican incumbent Kathleen Donovan has struggled with the county freeholder board, which includes Tedesco, over the issue.
Donovan is opposed to the plan, while the majority of the freeholder board, including Tedesco, now controlled by the Democrats by a 5-2 veto-proof margin, supports the move. The final decision depends on the outcome of ongoing legal battles related to the merger proposal.
One hint that points to the acrimony over the issue came from Joe Orlando, a Donovan campaign spokesman, when asked about the concerns of the sheriff's officers, who have been a visible presence and both campaign rallies and debates in support of Tedesco.
"The majority of the people attending these events are just sheriff's officers. These sheriff's officers wanted a really big raise, and Kathe Donovan wanted to give them a moderate raise," Orlando said. "That just wasn't good enough for them. There have been lawsuits because it's what [Donovan] believed was in the best interest of the public. What these sheriff's officers have done is they essentially sold their souls to a candidate who is willing to pander to them in any way possible to get their support, rather than do what's best for Bergen County."
Tedesco fired back at the Donovan camp, stating that he has support from multiple local and regional law enforcement and public safety agencies.
"It's about a brotherhood. It's about having a connection to these people. It's about risking their lives here in Bergen County every day," Tedesco told PolitickerNJ. "Money is an issue, but that's not why these people are here tonight. They know I'm going to support them, not just one organization, and they're going to support me."
Part of the support shown for Tedesco included the presence of notable local Democrats, including U.S. Rep. Bill Pascrell (D-9), state Sen. Paul Sarlo (D-36) and Bergen Democratic Chairman Lou Stellato.
Stellato referred to what he does with much of his time when not politicking to set the tone for the campaign's final days in Bergen.
"The opposition has got to understand something," Stellato said, standing before a table laden with cigars for distribution at the Little Ferry VFW Post 809. "I'm an undertaker by trade, so when I bury somebody, they don't come back."