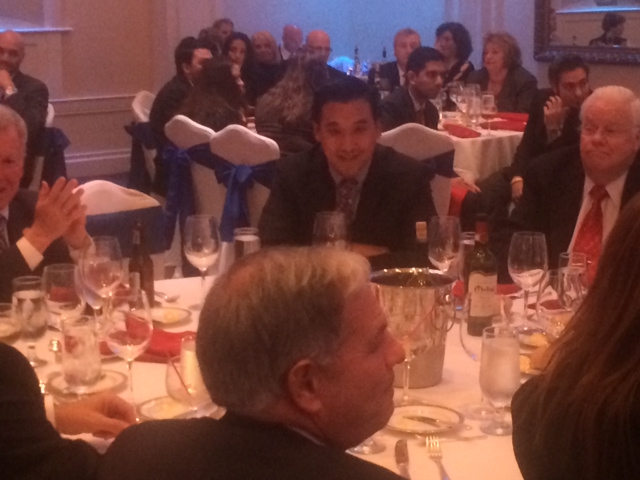 CARLSTADT – As planes few in overheard to nearby Teterboro Airport on Thursday night, the Bergen Democrats streamed in to their annual Hall of Fame Dinner at the Il Villaggio restaurant in Carlstadt. Besides saluting this year's honorees, they came en masse to support the Democratic standard-bearers in the two biggest Bergen County races, to be decided in 12 days: Freeholder Jim Tedesco in the Bergen County Executive's race, and Roy Cho in the Fifth Congressional District contest.
"Hudson, Bergen, Passaic and Essex now are a power train," said state Assembly Speaker Vincent Prieto (D-32) to the more than 300 people present before handing the microphone back to Bergen Democratic Chairman Lou Stellato. "Bergen County is the way to our next executive in the State House."
Bergen may be the bellwether in statewide elections, but it is now the focus of two more localized elections: Tedesco's fight against Republican incumbent Kathleen Donovan, and Cho's battle against GOP incumbent U.S. Rep. Scott Garrett.
"The Fifth Congressional District is right within our grasp," said Cho, alluding to the tightening CD 5 race, while Tedesco, who did not speak, looked on. "Jim Tedesco is running an amazing race for County Executive. I'm proud to have the support of the Bergen Democratic Party."
U.S. Rep. Bill Pascrell (D-9), whose Ninth Congressional District includes parts of Bergen, Hudson and Passaic counties, attacked Garrett's record.
"Roy has done such a fantastic job in a short period of time with that bozo he's running against," Pascrell said before he went on to praise Tedesco's record as freeholder and in his former job as Paramus' mayor. "As [New Jersey's] twelve Congressmen, we try to reconcile our differences. But Roy's opponent does not get it. He gave us a hard time on [federal aid after Hurricane] Sandy. He voted against transportation funds for this state, and every other state in the union. Even the Republicans don't like the way he votes, those that have half a brain. These are tough times. We need to reconcile and come together on the issues to help out our state."
In light of the recent decision by the House Majority PAC to move its advertising buy from New Jersey's competitive Third Congressional District race to the relatively safer contest in the First Congressional District, a financial decision announced by state Senate Majority Leader Loretta Weinberg (D-37) took on a degree of urgency for Democrats.
"I have spent every other waking moment working on behalf of Roy Cho. This is a seat we are going to pick up," Weinberg said. "All we need is a little more money to do a TV buy next week. I raised $1,000 for Roy on the trip up here."