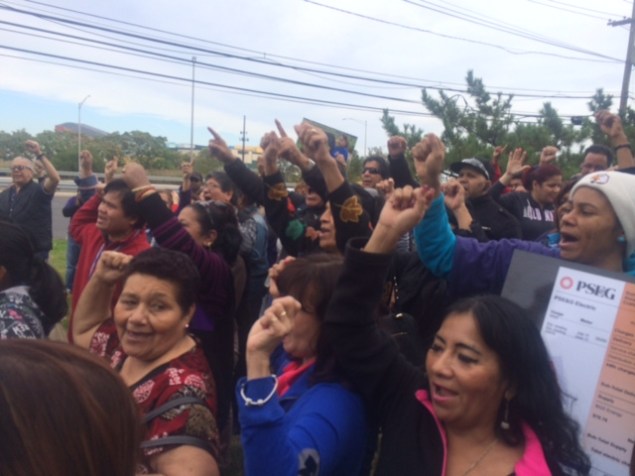 EAST RUTHERFORD – A posse of Bergen County Democrats came to a rally of more than 50 laid-off cleaning workers in East Rutherford on Thursday, all speaking out about what they claimed are unfair labor practices.
"We are here today because of the injustice committed against all of us," said Maida Veras, who worked as a building cleaner at Metropolitan Center in East Rutherford for eight years until she was recently laid off. "Whatever happened to me, it could happen to you tomorrow."
According to officials of 32 BJ Service Employees International Union (SEIU), who helped organize the rally, when Vision Properties/Arena Capital Group recently purchased One Meadowlands Plaza, which includes Metropolitan Center, there were 21 building cleaners employed. These workers made $12.80 an hour with benefits and were expecting a raise that would have raised their hourly wage to $13.20.
But in late June, Vision Properties/Arena Capital Group did not renew the contract with the former owner's cleaning company and instead hired Eastern Essential Services, which laid off the previous building cleaners. Eastern Essential Services is currently being investigated by the National Labor Relations Board (NLRB), the union asserts.
"Vision Properties bought this building for $109 million." said Kevin Brown, New Jersey State Director of 32BJ SEIU. "If you can spend $109 million to buy this building, how is it that you can't make sure that the janitors who work for the cleaning contractors are paid a decent wage? How can that be possible in America? We're going to fight to reverse this."
Officials at Vision Properties could not be immediately reached for comment.
"For you people to be dismissed as ungraciously as you have is not what we want here in East Rutherford," said East Rutherford Mayor Jim Cassella, a Republican. "People who work very hard trying to support families, trying to help their children get an education, that's the type of people we want not just in East Rutherford, but here in Bergen County."
"Vision Properties and Arena Capital need to do the right thing," said Bergen County Freeholder Jim Tedesco, who is challenging Republican incumbent Bergen County Executive Kathleen Donovan in November. "They need to keep you working. You are the backbone to our communities and to our workforce. You deserve better."
Tedesco was joined by Freeholders Joan Voss and David Ganz, who are seeking reelection. Ganz, speaking in Spanish to the largely Latino crowd, reminded everyone that one path to change is through the ballot box.
"Voting is power," Ganz said as the crowd cheered.