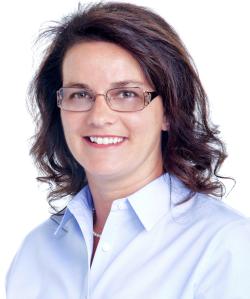 Ridgewood resident and former councilwoman Bernadette Coghlan-Walsh, a Republican, spoke to PolitickerNJ about some key issues as she seeks her first Bergen County Freeholder term.
In December, the Bergen County NAACP proposed changing the way freeholders are elected, arguing it could boost minority representation. All seven freeholders are currently elected at large to represent all of Bergen's 70 municipalities. The NAACP proposal suggested a nine-member board that would perhaps create a hybrid system of some at-large freeholders and others representing districts.
"What would be the district? That's the first question," Coghlan-Walsh, 49, a human resources manager in global mobility, said. "Right now, you have 70 municipalities in the county, each with a governing body that advocates for the municipality. When I was a councilwoman in Ridgewood, everything I did I advocated for Ridgewood, and I would go to the county for the things that would impact us. If you're going to open it up for discussion, shouldn't it be that each of the municipalities groom their individuals for the county level? I don't know that redistricting is going to be any different than giving an equal voice to the 70 municipalities that pay county taxes. To be fair, how would you do it?"
Coghlan-Walsh also had questions about proposals to bring casino gambling to North Jersey, including the Meadowlands, in the wake of the decline of the gambling industry in Atlantic City.
"We have our blue laws in Bergen County, so I would think about what's going to happen to those areas, where it's not going to be just gambling. There will also be shopping, restaurant and bars," Coghlan-Walsh said. "We really have to see how it's going to impact people in the area. They should have a buy-in to the decision. Then again, you could also call the stakeholders all of Bergen County, who are perhaps going to have their taxes reduced by the revenue that's going to be produced."
Coghlan-Walsh also addressed another proposal that could reduce taxes in Bergen County: the fate of the county police.
Bergen County Executive Kathleen Donovan, a Republican, has fought with the freeholder board over plans to merge the Bergen County Police Department and the county Sheriff's Office. Donovan is opposed to the plan, while the majority of the freeholder board, now controlled by the Democrats by a 5-2 veto-proof margin, supports the move. The final decision depends on the outcome of ongoing legal battles related to the merger proposal.
"I've always been in favor of consolidation, but I think the Democratic plan is not effective. The plan leaves out a lot of different details that make it kind of seem like smoke and mirrors," Coghlan-Walsh said. "If you look at different aspects of it, like attrition, the pay scales, the current sheriff's contract, in its totality it doesn't make sense. I don't think it's going to be the true saving plan that they've been proposing."
Last month, Donovan appointed a seven-member task force to study the future of Bergen Regional Medical Center, the county-owned medical center in Paramus. Shortly thereafter, three freeholders, including Democrat Tracy Zur, Republican John Felice and Democrat Jim Tedesco publicly criticized the task force, saying that it was not inclusive enough and that the panel was packed with too many of Donovan's political allies. Tedesco is challenging Donovan in the Bergen County Executive's race.
"We service a large population there, and I feel strongly that those residents there have paid their dues and should have the ability to have affordable care in Bergen County for as long as they want it. But I don't know if owning Bergen Regional is going to be the best way to go about it," Coghlan-Walsh said. "I'm up for any discussion about if we can't keep Bergen Regional and run it at a profit, then we sell it or partner with other hospitals in the area to run it more effectively and efficiently. Bergen County is a business, and running the hospital is a business."
The unfortunate uptick in heroin addiction in Bergen County has become another serious concern facing local policy makers.
For Coghlan-Walsh, the schools have to play a significant role in addressing the problem.
"Since my three children have been in school, our schools have been doing a fabulous job of teaching kids about not using drugs," Coghlan-Walsh said. "I would be strongly in favor of more education at the level above middle school. A large percentage of the population lose guidance, and there should be a better way to reinforce in the young adult population to never get started with drugs."