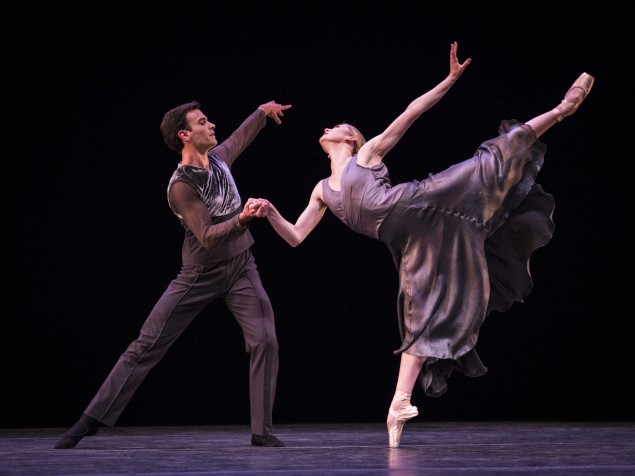 Yet again, we see that the stage of the Joyce is just too small for a ballet company, particularly if its dancers are expansive and really like to move.
I was sorry for the stalwart Pacific Northwest Ballet dancers trying the other night not to show how constricted they felt as they gave us Tide Harmonic, a recent piece by Christopher Wheeldon: four couples, all of them dancing hard to a score by Joby Talbot that's relentlessly propulsive (and at times portentous). Wheeldon gives the women a vocabulary that reminds me of the kind of thing he did for Wendy Whelan years ago in Morphoses and Polyphonia—these are women who are strong and smooth and dynamic, like Whelan herself, slamming through the air in supported lifts, coiling around their partners, arching their backs, scissoring their legs. I believe it's all meant to be taking place under water (the title), but Tide Harmonic is emphatic rather than fluid, and not, finally, very interesting. Maybe it would be more effective if the dancers had more room to swim around in.
After the Wheeldon came a mood (moody) piece, Memory Glow, by Alejandro Cerrudo, very darkly lit, with lanterns placed around the floor. There's much sturm and much drang to this effort, but not much point. It was a pleasure, though, to watch the PNB dancers in it, especially two young women—Angelica Generosa and Leah Merchant, both still in the corps, Merchant blonde and robust, Generosa dark, delicate and a touch exotic (she was particularly beautiful arcing through the air).
PNB will need ballerinas now that the glorious Carla Körbes is retiring, and here are two strong candidates. It was also good to see Matthew Renko, also in the corps, from whom we've expected interesting things since he started at New York City Ballet seven years ago. For the record: Cerrudo dedicates Memory Glow to "Ana, my love and the inspiration behind every little magic moment in this work."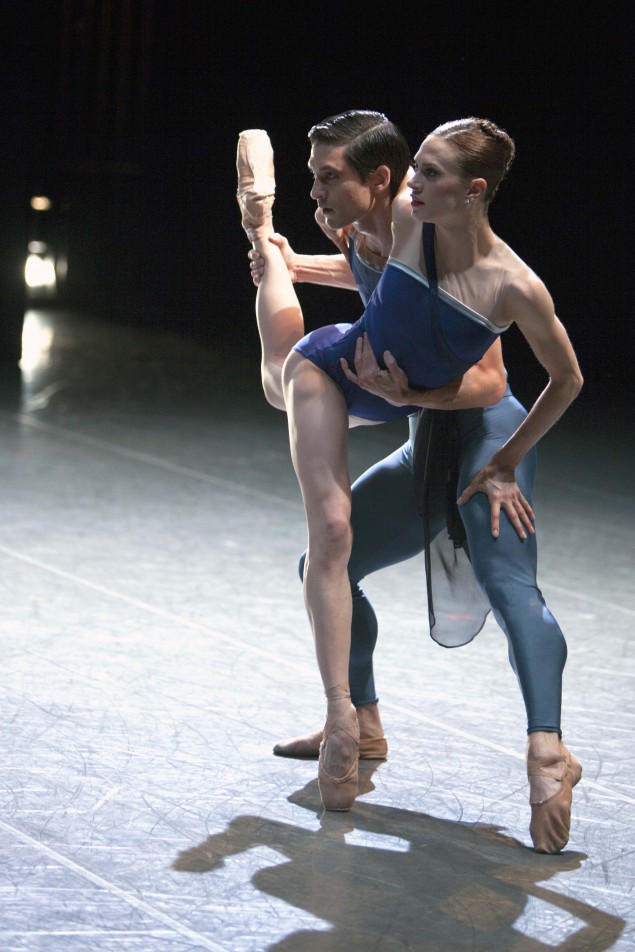 Last, and best: a new ballet by Justin Peck (we seem to be getting one a week), called Debonair. The sprightly score by "the bad boy of music," George Antheil, his Serenade for String Orchestra No 1, gives Peck a charming background for the jaunty introduction of his six couples, whose darting entrances and departures, full of unexpected feints and dodges, make for a typically ingenious Peck opening.
But the group effort, here and at the close, is essentially only a framework for the serious business at hand: providing Körbes with a superb pas de deux to celebrate her ridiculously early retirement (she's 33) and giving us a gratifying final opportunity to savor her. She wasn't used well at New York City Ballet, and Peter Boal immediately grabbed her when he became the new artistic director of PNB in 2005 and made her a star. (It was he who discovered her in the first place, when she was 15, in Brazil.)
Peck's tribute to her is both lyrical and grand—showing off her lovely body and legs and exploring her contained emotionalism. I just saw again his new City Ballet piece, Belles-Lettres, and its overwrought central pas de deux, to its overwrought César Franck music, is in almost ridiculous contrast to this self-possessed, evocative duet, which a less grateful viewer than myself might think of as underwrought.
Peck's choice of music is always stimulating, and this little-known Antheil score, with its hints of the kind of populism that Aaron Copland embodied in the 30s and 40s, has brought out a cheerful ease in him; Debonair is in the best sense comfortable, as if he were feeling right at home.
If only we could see Pacific Northwest Ballet on the right stage and in the right repertory! Ecstatic reports of its new production of Balanchine's Jewels leave one aching to see it, but of course the Joyce couldn't accommodate even a single jewel, let alone a multitude of them. And we'd also like to see the company in its classical mode. What's needed is a full week at the Koch or the Met. I'll bet Peter Boal agrees.