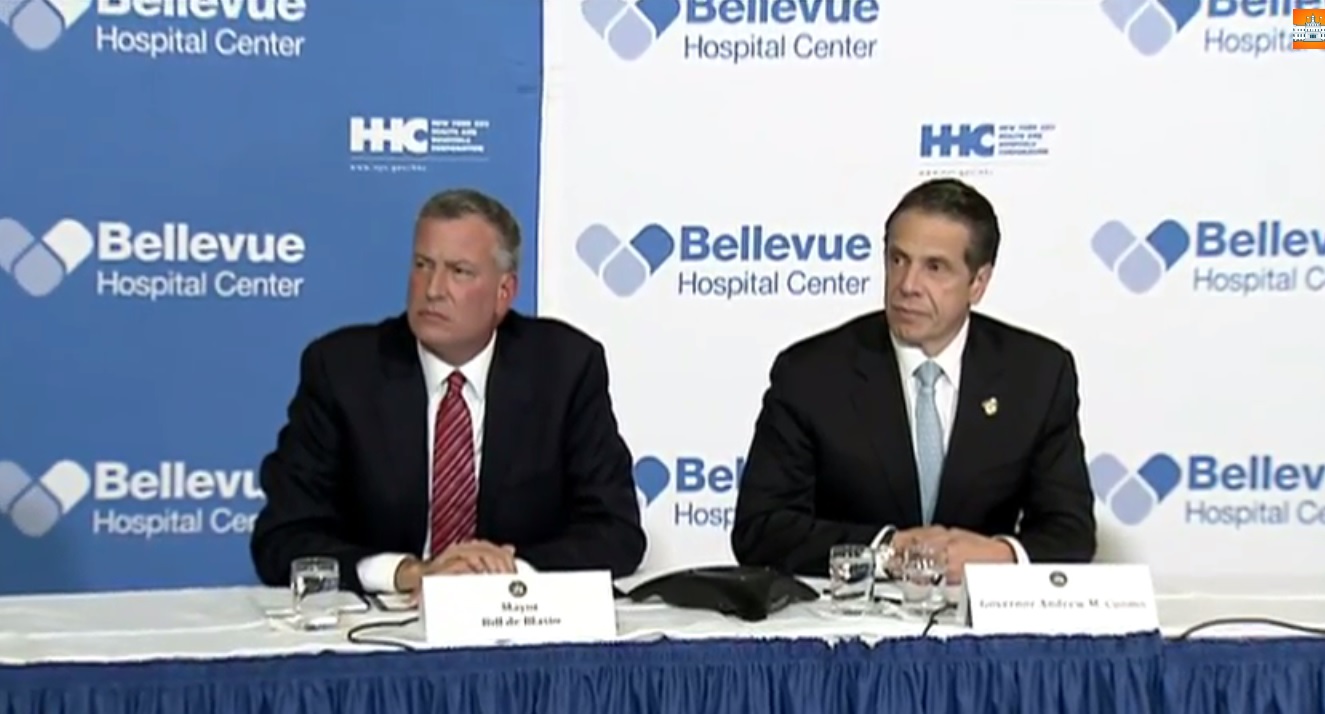 Appearing at Bellevue Hospital in Manhattan tonight, Gov. Andrew Cuomo and Mayor Bill de Blasio urged New Yorkers not to panic as a doctor from Harlem fell ill with Ebola.
The elected officials, appearing with city health commissioner Dr. Mary Bassett, said they had been long prepared for Ebola's arrival and New Yorkers had little to worry about–even after an Ebola-stricken man died in Dallas this month and the Center for Disease Control and Prevention endured a raft of criticism for bungling the nation's initial response to the virus.
"We want to state at the outset, there is no reason for New Yorkers to be alarmed. Ebola is an extremely hard disease to contract," Mr. de Blasio said. "New Yorkers who have not been exposed to an infected person's bodily fluids are not at all at risk."
The doctor, Craig Spencer, had been in West Africa helping to fight against the Ebola outbreak there. He was rushed to Bellevue Hospital–one of eight hospitals designated to handle Ebola patients in the state–and put into quarantine.
Officials revealed the doctor had taken a three mile jog, ridden the A, L and 1 trains, taken an Uber taxi and bowled at The Gutter in Williamsburg, Brooklyn — though they sought to remind New Yorkers that it would be difficult to contract Ebola from encountering him in those locations.
Ebola, though contagious, can only be transmitted through the sharing of bodily fluids and is not an airborne virus. Ebola patients become contagious when they begin to exhibit symptoms. Two nurses in Dallas who contracted Ebola recovered from the often deadly virus.
"Being on the same subway car, or living near a person with Ebola, does not in itself put someone at risk," Mr. de Blasio said.
Since the disease is not spread by casual contact — and since the two Dalas nurses were infected — much of the focus on preventing the spread of Ebola has been around health care workers treating it. Mr. Cuomo said New York's health care workers, who prepared in a massive drill this week, were ready.
"We are as ready as one could be for this circumstance," Mr. Cuomo said. "What happened in Dallas was actually the exact opposite. Dallas was, unfortunately, caught before they could prepare, before they really knew what they were dealing with."
While the Dallas patient was sent home from the hospital, Dr. Spencer was brought to the hospital under special precautions because of his Ebola symptoms, and health officials said they believed there was no breach of any protocol to keep first responders safe.
Still, Mr. Spencer was not quite "self-quarantined," Dr. Bassett said, given his travels outside his apartment.
"Our best information is that for the relevant period of time, he was only exposed to a very few people," Mr. Cuomo said — his fiance, two close friends, and an Uber driver, all of whom officials said have been tracked down and isolated, and one of whom is in the hospital.
While Dr. Spencer's travels on subways and his bowling trip are likely to worry some New Yorkers on their morning commute, health officials repeatedly said he was not symptomatic — aside from fatigue — during his bowling trip last night, and only displayed a fever today.
"Fever is the typical sign of a person developing contagious Ebola," Dr. Bassett said. "His friend said that they thought he seemed well, but the patient as I've said, did not report any fever, although he did report that he felt tired."
At least one person who bowled at the Gutter last night was concerned about coming into contact with the deadly virus. Todd Owyoung told the Observer he was at the bowling alley from 6 p.m. to 9 p.m., but did not recall seeing Dr. Spencer there.
"It's definitely concerning. I'd love to know when he was there and hopefully if there was overlap and so forth, but we're sort of waiting. Hopefully he was there after we bowled," Mr. Owyoung said.
While officials have said the virus can be contacted only through direct contact with bodily fluids of a symptomatic person, Mr. Owyoung pointed out that plenty of people touch the same items inside a bowling alley. "I was using the same ball, but in general, it's a place where people are using rental shoes and trying out different bowling balls," he said.
Matthew Kassel contributed reporting.