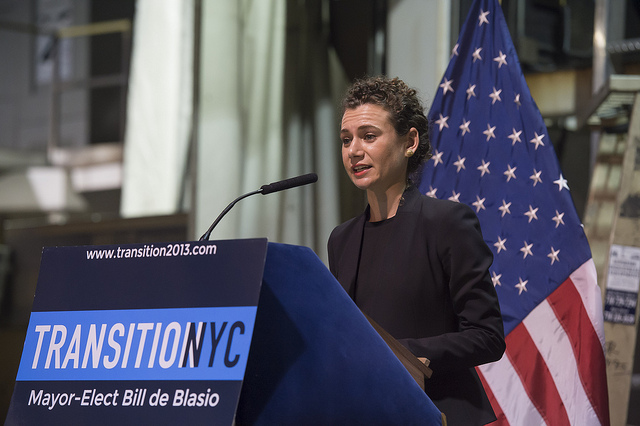 Another de Blasio staffer is leaving for a campaign trail of sorts.
Laura Santucci, the chief of staff to Mayor Bill de Blasio, will take a leave of absence from City Hall to oversee New York City's bid for the 2016 Democratic National Convention, Mr. de Blasio's office announced this afternoon.
"There's no one who better exemplifies the values that have driven this administration—and will be on display at the 2016 Democratic National Convention—than Laura Santucci. She is a strong leader and effective manager, and I'm thankful that Laura has agreed to lend her experience and expertise to this important effort to bring the 2016 Democratic National Convention to New York City," Mr. de Blasio stated. "Today's announcement is testament to how serious we are about securing this bid."
Ms. Santucci's departure marks a trend in the young de Blasio administration–governmental staffers temporarily leaving their posts for political purposes unrelated to any campaign for Mr. de Blasio himself. Jon Paul Lupo, a top City Hall staffer, is currently on leave aiding Democratic congressional contender Domenic Recchia Jr. and Emma Wolfe, Mr. de Blasio's intergovernmental affairs director, is heading up efforts for Democrats to retake control of the State Senate. A member of the Community Affairs Unit, Jonathan Viguers, is also involved in State Senate campaign efforts, as the Observer reported last week.
If an elected official is seeking re-election, it's not uncommon for governmental staffers to switch over to the campaign side to help the pol win. But Mr. de Blasio's twist on an age-old tradition has drawn criticism because it raises questions about city resources being diverted for political ends–and how necessary these public payroll positions ever were in the first place.
A spokesman for the New York State Republican Party mocked Mr. de Blasio after the Santucci announcement was made.
"Almost a full year into his tenure, Bill de Blasio has been the Mr. Bean of New York City politics, stumbling and bumbling his way from one disaster to the next. We can't blame anyone for wanting out of this administration," the spokesman, David Laska, said.
Mr. de Blasio's very aggressive bid to bring the DNC to New York City–the convention would be held at the Barclays Center in Brooklyn–is also encountering controversy. The de Blasio administration is denying reporters access to information about their bid to the Democratic National Committee and one angry police union leader, feuding with Mr. de Blasio during contraction negotiations, claimed this summer that the city is too unsafe to host a major convention.
Mr. de Blasio's office said Ms. Santucci will assume her new duties on November 10. Deputy Chief of Staff Amanda Howe will become acting chief of staff.
"We've shown how local government can and should work, and we are eager to put our accomplishments on display as the host city of the 2016 Democratic National Convention," Ms. Santucci said.
Updated with comment from the New York State Republican Party.