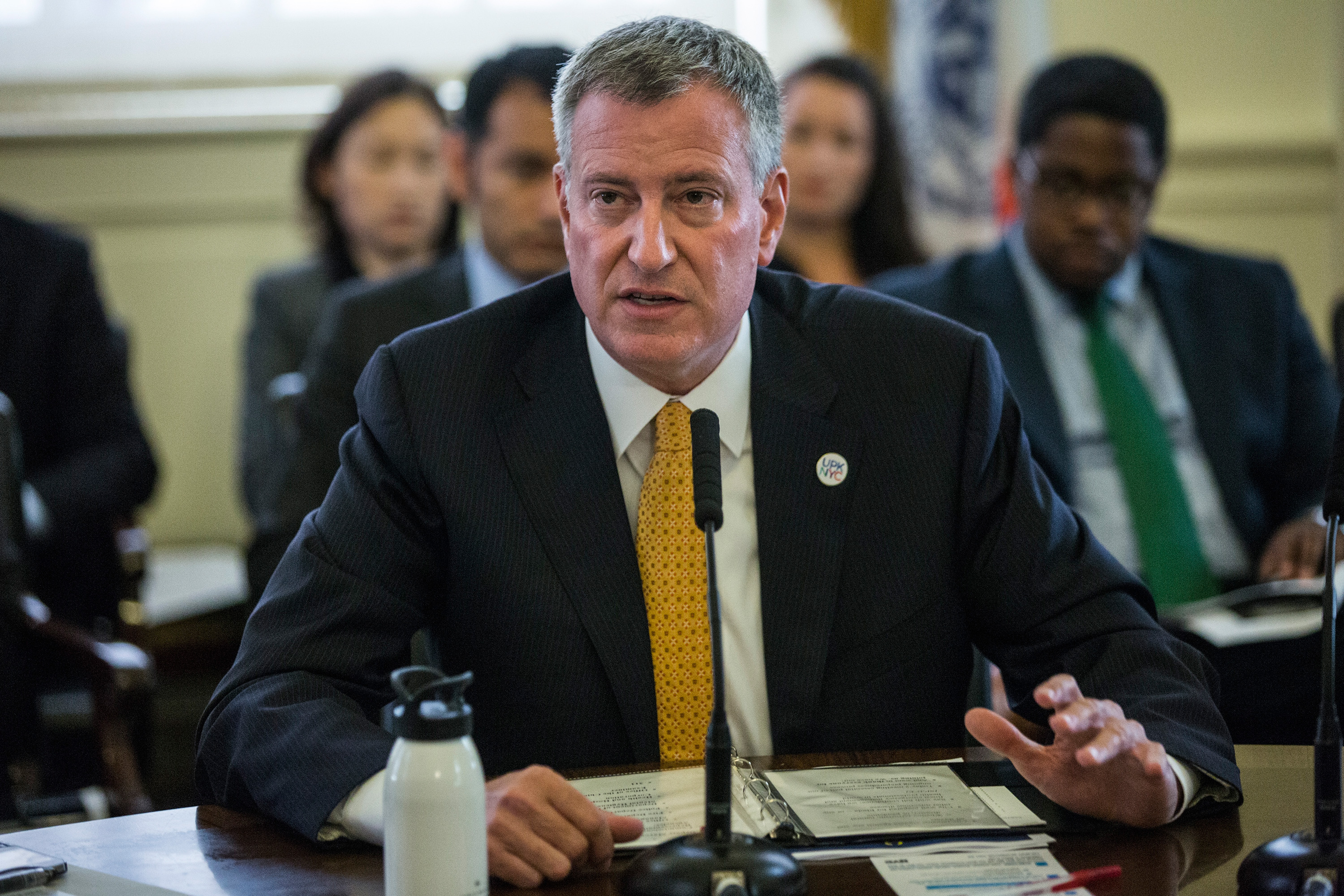 Mayor Bill de Blasio said today knocks on his administration for allowing top staffers to take leave to campaign for others while the city battles Ebola amount to "partisan attacks."
"I'm no stranger to partisan attacks, and that's all it is. The fact is that everyone who is part of the efforts we're undertaking right now to serve our city and protect our city, everyone is present and accounted for and doing the job they need to do," Mr. de Blasio told the Observer at an unrelated Staten Island press conference.
Republican Congressman Michael Grimm and Senate Republican Co-Leader Dean Skelos both took swipes at the mayor over the staffers on leave this week.
Three administration officials have stepped away from their government jobs to work on other campaigns: Director of Intergovernmental Affairs Emma Wolfe and Jonathan Viguers, a member of the Community Affairs Unit, are both working to elect Democrats to the State Senate. And Jon Paul Lupo, the director of the Office of City Legislative Affairs, is working on the campaign of Domenic Recchia Jr., a former Democratic councilman hoping to unseat Mr. Michael Grimm.
"There are a handful of people who are off working on other work — which by the way is very important to the future of the city," Mr. de Blasio said. "The kind of State Senate we have, the kind of Congress we have, will speak volumes as to whether we get additional aid after disasters, or whether we get the support we need to build enough housing and grow our economy. I think those individuals are doing something important, but everyone we need for the efforts at hand is accounted for."
It's not particularly unusual for government employees to take a leave of absence and work on the campaigns of other politicians. In fact, a strategist in Mr. Grimm's 2010 race, Mario Bruno — who created signs deriding incumbent Michael McMahon for raising property taxes that have since been repurposed to launch the same attack on Mr. Recchia — was well-known for taking lengthy leaves of absence from various city jobs to boost Republican and Conservative party candidates. Mr. Bruno does not currently work for Mr. Grimm's campaign.
Mr. de Blasio has been an enthusiastic supporter of handing over the State Senate to Democrats, after years of rule by the Republicans and the breakaway Independent Democratic Conference. The mayor brokered a deal arranging for the IDC to reunite with Democrats in exchange for securing Gov. Andrew Cuomo the nomination of the Working Families Party.
But in the wake of that deal, Mr. Cuomo has been knocked for not actively campaigning on behalf of Democratic candidates — and for creating a new party line, the Women's Equality Party, which some have argued is meant to harm the Working Families Party.
 Mr. Cuomo has been running ads urging votes on the Women's Equality line, while the Working Families Party recently rolled out prominent women to urge ballots be cast on the union-backed WFP line.
Mr. de Blasio, meanwhile, is steering clear of the minor party drama.
"If you check my party registration, you will find I'm a Democrat. That's how I'll be voting," the mayor told the Observer.