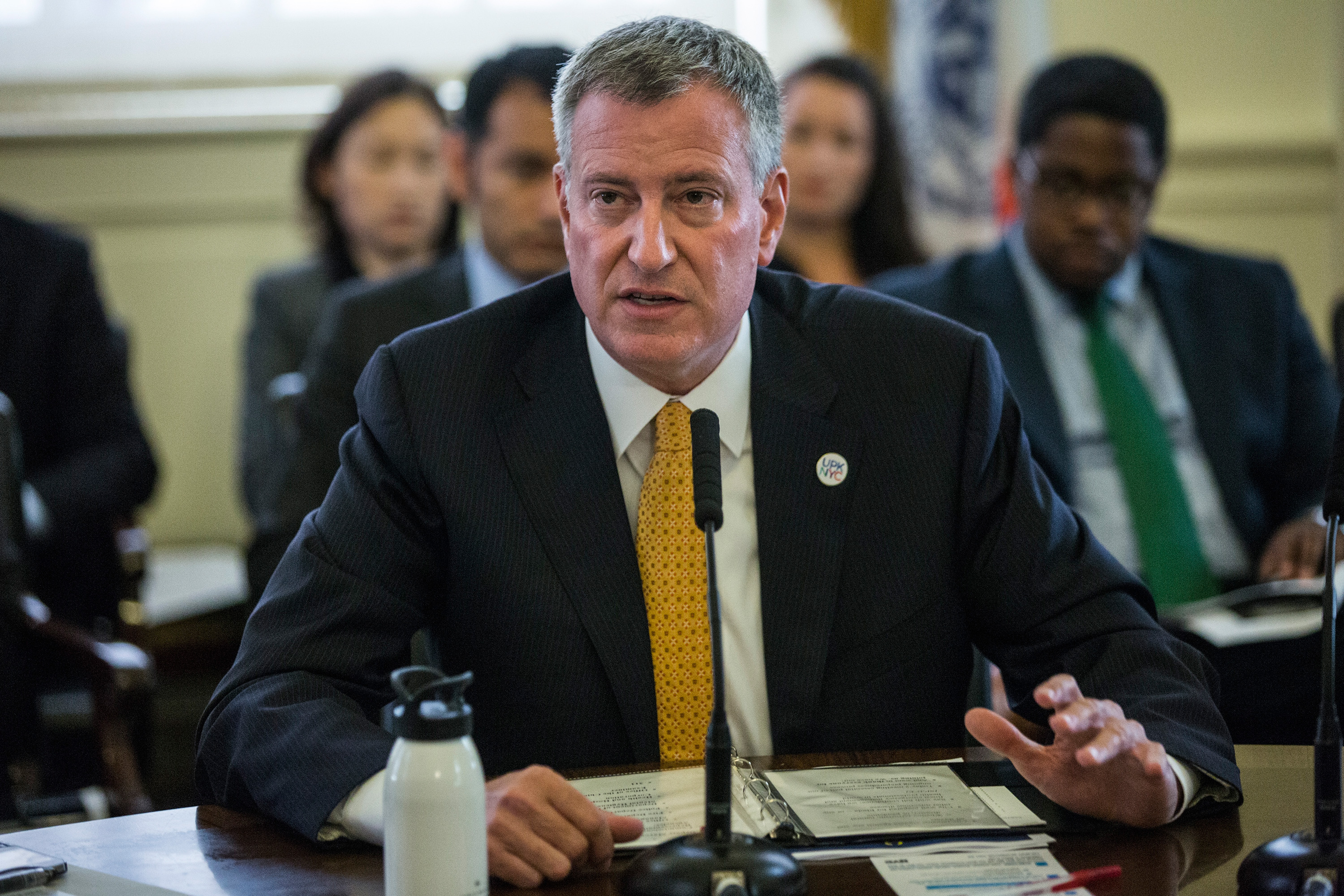 Mayor Bill de Blasio urged the public not to jump to any conclusions after health officials said a 5-year-old boy is undergoing tests for Ebola today.
The boy had been traveling in the West African nation of Guinea, where an Ebola outbreak continues to kill hundreds, but doctors won't know until "the end of the day" if the child has the virus, Mr. de Blasio said.
"The child at first did not appear to have any symptoms. The mother has no symptoms whatsoever. So a lot of caution is being taken here," Mr. de Blasio told reporters at an unrelated press conference in Manhattan. "So far everything has been handled, again, according to protocol. We hope to have positive news but in the event we don't, we know everything has been handled right."
"It's very important in these situations not to predict," the mayor continued. "I can only say the fact that the mother shows no symptoms at all is a very encouraging sign."
The family returned in recent days from Guinea–Mr. de Blasio said retracing their steps would be easy for health officials–and the people who lived in the home with the boy were immediately ordered quarantined in their apartment. It's not clear if the child had any recent direct contact with Ebola patients, though the boy, unlike his mother, began to show some symptoms of the virus and became febrile this morning.
One person in New York City, a doctor recently returned from West Africa, has contracted Ebola. Dr. Craig Spencer is being treated at Bellevue Hospital, one of eight hospital locations across the state equipped to handle patients suffering from the virus. A man in Dallas died from Ebola this month.
How the city, state and federal government handle the Ebola issue is raising many questions. Gov. Andrew Cuomo ordered an automatic quarantine for all travelers who came in direct contact with Ebola patients, reportedly angering federal officials and confusing City Hall, which was not briefed about the policy before it was announced Friday evening.
Mr. de Blasio again downplayed the issue today, insisting he and Mr. Cuomo have a close relationship.
"This is a ever-changing situation and all levels of government are adjusting their strategies at all times," the mayor said. "There are ways to update our strategies that are thoughtful and careful and based on science."