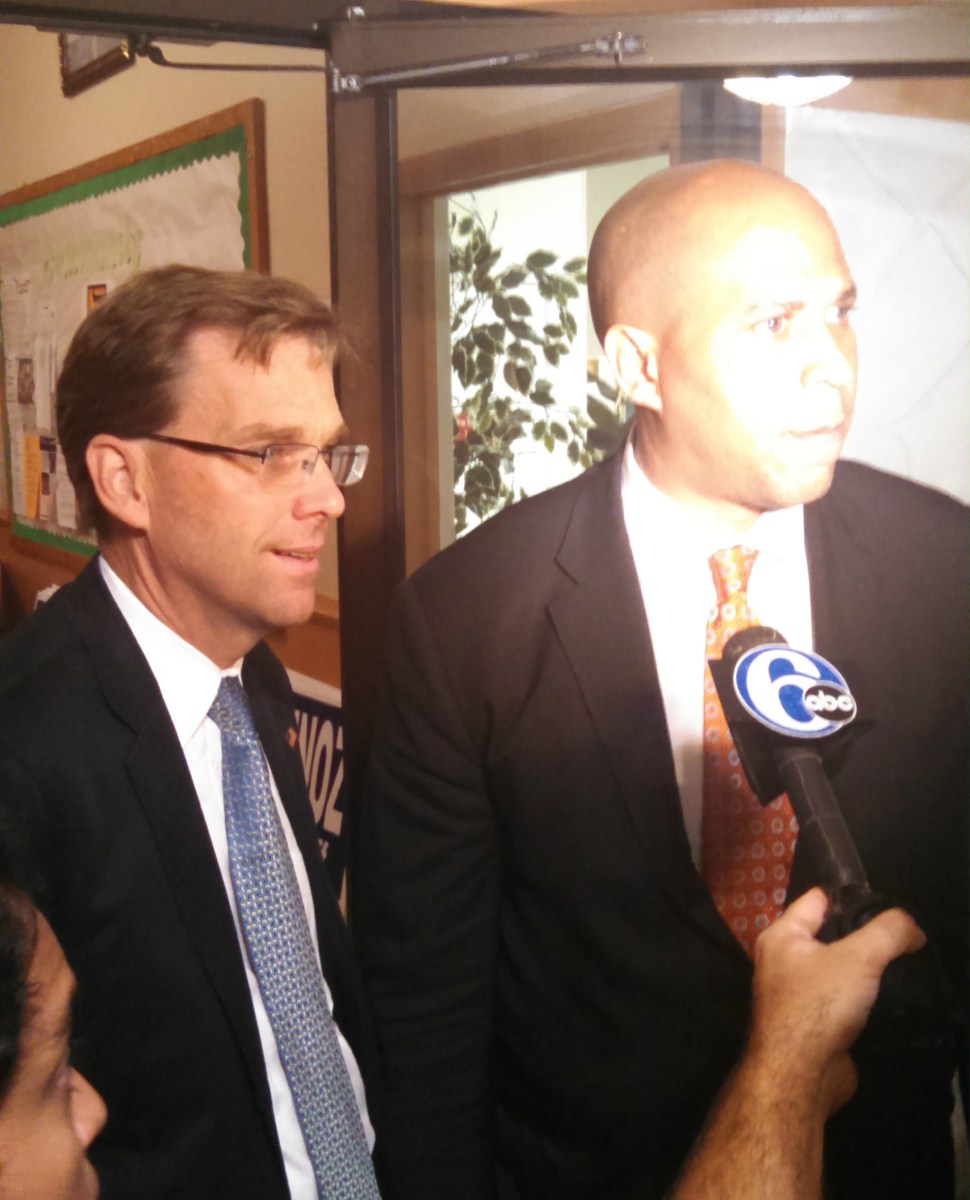 ATLANTIC CITY – In a frustration-laced tirade against his Republican opponent in the parking lot of the Second Baptist Church here last night, U.S. Senate Cory Booker (D-NJ) slammed challenger Jeff Bell as a candidate "backed by right wing extremist groups who sent him up here to run for this office" and dismissed a recent attack ad funded by a conservative political action committee with ties to Bell's former employer.
"They're outlandish, untrue, and they're outright lies, and I think most people know me, and especially as transparent as I've been, from releasing 15 years of my tax returns to the kind of character I exhibited as mayor of Newark, that they don't merit a response," Booker told PolitickerNJ when asked what he made of the ad's accusations. "And this is the thing — they represent a very extreme right wing element in our country that is coming to our state to support a guy who is a tea party-backed, non-New Jerseyan."
That ad, paid for by the American Principles Fund super PAC, alleges that Booker "enriched" himself off of his public career, through sweetheart deals and payouts from his private law firm when he served as mayor of Newark, before winning a special election for the senate seat last year. It also charges Booker with failing to pay his property taxes — an accusation Booker spokeswoman Silvia Alvarez said was "about as accurate as the Tea Party's crazy claims about the president's birth place and ACA death panels."
Bell's connection to the PAC comes vis-a-vis earlier work he did for the fund's affiliate, the American Principles Project, which focuses on opposing abortion and same-sex marriage and promoting immigration reform and a gold-based monetary system and where Bell had been employed until leaving in February to run for the New Jersey senate seat.
"I don't know if you guys knows this, but he's not qualified by law to run for any other office" Booker added of Bell, a policy wonk and presidential speechwriter who's spent the last 30 years living in Washington D.C. "You have to live in this state for a year or two years to run for senate, to run for mayor, to run for freeholder. So this is a guy who does not qualify by New Jersey law, the laws that we passed for running for office in our state — he's a Virginian and he should run for senate in Virginia."
Bell was in Atlantic City to rally support for his own re-election campaign and that of fellow Democrat Bill Hughes, Jr., a candidate in the 2nd district's congressional race against Republican 20-year incumbent Frank LoBiondo (R-2). Hughes trails his opponent by six points –a slim margin, according to some political observers who put little faith in the candidate's chance for victory earlier on — and Booker's challenge last night was to stir up support for the struggling candidate among a roomful of energized voters.
No time throughout his remarks, however, did Booker mention his own opponent by name, who he leads by up to 15 points in recent polling —  though he did stop briefly to criticize a new form of "right wing control" House Republicans have exerted over Congress.