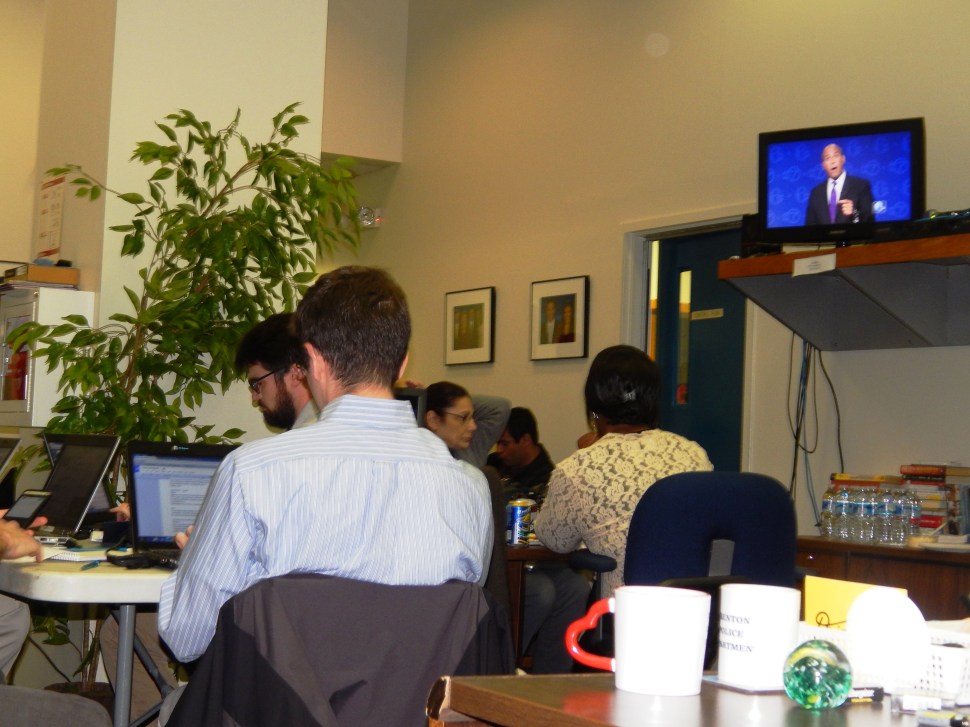 TRENTON – In their lone debate, U.S. Sen. Cory Booker (D-NJ) routinely celebrated regular "folks" in making a case for bipartisanship while excoriating his Republican opponent as a Tea Party extremist who blames President Barack Obama for the world's ills.
A poised veteran Republican challenger Jeff Bell – trailing by mid-double digits in most polls – criticized Booker for being a phoney bipartisan, and plied the League of Women Voters forum – to be aired on ABC television Sunday – with a steady diet of Obama critiques.
"This is the Obama-Booker vision," Bell complained. "If there is a solution to something, it lies in Washington. Don't you think normal people should work it out?"
Obama's wounded in statewide polls.
"Tea party militancy," Booker chastised in response. "My Tea Party friend has attacked president seven times [in the course of the debate]. That's not going to bring us together in Washington D.C. [for immigration and other reforms]."
Booker throughout bashed professional lobbyist Bell as a Washington, D.C. insider unfamiliar with New Jersey, and burnished his own work with Tea Party darling Rand Paul, the senator from Kentucky.
"If this is your example of bipartisanship, down in Washington it's just not going to work," the senator said at one point when Bell tried to make a point during Booker's time to answer.
Having failed in his 1978 senatorial challenge of Bill Bradley, the three decade plus-pivoting Bell shot back, "I've worked for ten years for comprehensive immigration reform."
He noted that he worked on the issue with the late U.S. Sen. Ted Kennedy (D-Mass.).
"There are no farther people apart than my opponent and Ted Kennedy," Booker griped. "If it looks like a duck, it quacks like a duck. It's time for people to come together."
Booker sought distance on Obama on the issue of immigration reform.
Gold Standard advocate Bell countered that the senator has not been vocal enough in his criticism.
"You pay lip service to bipartisanship," Bell said. "You talk a good game on bipartisanship."
ABC permitted reporters to cover the debate live in an adjoining room.
NJ Advance Media for NJ.com Matt Friedman asked Bell a marriage equality.
"I believe it's a self-evident truth that marriage includes a husband and a wife," Bell said. "Taking the word 'husband' out of a legal marriage is a terrible mistake. It will just increase the breakup of the [family].:
"He wants to take away the right of two people who love each other who want to be married," the senator said.
The two candidates traded face-to face questions.
When it was Bell's turn, he zeroed in on the Newark Watershed.
"On Channel 5 in New York, you said the $700K in six individual payments came as a result of [a buyout]," he said. "Is there a document that specifies what that arrangement is?"
"The law firm agreed to pay out a lump sum over time," Booker said, before countering with a criticism of Bell for failing to release tax returns from ten years back.
A low-key and poorly financed challenger, Bell showed a high comfort level with the issues on the same stage as Booker, who defended his decision to participate in one debate with Bell.
"My opponent is playing catch-up," he said. "He's running around the state pretending he knows the community."
Acknowledging that he was presumptuous to run after for U.S. Senate after spending 30 years away from New Jersey, Bell slapped at the incumbent with a criticism of Booker's failure to say in a Shermanesque statement whether or not he favors a Northern New Jersey casino.
Booker said he favors a North Jersey casino only if it does not harm Atlantic City.