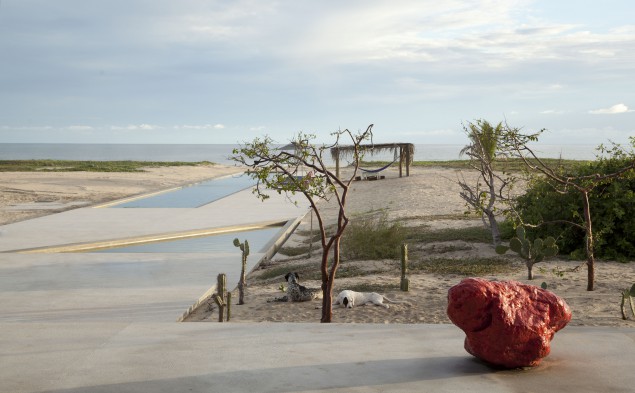 This weekend Bosco Sodi's Oaxaca art haven Casa Wabi officially opens its doors, though there aren't many to be found between the carefully placed outcropping of minimal, concrete wabi sabi-style structures that make up the Tadao Ando-designed compound situated outside of rural Puerto Escondido, Mexico.
The Casa Wabi Foundation, founded by Mr. Sodi and helmed by creative director Patricia Martín, kicks off on October 25 with a site-specific installation by French artist Daniel Buren and a performance by Teatro de Ciertos Habitantes, directed by Claudio Valdés Kuri.
The Observer spoke with Mr. Sodi—despite a spotty satellite phone connection—who called from Oaxaca, where he was overseeing the final bits of construction and arranging opening festivities. He clarified that the while foundation's mission, according to the statement on its website, is to provide a space for the "exchange of ideas" and encourage "an open and constructive dialogue between national and international artists," it is also a way for artists to give back to the community in the area. "We are trying to mix art with the community," he said, amid a loud clamor from workers in the background, "We are trying a social approach to one of the things that is lacking with the art world: a solidarity with low-income people."
Another element of Casa Wabi's programming kicking off this weekend is its artist residency. For those looking to escape the confines of their studios or the pressures of their dealers, the residency provides living quarters in strategically designed structures by Mr. Ando, as well as two studios, exhibition and multipurpose spaces, and a garden. The only real requirement for participants is that they must complete a project that interacts with the community. It can take any form, from a workshop to a lecture, according to Mr. Sodi.
The first round of artists in the residency program are Gonzalo Lebrija, Stefan Brüggemann, Daniel Libertad, Corban Walker, Claudia Fernández, Antón Lamazares, Benjamín Torres, and Michael Joo. Even though this first group is comprised of entirely visual artists, Mr. Sodi envisions a mix of artists from many different fields across the arts participating in the future. So far, the program is booked through May 2015.