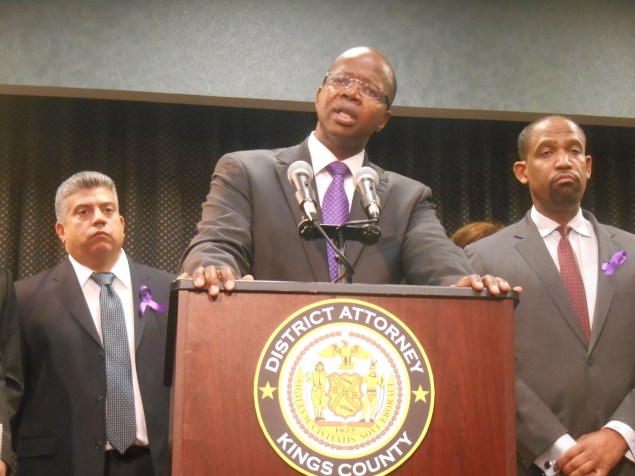 Brooklyn District Attorney Ken Thompson today rejected a series of reports claiming that he, along with the four other borough district attorneys, was having difficultly setting up a meeting with Mayor Bill de Blasio.
When the Observer asked Mr. Thompson if he had trouble trying to meet with the new Democratic mayor, Mr. Thompson smiled today and simply said "no." Mr. Thompson did not elaborate.
The answer came at the end of a press conference where Mr. Thompson announced he would ask a judge to throw out the convictions of two men charged in a killing 29 years ago. Mr. Thompson railed against the "legacy of disgrace" that his predecessor, Charles Hynes, saddled him with when Mr. Thompson unseated the veteran prosecutor a year ago.
A couple of newspapers and NBC reported last week that Mr. de Blasio was blowing off meetings with the five district attorneys. Sources inside the offices complained to the news outlets that it was unprecedented for the mayor to not meet with them at all.
Bronx District Attorney Robert Johnson, not Mr. Thompson, requested a meeting on behalf of the district attorneys, according to the news outlets.
"It was surprising that we didn't hear back from anybody," a source in one of the offices told the Post. The source also said Mr. Thompson, along with Mr. Johnson and the Queens district attorney, attempted to set up one-on-one meetings with Mr. de Blasio and was "ignored."
A spokesman for Mr. de Blasio told the news outlets he was "looking forward" to meeting with the district attorneys, though he did not publicly set a timetable.