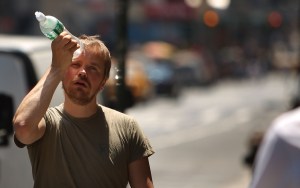 UPDATED: On this second Tuesday in October, the temperature in Manhattan nearly reached 80 degrees. If you thought today was hot, just wait until 2050. WNYC reports that 36 years into the future, New York City's temperature will resemble that of Birmingham, Alabama.
The findings come from the New York City Panel on Climate Change. The panel anticipates temperatures to rise 5 degrees Fahrenheit, which will push the number of days reaching 90 degrees up from an average of 18 to anywhere between 39 and 52.
While this past summer had only seven days above 90 degrees, such a low number still created issues, most notably the dangerously hot subways. According to the CDC, the current average for heat related deaths is 13 people per year, but could increase by as much as 500 percent if the temperature increases as anticipated.
Dark colored rooftops trap the heat in New York, making it that much hotter than other areas around the region. The most obvious solution to beat the heat is air conditioning, but that could result in black outs or brown outs. WNYC suggests rooftop gardens will reduce the temperature by reducing the area heat-soaking rooftops.
So we should enjoy this fall while we can, which, as The Awl points out, is a considerable improvement on an NYC heat wave.