Cara Delevingne took over Bloomingdale's (and Instagram) last Saturday when she stood on the iconic department store's roof to trumpet the launch of her range of clothing for DKNY.
With her slouchy streetwear, taut abs and self-promotional "CaraD4DKNY" hashtag sign, Ms. Delevingne withstood the drizzly weather to create an iconic NYC moment. It got us thinking: where else does this jet-setting model like to hang out when she's in our nation's fashion capital? Here's a list of her favorite restaurants, venues and tattoo parlors on the isle of Manhattan (okay, plus two in BK).
• Ms. Delevingne is apparently a big basketball fan, often made evident by her seemingly NBA-inspired activewear choices. Of course, we all remember her bleary-eyed courtside makeout sesh with Michelle Rodriguez at a Knicks game earlier this year. But she's also appeared at the Barclays Center in Brooklyn with pal Rihanna to watch a few Nets games.
• Publicity photos for Ms. Delevingne's DKNY line were shot in Bushwick, Brooklyn, a DKNY rep tells us.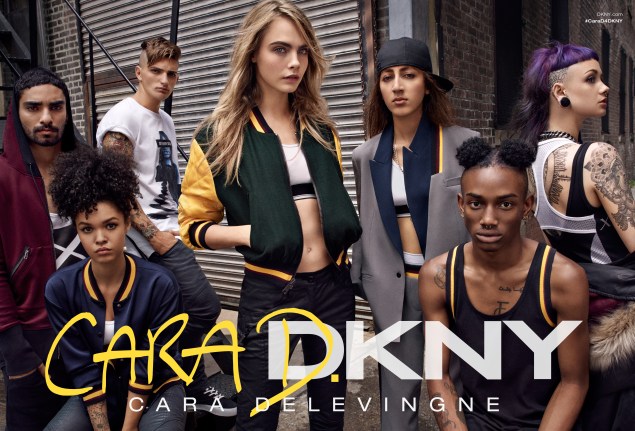 • One of her favorite NYC restaurants is Shabu-Tatsu in the East Village. "They have this boiling pot and you just shove the meat in it and let it cook," she told The Daily in September during Fashion Week, adding, "I also love going to karaoke!"
• She's been spotted strolling through Soho's grid of designer-store-dotted blocks with Zoe Kravitz. Reports say they were leaving The Smile on Bond Street, a trendy restaurant with kale, quinoa and maple-brined pork loin on the menu.
• She had her recent tattoo, the word "BACON" on her foot, done at Bang Bang on the Lower East Side. (Miley Cyrus is also a fan of their work, as is fellow DKNY spokesmodel Rita Ora).
• She recently hung out in Tribeca with Taylor Swift, which is apparently a requirement for all female celebrities under the age of 30 these days.
• She attended a benefit for Jourdan Dunn's charity at No. 8 in the Meatpacking District in September.
• She dropped by the Elizabeth Street Garden in NoLiTa to take in Stella McCartney's fall preview in June.
• She mostly stays downtown, but breathless fans often spot the model in Times Square, likely doing press for DKNY (why hang out there unless you're getting paid for it?):
https://twitter.com/AllieTibbs/status/315206473875595267/photo/1
https://twitter.com/meridy123/status/389829042960343040/photo/1
https://twitter.com/_luCclaire/status/314782272354148352/photo/1
http://instagram.com/p/sJVaZ8TdJ1/
• Finally, the farthest north Ms. Delevingne ventures on the Isle of Manhattan is the Metropolitan Museum of Art. She always makes an appearance at Anna Wintour's yearly gala.