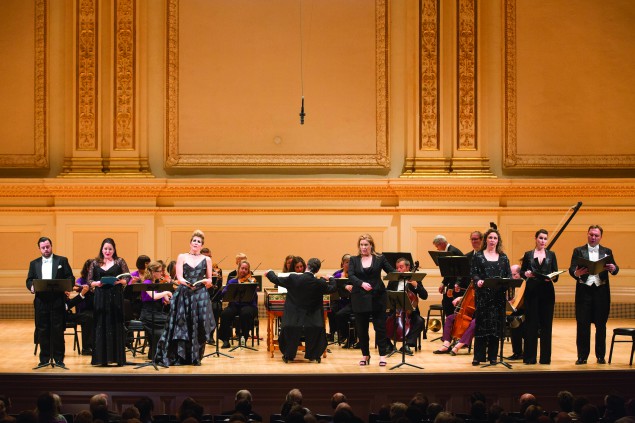 If you were looking for anyone in the opera business on Sunday afternoon, they were all at Carnegie Hall: singers, agents, voice teachers, critics, aficionados, everybody. The event was a one-off concert performance of Handel's bewitching opera Alcina with baroque orchestra The English Concert, led by Harry Bicket, featuring American mezzo-soprano Joyce DiDonato in the title role. And after a solid four hours of 18th century arias, everyone in the place jumped to their feet to shout "Brava!"
Though it fell into obscurity for more than two centuries after its premiere at the Theatre Royal, Covent Garden, in 1735, Alcina is now one of Handel's most popular operas. Dramatically it treats on the "femme fatale" motif, with the title character as a Circe-like sorceress capable of sexually enticing any man she chooses.
With the leading lady offered a vast range of moods to portray—kittenish to defiant to downcast—Alcina offers a superb diva role. At Sunday's performance, Ms. DiDonato looked every inch the part in Vivienne Westwood couture, a silk bouffant gown patterned with oversized dragon scales. (Such a getup Maleficent might wear to the Met Costume Institute Gala.)
Certainly Ms. DiDonato did not find the range of this soprano role daunting. In fact, the high tessitura seemed to land her in the most powerful and interesting area of her voice, right around the top of the staff. Her cries of fury thundered and blazed in Carnegie Hall, quite the contrast to her soft-focus Rossini Cenerentola at the Met last season.
The mezzo has always had a wonderfully "questing" musical intellect, surprising the listener with unexpected turns of phrasing or unique bits of ornamentation.  But Alcina has a lot to sing, and after about an act and a half, I began to wish that Ms. DiDonato were not working quite so hard. Every line, practically every note, she "interpreted," squeezing the tempo, applying vocal colors, layering effect upon effect. Alcina disappeared behind the singer's nonstop virtuosity.
She relaxed, though, for the gentle lament "Mi restano le lagrime" in the last act, singing with classical dignity and restraint. Here Ms. DiDonato evoked a poignant sense of heartbreak recollected, rather than heartbreak experienced. I only wish she had edited the rest of her performance so scrupulously.
Her meticulousness cast something of a shadow over her leading "man," Alice Coote, who took the castrato part of the Alcina's bewitched lover Ruggiero. While Ms. Coote's mezzo captured the requisite heroic quality, it was also maddeningly uneven. The middle register often evaporated into so much heavy breathing, and in fast passages, the tone turned white and scratchy. After more than an act of warming up, though, she hit her stride in the wistful aria "Mi lusinga il dolce affeto," luxuriously caressing its gently rocking dotted rhythms.
In contrast, her big third act showpiece, "Sta nell'ircana," completely fell apart, with the coloratura, written in imitation of a hunting horn, both out of rhythm and out of tune. In Ms. Coote's defense, though, the obbligato, performed on valveless "natural" instruments like those that would have been used in the 18th century, was even more wayward then her singing.  Horn playing this raucous you don't generally hear outside of a Midtown traffic jam.
Less starry but a good deal more listenable was Christine Rice, also a mezzo, as Ruggiero's faithful betrothed Bradamante.  If her tone was plain, her coloratura singing was impeccable, every note dead center in tune and rhythm despite the tricky low tessitura. In the flashy part of Alcina's scheming sister Morgana, soprano Anna Christy fluttered and chirped like an operetta soubrette. The success of her final solo "Credete al mio dolore" had nothing to do with her and everything to do with the soulful cello part played by Joseph Crouch. His liquid legato transformed this throwaway number into the emotional high point of the afternoon.
Of the remaining singers, Anna Devin revealed a fresh, winning tone as Oberto, a young man searching for his lost father. This is a role that often gets cut from performances of Alcina (for instance, in the fascinating experimental staging of this opera at the Whitebox Art Center last month) and I'm grateful that these gentle arias were included here.
Less pleasing were a couple of damaging omissions to the score, particularly the middle section and repeat of the opera's "11 o'clock number," the dazzling trio "Non è amor, nè gelosia." Given Mr. Bicket's otherwise scrupulous musical preparation and refreshingly brisk tempos, this cut really stuck out like a sore thumb. You might as well omit the Grand March from Aida.
Though I couldn't completely concur with the Carnegie audience's rapturous applause, I was mightily impressed with Ms. DiDonato. If she would deign to do the vocal equivalent of swapping her Westwood crinoline for a little black dress, she could be not only a great Alcina, but also the preeminent Handel singer of our time.