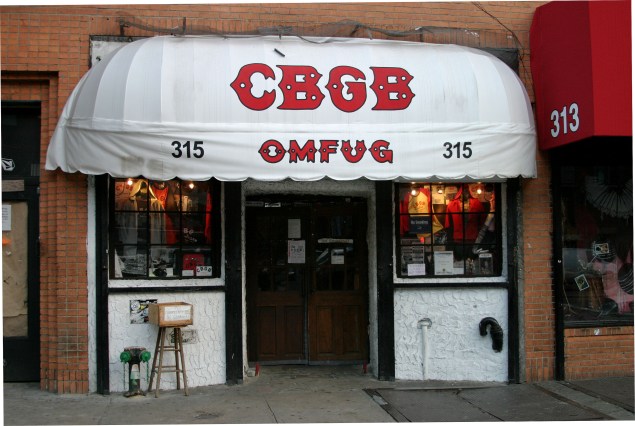 You know how the story goes: once upon a time in the '70s, CBGB (OMFUG) was a key hub of activity for punks, poets, Lou Reed, and other degenerates of the downtown scene. It closed for good in 2006, and now lives on as a perverse performance art project designed to kill everything holy about rock & roll a Jon Varvatos store, so now we honor its lasting legacy the only way we know how: with a giant, corporate-sponsored Jane's Addiction concert in Times Square. It's what Hilly would have wanted.
Held over the course of five days, the third annual CBGB Music and Film Festival takes the wide angle on CBGB's sphere of influence, with performers as disparate as Devo, We Are Scientists, Macy Gray, and someone called Dirty South (who is, of all things, a DJ). After the inspiring blowout of CBGB's final shows—which counted Blondie, the Dictators, Bad Brains and Patti Smith among its headliners—this festival is bound to rankle purists. Then again, there's a free Devo concert, albeit in Times Square, a place most New Yorkers do their best to avoid. So … don't look a gift show in the mouth?
In addition to the Times Square stage, there are club gigs scattered all over town like a mini CMJ, with bigger billings including Talib Kweli at Brooklyn Bowl, Upset at The Bell House and Electric Six at the Knitting Factory. There are screenings of films both old and new, like a 30th anniversary presentation of This Is Spinal Tap and Like Sunday, Like Rain, a film about a struggling musician who mentors a 12-year-old musical prodigy, which stars Billie Joe Armstrong, Debra Messing and Leighton Meester. There are also numerous talks and events, culminating in a keynote interview with (and short acoustic concert from) Billy Idol, who has an autobiography to peddle.
In terms of the scattershot nature of the fest, "eclectic" would be putting it mildly. But the lineup reflects a diversity not seen in CBGB's early days, showing that the "punk rock" spirit can be applied equally to hip-hop, soul, and yes, even EDM. There are also tons of up-and-coming acts, which addresses an issue I've long had with CBGB-related nostalgia, namely: the implication that New York's musical heyday is behind it. Things may have changed, but this is still New York City, and if you stop complaining and get off your butt, you'll find an art and music scene that's just as vital as ever.