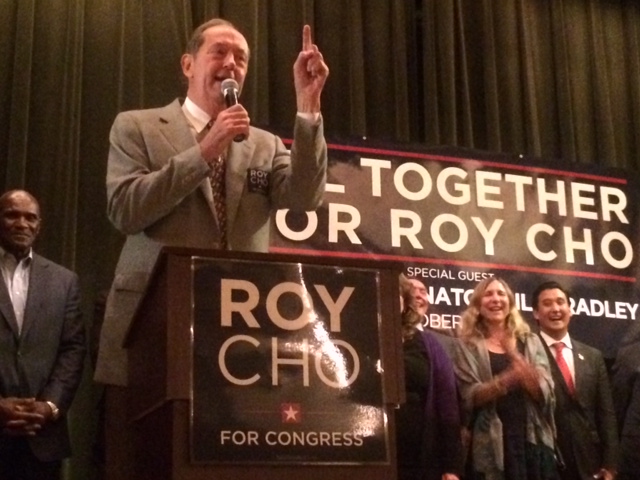 RIDGEWOOD – Bill Bradley is beyond politics.
The cerebral former U.S. Senator and Democratic presidential candidate has left the political stage. Yet Bradley, a Rhodes Scholar, former Princeton and New York Knicks basketball star and author, still captures the imagination of many, a combination of athletic glory and intellectual gravitas.
A crowd of more than 300 people stood and cheered when Bradley walked to the stage at the Woman's Club in Ridgewood on Tuesday night, like an old prizefighter fondly remembered. Bradley came back to politics at a fundraiser on behalf of Roy Cho, the Democratic candidate in the Fifth Congressional District. And without skipping a beat, he got back into the ring.
"I'm here tonight because my mind and my heart have converged on Roy Cho," said Bradley, who served in the U.S. Senate from 1979 to 1997. "When I left Washington, I said politics was broken. There is no question that it hasn't gotten better since 1997. It's gotten worse. We definitely need Roy Cho. I think of his commitment. I think of the hard work he's putting into this campaign. I think of what he stands for in terms of what's possible in America. We need somebody who understands what it means to live in a state as dense as ours, with an opportunity to build a better society in that state, which depends on transportation, education and health care. Roy Cho understands all of that. He will be a great United States Congressman."
Bradley was joined by an array of Democratic luminaries, including state Senate Majority Leader Loretta Weinberg (D-37), U.S. Rep. Frank Pallone (D-6), U.S. Rep. Bill Pascrell (D-9) and U.S. Sen. Bob Menendez. The fundraising event raised more than $75,000, according to the Cho campaign.
Menendez eviscerated the record of Cho's opponent, six-term Republican incumbent U.S. Rep. Scott Garrett (R-5).
"For twelve years, our communities in the Fifth Congressional District have suffered under the policies of someone who is so extreme that if Republicans, Democrats and independents in the district fully understood what their present representative votes for, they would clearly turn away," Menendez said. "He has walked away from having one set of votes in Congress and a different set of things he says back in his district.
"At the time [of Hurricane Sandy], New Jersey needed a Congressional delegation that stood on its feet to fight for New Jerseyans. But there was one member of the delegation who instead of saying 'yes', consistently said 'let me think about it'," added Menendez, a reference to Garrett's hesitation to support federal Sandy aid and to a recent Garrett campaign mailer that asserted Garrett was "leading the effort" to obtain Sandy said. "None of it was about good public policy. All of it was about his Tea Party mentality. When New Jerseyans needed a champion, they had someone who closed the door on them .Roy Cho is not Scott Garrett, and that's why we need to send him to Congress."
"Americans here in northern New Jersey need help, and we are being represented in Congress by someone who doesn't believe that there is any role for government to play," Cho, 33, a Korean-born attorney who lives in Hackensack. "[Garrett] went against his own governor [Chris Christie], a Republican governor, on Hurricane Sandy aid initially on principle because he had been against Hurricane Katrina aid. He represents the 'politics as usual' that turns so many people off against Washington, D.C., turns so many people off to what it means to serve in government, and turns so many people off to what it means to be a part of the American Dream."
Cho is seeking to represent New Jersey's Fifth Congressional District, which includes parts of Bergen County, a few Passaic County municipalities, and most of Warren and Sussex counties.
While many see Cho's battle against Garrett as an uphill struggle, Cho noted that he felt momentum is in his favor as he continues to engage voters in traditional door-knocking and morning train stop campaign efforts.
"If we all come together, I'm fully confident that on November 4, we are going to pull off one of the biggest political upsets we've even seen," Cho said.
Bradley told PolitickerNJ why he is a true believer in Cho.
"He is starting to run for office based upon his character and his experience outside politics with a deep commitment to serve the people," Bradley said. "That's what I try to do."