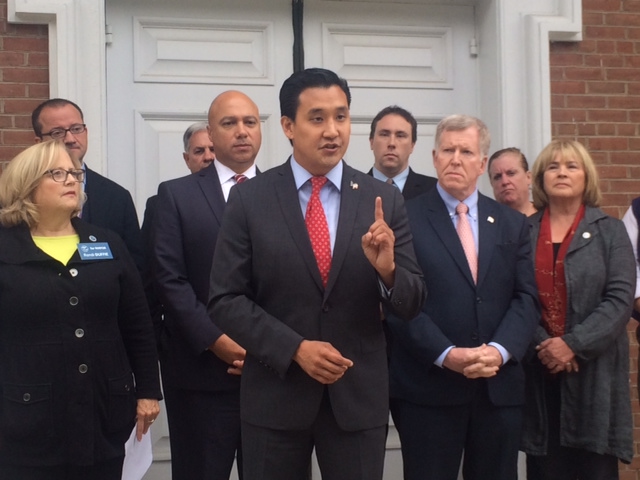 NEW MILFORD – Roy Cho, the Democratic candidate in New Jersey's Fifth Congressional District, slammed Republican incumbent U.S. Rep. Scott Garrett once again for what he called the "height of hypocrisy" in a recent Garrett campaign mailer focused on Hurricane Sandy.
"New Jerseyans, regardless of their political beliefs, needed help. Members of Congress were able to come together with a Republican governor [Chris Christie] to seek the federal assistance that we needed here," Cho said at a press conference in New Milford on Wednesday. "You had one member of Congress in New Jersey who dragged his feet, who refused to sign the initial letter signed by all Republicans and Democrats seeking federal aid for New Jerseyans seeking help. That one member of Congress was Scott Garrett."
Cho's criticism came in the wake of a recent Garrett campaign mailer which states that the six-term incumbent "was immediately on the ground helping families recover, while also leading the effort in Washington to ensure the federal funds we needed were available quickly."
PolitickerNJ reported first that in a written statement on Friday, Cho pointed out that Garrett was the only New Jersey Congressional representative who did not sign a letter in November 2012 that asked House leadership to build bipartisan support for the prompt delivery of federal aid for victims of Sandy.
Garrett is one of eleven members of Congress who voted against federal aid for victims of Hurricane Katrina in 2005, citing concerns about oversight. He eventually voted in favor of federal disaster aid for victims of Sandy.
Cho was joined on the steps on New Milford Borough Hall by a host of local officials ready to remind Garrett that often in local politics, he who hesitates is lost.
"I received phone calls during major disasters from [U.S. Sen. Bob] Menendez (D-NJ) and [U.S. Rep.] Bill Pascrell (D-9), who is not even my Congressman, during Superstorm Sandy," said Lodi Mayor Marc Schrieks. "I didn't receive a phone call from Congressman Scott Garrett. My office did not receive a phone call from Congressman Scott Garrett, nor did he come to the borough of Lodi to see what happened."
"How can you put lies in fliers taking about your commitment to the people? There is no commitment," said Bergen County Freeholder and former Paramus Mayor Jim Tedesco, who is the Democratic candidate seeking to oust Republican County Executive Kathleen Donovan in November. "Roy Cho represents the mainstream of the Fifth Congressional District. [Republican] Marge Roukema represented the Fifth Congressional District for years. Why? Because she was a moderate, because she was mainstream."
Phone calls to both the Garrett campaign and the congressman's Washington, D.C. office seeking comment were not immediately returned.
But Bergen Republican Chairman Bob Yudin defended Garrett's performance in the aftermath of Hurricane Sandy.
"The criticism is typical revisionist history," Yudin told PolitickerNJ. "Look at Katrina. The government threw billions of dollars at it with no safeguards. Billions were wasted. Scott Garrett wanted to make sure that the taxpayers' dollars were protected before he voted for [federal Sandy aid]. He should be congratulated.
"Scott Garrett represents the district, and keeps getting reelected. He's definitely doing what the voters want," added Yudin when asked about Democratic politicians' critiques that Garrett's politics are too far to the right. "That's why they keep reelecting him. They want a conservative congressman."
Cho said that he would continue to campaign hard throughout the district, which includes parts of Bergen County, a few Passaic County municipalities, and most of Warren and Sussex counties. Cho told PolitickerNJ that his campaign had reached out to the Garrett campaign to set up a series of debates, but the Garrett campaign had yet to reply.
"All politics are local, and voters have become incredibly sophisticated. That's a lesson Eric Cantor learned in Virginia," said Cho, referring to the Republican congressman and former House Majority Leader, who unexpectedly lost the Republican primary in June and retired soon afterwards. "[Garrett] is telling voters in a highly educated and sophisticated voting district that he was there for them when he was not. If government is going to work on the behalf of people who need help, then we need everyone to work together. In the Fifth Congressional District, we deserve real leadership and real representation that is willing to put politics aside. We are going to expose Scott Garrett's real record. We are fully confident that we're going to be able to pull off a big upset."