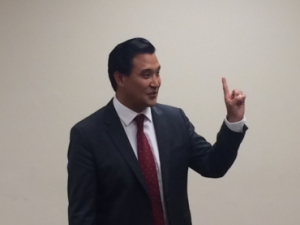 HACKENSACK – Roy Cho, the Democratic candidate in New Jersey's Fifth Congressional District, went up on cable television on Tuesday morning with his third TV ad of the race.
In his third ad, Cho, an attorney who lives in Hackensack, slams his opponent, U.S. Rep. Scott Garrett (R-5), for having a "record of extremism," particularly in the wake of a recent campaign mailer distributed by the Garrett campaign.
Garrett's mailer states that the six-term incumbent "was immediately on the ground helping families recover, while also leading the effort in Washington to ensure the federal funds we needed were available quickly."
PolitickerNJ reported first that in a written statement, Cho pointed out that Garrett was the only New Jersey Congressional representative who did not sign a letter in November 2012 that asked House leadership to build bipartisan support for the prompt delivery of federal aid for victims of Sandy.
Garrett is one of eleven members of Congress who voted against federal aid for victims of Hurricane Katrina in 2005, citing concerns about oversight. He eventually voted in favor of federal disaster aid for victims of Sandy.
New Jersey's Fifth Congressional District includes parts of Bergen County, a few Passaic County municipalities, and most of Warren and Sussex counties.
The Cho ad can be seen here.