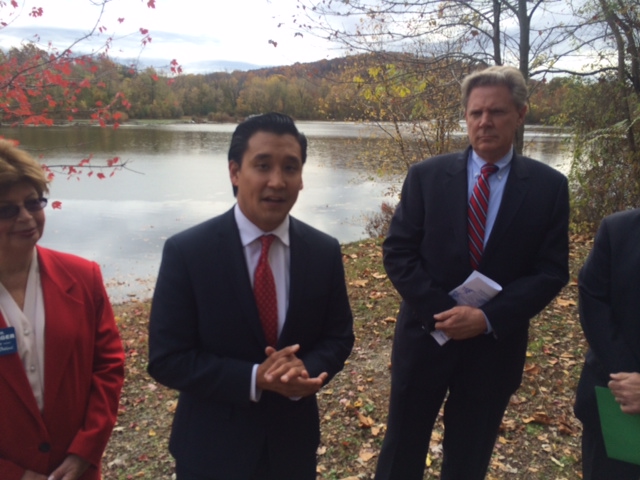 OAKLAND – If Democrat Roy Cho is successful in his plan to unseat Republican incumbent Scott Garrett in New Jersey's Fifth Congressional District, one factor will have been a surge of support following Garrett's perceived gaffe in his campaign's recent mailer about the aftermath on Hurricane Sandy.
On the second anniversary of Sandy's disastrous landfall on the Jersey Shore, Cho stood on the banks of Potash Lake in Oakland, a Bergen County borough, reiterating his attack on what he claims was Garrett's hesitation to act after the hurricane.
"We live in a civilized society, and there has to be a role that government plays. There is a stark contrast between what Congressman Garrett refused to do, and what every other member of Congress, Democrat and Republican, was willing to do in signing the initial letter of support [for federal aid] days after Hurricane Sandy devastated the state," said Cho on Wednesday, a charge Garrett has countered by stating that he ultimately voted for the federal Sandy relief package. "This is what this election is about, that stark contrast. This is a credibility issue for voters. He was against Hurricane Sandy aid initially for ideological principles. The voters understand that, and that's why this race has tightened up."
Cho's critical comments about Garrett's record on Sandy added kindling to the fire that Cho hopes will smoke Garrett out of office. The heat generated over the issue in recent weeks, which began with Cho slamming a Garrett mailer about the Congressman's post-Sandy record as "the height of hypocrisy," as well as a poll showing a tightening race, has drawn attention from national media outlets such as The New York Times and Politico. It also contributed to Cho being endorsed by The Record and The Star-Ledger, the state's largest newspapers, as well as The Express-Times, which covers Warren County, considered to be Garrett country.
The question of whether, six days before the election, there is enough of what has been called "Cho-mentum" by the Democrat's supporters to score a serious upset over Garrett led to a range of responses from statewide political observers.
"Things can change in a day. There is absolutely enough time for Garrett to pull away, or for Cho to overcome Garrett's incumbent advantage," said Ben Dworkin, professor of political science and director of the Rebovich Institute for New Jersey Politics at Rider University. "The surge in publicity helps Cho among people who still don't know who he is, but it might not be enough. He still has to introduce himself to the [hundreds of thousands] of people in the district.
"In 2014, being the sixth year of the Obama presidency, historically the Republicans should be more enthusiastic, and national polls seem to indicate that," Dworkin added. "But in this isolated district, the publicity surrounding Cho might translate into voter momentum for the Democrats."
"This is an uphill battle. It is very difficult to knock off a Congressional incumbent," said Brigid Harrison, professor of political science and law at Montclair State University. "One of the things that the media attention and endorsements will generate are campaign contributions. At this late date, the purpose of those contributions would be to beef up the get-out-the-vote efforts, both in early voting and on Election Day."
Cho is not hurting for local Democratic support. On Tuesday, prominent Hudson County Democrats indicated that they were willing to put "bodies on the ground" to support Cho's get-out-the vote efforts. On Wednesday in Oakland, U.S. Rep. Frank Pallone (D-6) criticized Garrett as an "ideologue" and "climate change denier" who was "fiddling his fingers" and who did not support "any aspect of the Sandy funding until the very last minute."
"There is no question that Sandy was caused because of problems with climate change," said Pallone, flanked by New Jersey of Conservation Voters Executive Director Ed Potosnak, whose organization endorsed Cho. "The problem is, he's an ideologue. He's not practical."
"As New Jersey becomes more and more densely populated, Congressman Garrett believes it is vitally important to maintain the character and beauty of our community," countered Garrett spokeswoman Maggie Seidel in a written statement, noting that Garrett had written and helped passed legislation that protects the Musconetcong River, which flows through his district. The Fifth Congressional District is comprised of parts of Bergen County, a few Passaic County municipalities, and most of Sussex and Warren counties.
Pallone came all the way from Union Beach in Monmouth County on Wednesday to support Cho after another Hurricane Sandy-centered event. According to Patrick Murray, director of the Monmouth University Polling Institute, it is the Democratic support that failed to come from even farther away that could be Cho's Achilles' heel.
"Cho has an opportunity in this race, partially because Cho is running a very good campaign, and because Garrett was not engaged. Once Garrett realized that this was a close race, he decided he was going to spend some of his money, get out and meet some voters, and actually talk to reporters for the first time in years," Murray said. "Without the national Democrats coming in to aid Cho and offset Garrett's renewed energy in this race, the momentum Cho had earlier in the month has dissipated. It is an unusual occurrence that the incumbent is behaving differently that he has in the past. The question is which way does this go."