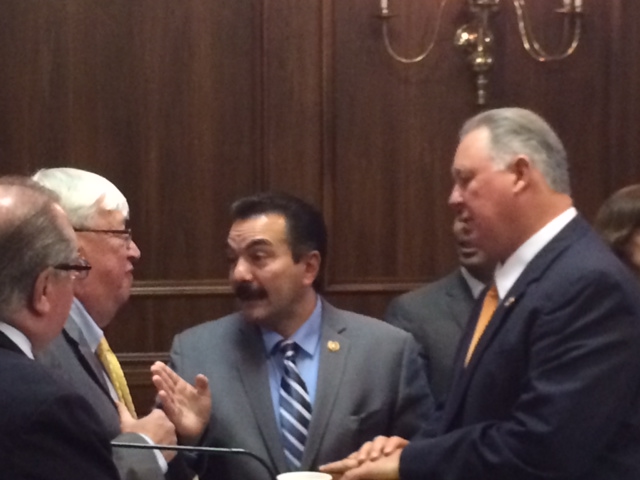 JERSEY CITY – Two of Hudson County's most prominent Democrats looked north at fellow Democrat Roy Cho's effort in the Fifth Congressional District race, then offered Election Day help in a traditional Hudson way.
"We can give them whatever bodies on the ground that we can. They can count on us. We're here to help," said state Assembly Speaker Vincent Prieto (D-32), standing alongside U.S. Rep. Albio Sires (D-8) on Jersey City on Tuesday. "I have offered to both Roy Cho and [Bergen Democratic] Chairman Lou Stellato any resource that we can offer. Labor will be a part of it, too."
"I sent money to Cho. I sent money to the party organization," the Cuban-born Sires said, moments after both he and Prieto and spoke at the official opening of an immigrant advocacy center in Jersey City that is co-sponsored by Hudson County and by the non-profit agency wing of the New Jersey State AFL-CIO, the first center of its kind to be labor-led. "I offered my support if they need to do anything with the Hispanic community. I told them that they can use my name on anything that they do."
Prieto has often publicly commented on the burgeoning northern alliance between the Democratic organizations of Hudson, Bergen, Passaic and Essex counties. The get-out-the-vote, ground-game capabilities of this North Jersey covenant could be critical in the CD 5 race, where Cho is counting on heavy turnout in the denser, Bergen-based parts of the district to help him defeat Republican incumbent U.S. Rep. Scott Garrett. The Fifth Congressional District is comprised of parts of Bergen County, a few Passaic County municipalities, and most of Sussex and Warren counties.
Prieto, who is also the Hudson County Democratic Organization (HCDO) chairman, noted that Cho is a "tireless worker" and has "been surprising everybody."
Prieto then referred to a notable North Jersey surprise in another recent Congressional race.
"[Cho] has taken the model of [U.S. Rep. Bill] Pascrell," who scored what many political observers considered an upset victory over former U.S. Rep. Steve Rothman in the 2012 Ninth Congressional District Democratic primary that stemmed from the 2010 Congressional redistricting. "You've got to go grass roots."