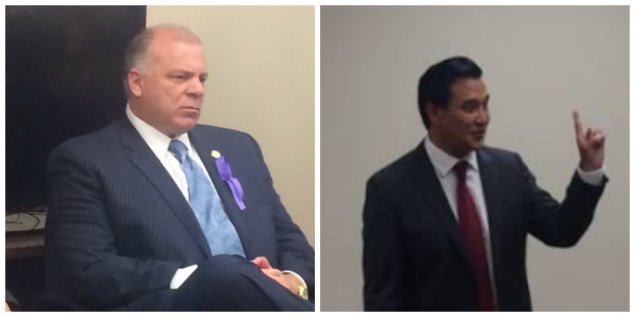 ROCHELLE PARK – The revelation yesterday that the House Majority PAC, which aims to help Democrats win U.S. House races across the nation, is moving its advertising buy from New Jersey's competitive Third Congressional District race to the relatively safer contest in the First Congressional District spurred a response from a prominent Democratic politician who lives in CD 1.
"The national Democrats are foolish not to support Roy Cho," said State Senate President Steve Sweeney (D-3) in reference to the Democratic candidate in the North Jersey-centered Fifth Congressional District, who is locked in a tightening struggle with Republican incumbent Scott Garrett. "He has done an amazing job. I haven't seen a candidate like Roy in a very long time. It's worth the investment."
Sweeney's comments were made on Tuesday after appearing at a roundtable on domestic violence at the Center for Hope & Safety in Rochelle Park, which is in CD 5. Sweeney spoke out after the Philadelphia Inquirer's Jonathan Tamari reported that the House Majority PAC has decided to shift its support away from the CD 3 race. The CD 3 battle pits Democrat Aimee Belgard up against Republican Tom MacArthur in the Burlington and Ocean county-centered district. Many political observers say the seat, left open by U.S. Rep. Jon Runyan's decision to retire, is still competitive despite a recent poll indicating that MacArthur has a 10-point lead.
The House Majority PAC instead will shift its advertising buy to the First Congressional District race, where Democratic State Sen. Donald Norcross (D-5) hopes to defeat Republican Garry Cobb in the fight to fill the spot of former U.S. Rep. Rob Andrews, a Democrat who resigned earlier this year.
The First Congressional District is seen as solidly Democratic, and Donald Norcross is the older brother of George Norcross III, an insurance executive who is generally acknowledged to be the prime South Jersey Democratic power broker.
Yet Sweeney, a close Norcross ally who is also South Jersey's potential standard-bearer in the 2017 Democratic gubernatorial primary, still saw Cho, a 33-year-old attorney who lives in Hackensack, as the way to go.
"I know [New Jersey State Democratic] Chairman [John] Currie called on [the Democratic Congressional Campaign Committee] to [back Cho]. It's the right thing to do," Sweeney said. "This young man can win, and if he wins he will be there for a very long time. He's bringing out people that you don't normally see. [The Democrats] can't blow this opportunity."