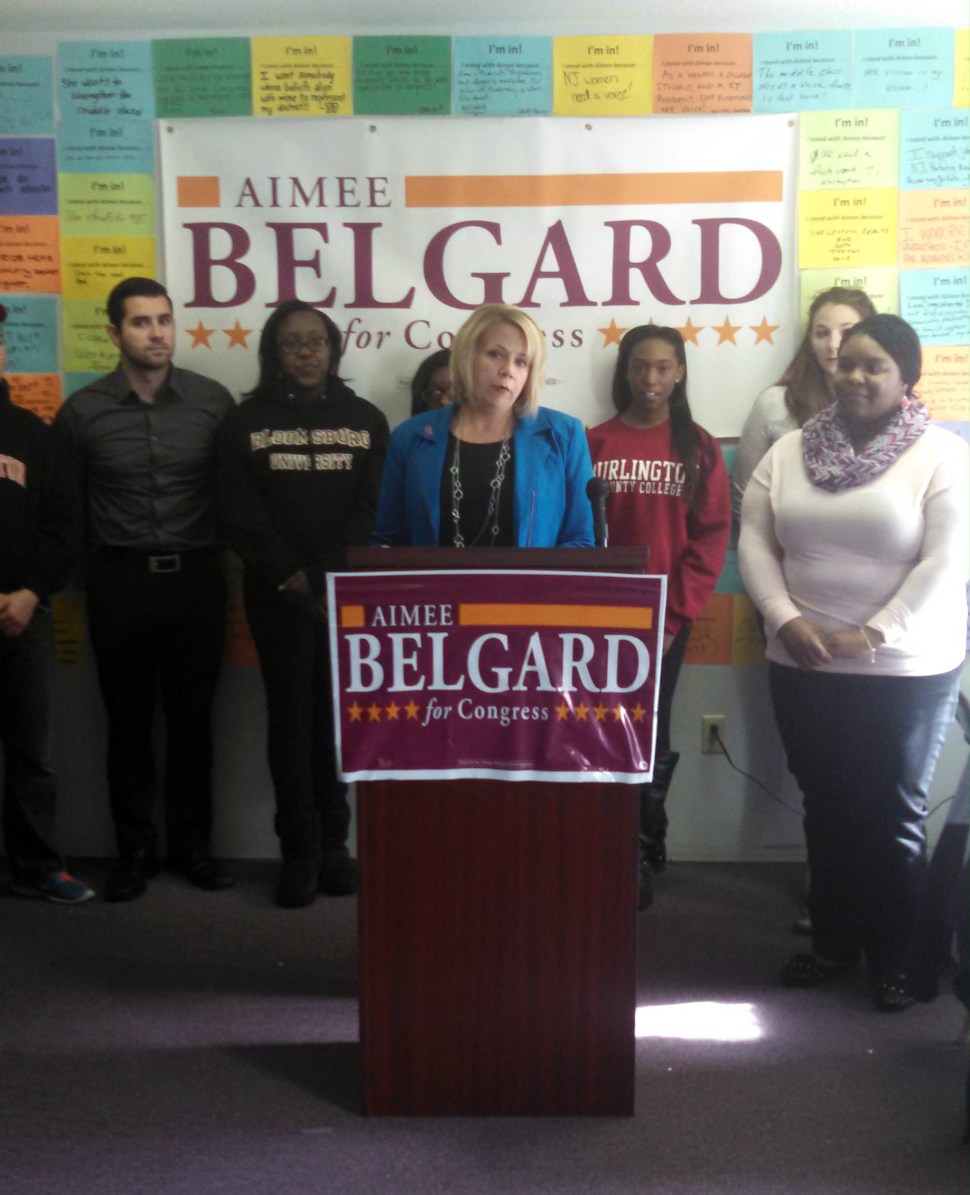 WILLINGBORO – As Gov. Chris Christie continues to make national headlines — ranging from the critical to the satirical — for his handling of state policy regarding Ebola, Aimee Belgard, Democratic candidate in South Jersey's third congressional district, sized up the situation herself today.
She called the crisis the country and state faces "a bit of uncharted territory," and laid blame closer to the feet of Congress than those of Christie — though it was unclear whether she agreed or disagreed with his recent actions.
"As we know, Christie makes bold moves sometimes. But I think that we want to make sure that we are doing our best in protecting folks here in New Jersey. I think, when you mentioned the CDC, we can't help but look back and see that had the CDC and the National Institute of Health received the funding — that funding hadn't been cut through sequestration — for those important entities, we might not be in the situation we are now."
Finding himself in the national spotlight once again for his brash approach to crisis management, Christie has been taking flak — and commendation — over the last few days for his response to the threat of Ebola in New Jersey. Last week, he and New York Gov. Andrew Cuomo announced a policy of mandatory quarantine for any health-care workers returning from Ebola-stricken regions of West Africa, despite calls from doctors who disagreed with such strict precautions.
The issue came to a head this weekend when Christie's policy led the state to detain and hold for over 65 hours a nurse who was returning from West Africa. She was allowed to leave only after tests came back negative for the virus — but the ordeal forced Christie into a precarious position, sparring with the nurse over lawsuit threats at a distance and defending the state's controversial quarantine as good governance.
"Governors ultimately have the responsibility to protect the public health and public safety," Christie said this morning during an interview on the Today show.
Belgard, for her part, left Christie largely off the hook, arguing that budget cuts resulting from 2013's sequester in Washington may have stunted health organizations like the Center for Disease Control and its ability to respond effectively to the crisis. She's not the only one who thinks so.
"I've been a longtime advocate for funding the National Institute for Health and the CDC, and to see now that we are in a predicament and circumstance that could've been curtailed, is very troubling for me," Belgard said.
It was a position notably different from her competitor's, Republican businessman Tom MacArthur, who told PolitickerNJ earlier this month that he would have all travelers screened for the virus.
"Well the federal government is dealing with it terribly, in my view," MacArthur said. "This is about human lives. People are sick and dying, and that needs to be the focus. I believe there are some things we should be doing. Anybody who's been to one of the countries affected by Ebola I believe should be in a 21 day quarantine when they come back."
Asked if she thought New York and New Jersey's quarantine policies — which have also been taken up by other states, like Florida — might discourage much-needed healthcare volunteers from going to places affected by the virus, Belgard said she didn't know.
"I don't know whether it will discourage folks or not but I think that the human spirit is great and the people who are willing to talk on those challenges, I absolutely applaud them," she said.