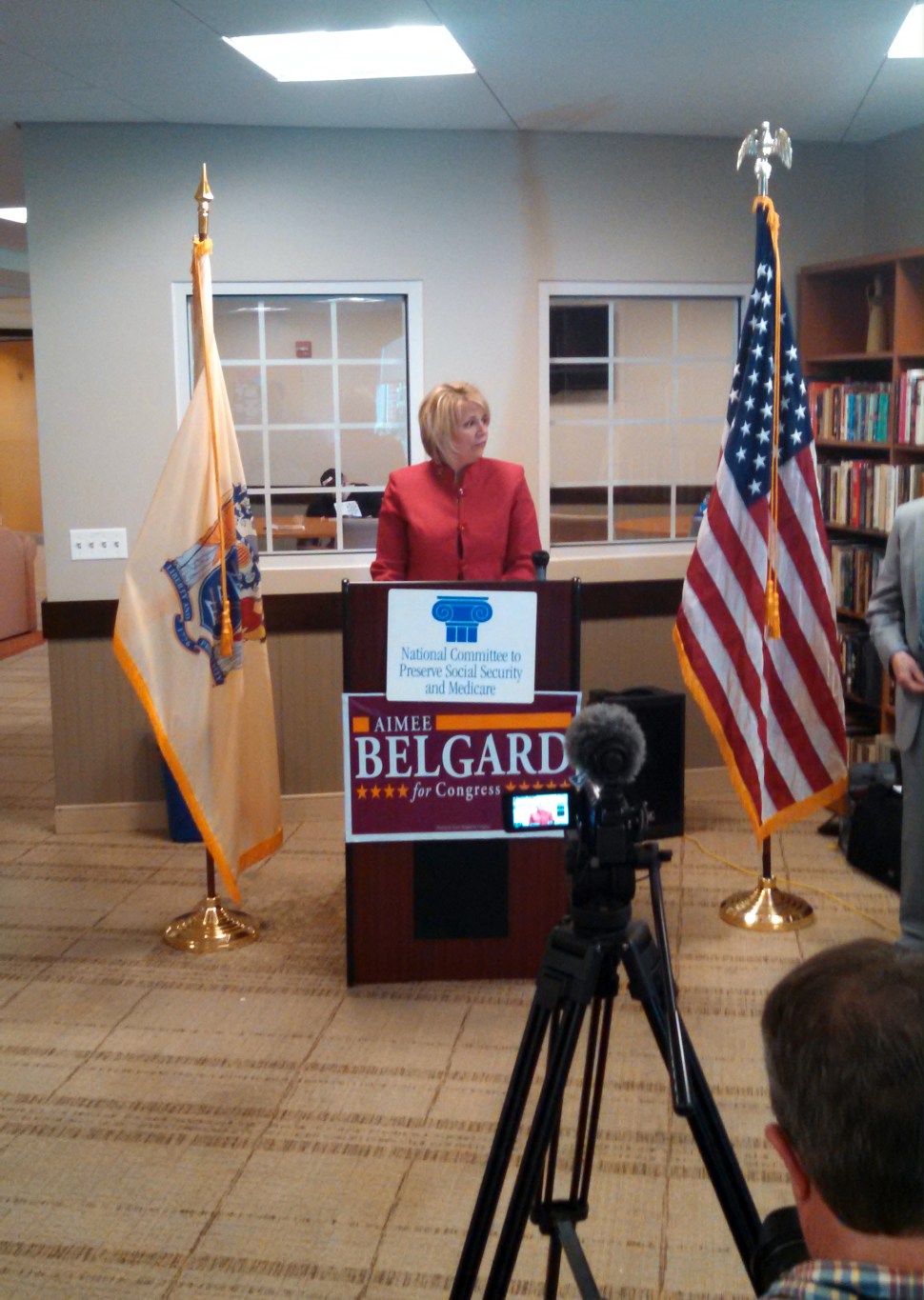 WILLINGBORO – Burlington County Freeholder Aimee Belgard has netted another endorsement in her quest to succeed outgoing U.S. Rep. Jon Runyan (R-3) in South Jersey's third congressional district — this time from the National Committee to Protect Social Security and Medicare (NCPSSM).
Addressing a crowd of sleepy senior citizens at the Senior Center here on John F. Kennedy Way, Belgard, the Democratic nominee in CD3, accepted the left-leaning organization's endorsement from Philip Rotondi, its political director. Rotondi praised Belgard's commitment to protecting the beleaguered social services — a hot button issue in the Burlington and Ocean County-constituted district —  while rattling off a list of facts and figures to show the programs are not beyond saving.
"Aimee knows that social security has not contributed one penny to the national debt," Rotondi told the room. "Aimee appreciates that people with Medicare have modest incomes — one half live on annual incomes of $23,500 and less. And she knows that for older women the median income from Medicare beneficiaries is just $16,000. These are the people and families that Aimee Belgard wants to protect against those in Congress who want to cut Social Security benefits. She wants to ensure that traditional medicare is not ended to the benefit of private insurance companies. In short, Aimee will take to Washington exactly the kind of common sense leadership we need in the U.S. House of Representatives."
Rotondi said the NCPSSM was proud to endorse Belgard in her race against Republican hopeful Tom MacArthur, a businessman from North Jersey, after the Democrat passed vetting process that included a questionnaire, interview and "in-depth discussion" of the issues. He pointed out Belgard's promise to "[stand] up to any attempt to erode the sacred trust that provide health and economic security for older americans," in the candidate's own words, and presented Belgard with a set of red boxing gloves — an embodiment of the endorsement, presumably.
But he expressed some bitterness when he noted that MacArthur did not complete the NCPSSM's questionnaire or even "bother to come in and meet with us," even though the committee invited him to do so.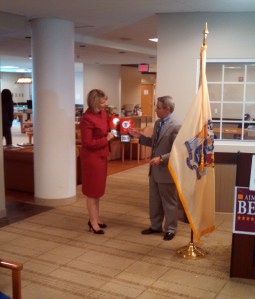 "And he apparently has not pledged to oppose Social Security benefit cuts," Rotondi said, tearing into MacArthur's record on the issue. "He says Americans who work and pay into social security should receive the benefits they earn. But he pledges to support a constitutional amendment to balance the budget, even though that particular amendment … would block the payment of social security benefits."
Belgard echoed those sentiments when she got up to the podium herself, criticizing her opponent for his "profit at any cost approach" to social services and his record that "unfortunately …leaves us with more questions than answers."
"When it comes to social security, all we know is that he is 'open to changes,'" Belgard said. "But what does that mean? Raising the retirement age, cutting benefits? If Tom MacArthur had his way he would never answer that question. He'd let seniors and their families find out the hard way."
MacArthur and Belgard most recently sparred over their positions on social security and medicare during their first live debate in Moorestown last week, where neither offered hard specifics on their proposals to fix or gut the programs. The Republican's website notes the social security is "promise that must be kept to our citizens," while Belgard has it called it a "sacred trust."
But today Belgard expanded more on the issue, supporting a minimum wage hike and advocating again for pay equity in the workplace, noting the former would add $4.3 billion to social security's coffers by 2016 and the latter reduce its projected shortfall by a third. She also blasted Congress' own track record on the issue — and by extension MacArthur's, who she said campaigned with House Speaker John Boehner recently, "and under Speaker Boehner's leadership social security and medicare have come under assault."
"Congress is broken. And it's failed to fight for us," she said. "Washington politicians have put social security and medicare benefits on the chopping block while big oil rakes in billions in taxpayer financed subsidies, billionaires receive tax cuts, and companies are encouraged with tax breaks to ship American jobs overseas. This is completely reprehensible, given that the average social security benefit is just over $15,000 a year."
The endorsement adds to a bevy of support the Democrat has received since announcing her bid against MacArthur late last year. Both have racked up major endorsements in recent weeks, with Belgard accepting support from national women's rights and health-related organizations like Emily's List and ProtectSeniors.org, and MacArthur grabbing big labor endorsements from unions like the  Laborers' International Union of North America and the United Brotherhood of Carpenters and Joiners of America.
Asked what the NCPSSM's latest endorsement means for her campaign, Belgard said the support was "hugely important."
"It's a very important endorsement," Belgard said. "I just think that social security and medicare are so important to the folks of the third district where, throughout Burlington and Ocean County, as you see here today, the number of people that are actually affected by and changes or proposed changes. If I am going to represent the people of the third district, then this endorsement is hugely important."