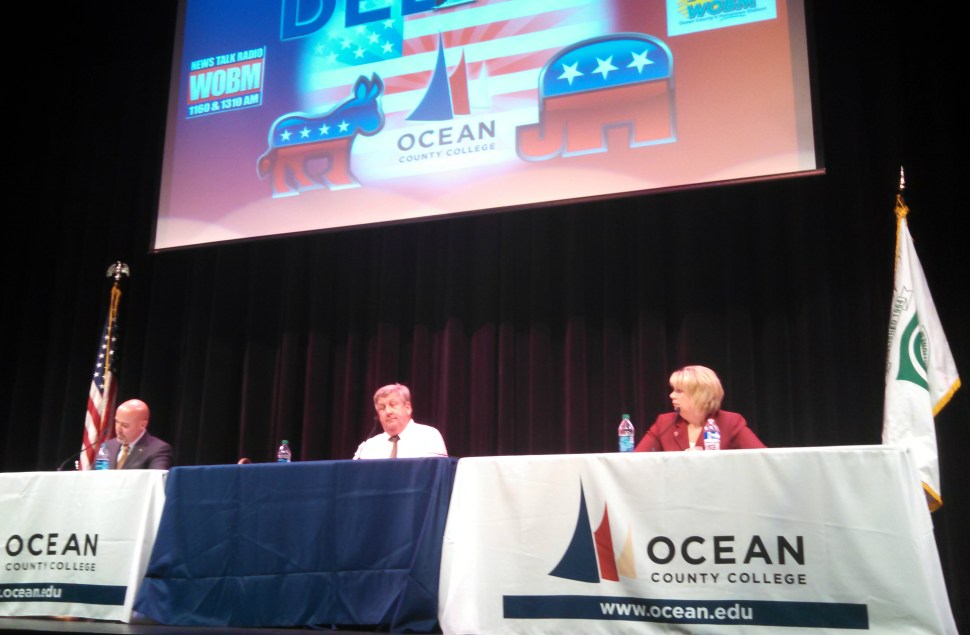 Congressional candidates in South Jersey's third district, Democrat Aimee Belgard and Republican Tom MacArthur, will meet tonight in Columbus for their six face-to-face clash of a contentious months-long race.
The two will appear at Fours Seasons at Mapleton for another meet-the-candidates night, where they'll partake in a question and answer session with voters. The discussion will likely focus on Social Security and Medicare, two premier issues in a district that boasts the largest senior citizen population in New Jersey.
The event, however, will likely not equal the intrigue that surrounded the candidates' last meeting, which took place Friday night in Toms River. There, in a packed auditorium at Ocean County College, the two convened for their third and final official debate of the contest — trading verbal attacks on all manner of issues in one of their most intense confrontations to date.
The 90-minute back-and-forth was made more jarring by a bizarre debate format that allotted 60 and 30 minute responses and a segment where the candidates were allowed to directly ask and answer each others questions — but also by the presence of third party candidate Frederick John LaVergne.
LaVergne, of the Democratic-Republican party, is unlikely to have any real impact on the race in CD3, according to political observers, who see most voters in the Ocean and Burlington-County constituted district falling in line between their respective party candidates. But in a district with a sizable registered-independent voter population, LaVergne — whose party is sponsoring a number of other candidates in races up and down the ballot across the state — could at least pull some undecideds away from his mainstream competitors.
Talking to PolitickerNJ a few days before Friday's debate (the first and only debate with MacArthur and Belgard he's received an invited for) LaVergne clarified his campaign's aim: "Actually, to put it most correctly, I am not 'running against' Tom and Aimee. I am applying for the same vacancy, owned by the voters and not the party bosses, and am eminently better qualified."
And though most of that debate saw the Republican and Democrat lobbing attacks and one another while LaVergne sat shrugging his shoulders in the middle, the cantankerous Democratic-Republican got a number of good shots of his own in, blasting MacArthur for touting his charity efforts (MacArthur claimed he's donated "thousands" of wheelchairs to charity on behalf of his late daughter) without offering proof, and slamming Belgard for failing to appear at a confirmed court appearance to appeal the status of another CD3 candidate, Ed "NJ Weedman" Forchion (Weedman was thrown off the ballot by Lt. Gov. Kim Guadano for not having enough valid signatures on his nomination ballot back in August).
The only thing more raucous at than the candidates themselves was the crowd.
Tonight's candidates event starts at 7:30pm (LaVergne will not be in attendance). Watch Friday night's debate below, courtesy of NJTV.
[youtube https://www.youtube.com/watch?v=VXGBthJ6vYs]