SOUTHAMPTON – Pressed by her Republican opponent on her record as an Edgewater Park councilwoman, Democrat Aimee Belgard found herself explaining aloud during a testy meet-the-candidates forum tonight why she decided to vote for a tax hike on small business owners two years ago.
"In Edgewater Park it's all about serving the people and if you look at my record you can see I served the people of Edgewater Park well, just as I do in Burlington County," Belgard, since elected to the Burlington County Freeholder board, said when asked about the vote, which favored an annual permit fee increase on businesses for every additional employee they hired.  "And I think at the end of the day Tom knows — he raised taxes in his hometown every year the he was on town council there. So there were tough decisions that had to be made along the way but every decision I made, I made for the people of Edgewater Park."
A former councilman and later mayor of the north Jersey town of Randolph, MacArthur has used Belgard's tax vote as fodder for his campaign as the two make their final pushes towards a Nov. 4 finish line in the third congressional district race. In a press release and event this week MacArthur reamed the Democrat for crushing small businesses with a tax that "will no doubt result in reduced pay for workers and fewer workers being hired."
But Belgard too criticized the Republican for his own background as an elected official, forcing him on the defensive over past decisions to raise property taxes.
"There's a difference in our tax records and I think it's important," MacArthur shot back. "My town when I was a councilman and a mayor had among the lowest tax burdens per person in the region. We also had a triple A bond rating. There's 213 towns in the entire United State that have a triple A bond rating. Of all the tens of thousands of towns, there's 213. And my town was one of them. So I think there's a big difference."
Predictably, the two clashed over a number of South Jersey-specific topics as they sat in front of roomful of residents gathered in the recreation center at Leisuretowne, a senior living community in the heart of Burlington County, for their third in-person meeting of the race. Many of the same issues that have served as hot-button debate points for the duration of the contest — the Affordable Care Act and equal pay legislation among them — resurfaced again tonight.
Belgard, who's received endorsements by a number of women's rights and healthcare-related organizations, defended equal pay and took a pro-abortion stance when asked about the latter — as did MacArthur, notably, in cases of rape and incest.
"I believe in our system in the United States. I believe in our system and sometimes, you have to step up and fight for what's right," Belgard said when the moderator asked about legislation that help ensure employers not discriminate between men and women in the workplace. "And if people aren't getting paid equally for the equal work that they're doing, then yes, you might have to step up in a courtroom. But that's the right thing to do."
On the Affordable Care Act, MacArthur offered a robust argument against the law, supporting instead free market reforms as a fix to a costly health care system and insurance pools at the state level for those who can't find private coverage. Belgard, for her part, admitted that she's "had difficulties" with the system, but maintained the problems facing the legislation aren't beyond fixing.
The elderly crowd erupted in applause when MacArthur decried the system for gutting Medicare.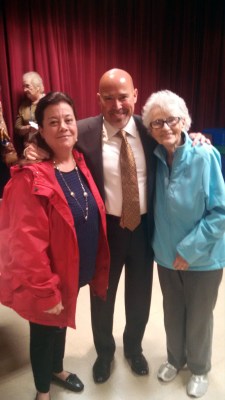 "It's a closed system — doctors and patients and hospitals. And when you pull $700 billion dollars out of that, it will absolutely affect the quality of care that you're receiving. It has to," he said. "You can't take $700 billion away from anyone involved in that and think it's not going to affect your life. Of course it will."
Prompted with a foreign policy question, both candidates found themselves taking a measured approach to foreign aid and support.
"We obviously have an interest sometimes in aiding other countries, but I think sometimes we aid the wrong countries," MacArthur said. "We are support adversaries in a lot of ways, sometimes by investing, sometimes by buying oil from countries that are adversaries or potential adversaries. And I think we have to be very careful in our spending choices."
Perhaps the most heated give-and-take of the night came when Belgard, prompted again with the issue, failed to articulate her stance on in-state tuition for undocumented students. It was the third time the Democrat ducked the question from MacArthur — the first and second time having taken place two weeks ago in Moorestown, when MacArthur's taunts were met with silence as Belgard refused twice to respond.
She did, however, elaborate somewhat tonight, asked by the moderator whether she supported legislation that would grant children of undocumented immigrants in-state tuition rates, as New Jersey has already done.
"Well obviously, in state tuition is an issue for the states to decide, and we're running for federal office," Belgard scoffed.
She then offered an explanation of her "tough but fair" stance on immigration problems at the national level — to which MacArthur responded with a scathing denunciation that had some in the room chuckling.
"These are real issues that whoever you send to congress will have to deal with," MacArthur said, beginning the same criticism he levied at the last debate. "As of last week the word immigration could not be found on Aimee Belgard's website. I did the search myself. What she just described — a tough but fair stance, paying back taxes, those are the points on my website, and they've been there since the primary."
On other issues, both seemed to be largely in sync — including on the need to increase jobs and grow the economy in the Burlington and Ocean County-constituted district, as well as find and secure funding and projects for the nearby McGuire-Dix-Lakehurst joint base, a 42,000-acre military complex and "great economic engine," according to Belgard.
Belgard and MacArthur are battling for the seat of outgoing U.S. Rep. Jon Runyan (R-3) in the district, which, with 133,000 seniors age 65 and older, boasts the largest senior population of New Jersey's 12 congressional districts.