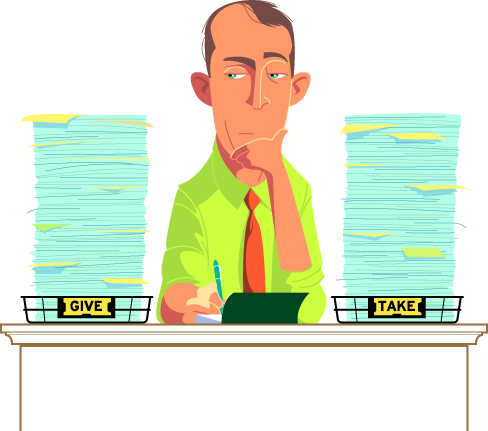 Remember how Moneyball turned the sports industry upside down?
Oakland Athletics manager Billy Beane famously identified and rewarded undervalued players using stats instead of subjective scouting reports and traded or cut underperformers. It's time to apply a similar strategy to your charitable giving.
Have you been writing checks to the same nonprofits year after year out of habit or just because they ask? Perhaps you've been subtly (or not so subtly) pressured by your boss who sits on the charity's board?
Time to get tough.
All donors should be interested in impact. In baseball, that means trading stars who may hit more homers and replacing them with little-known players who get on base more often, giving their team a better chance of winning.
Conversely, it means taking a pass on charities that don't meet your requirements, no matter how familiar the name might be.
Last year, Goodwill Industries of Greater New York and Northern New Jersey, for instance, had 24 executives with six-figure salaries. The organization's CEO, William Forrester, received a compensation package of more than $580,000. Meanwhile, the charity pays some of its disabled workers subminimum wage based on performance, which can mean they earn less than a dollar an hour. According to Goodwill NY's IRS filing, executive pay is based on a survey of what other charity executives' receive rather than performance.
Goodwill NY spokesperson Alfred Vanderbilt, defended the executives' pay: "To compare how someone who faces multiple severe disabilities is paid … and what Goodwill pays its senior executives—who run a $120,000,000 business in the toughest market in America … does a real disservice to both parties."
Several sites that offer information on charities also help donors pick winners. But some are of limited use. GuideStar.org offers easy access to thousands of nonprofits' IRS filings, but bestows a "Bronze Participant" seal to charities that simply provide basic identifying information such as an address.
CharityNavigator.org evaluates charities based on their financial efficiency, transparency and impact. But of the 627 New York City charities it rates, less than 1 percent receive its lowest rating.
CharityWatch.org features a tougher grading system. Of the approximately 600 nonprofits it evaluates, about 20 percent get an "F."
To sort through the thousands of local public charities, the Observer used a variety of metrics. We checked the New York attorney general's charities' website and consulted with philanthropic experts. Then we examined the charities' IRS filings, financial audits and websites. We looked at whether they repeatedly gave most of their donations to outside fund-raisers, who was on their board, how much executives were paid and whether they worked within their budget. Most importantly, we tried to assess if they were spending donors' money as promised.
While the following list is not comprehensive, we offer a dozen suggestions of local charities that are overrated or undervalued.
***
CUT
While this group may play off an All Star name—Society for Prevention of Cruelty to Animals (and should not be confused with the well regarded American Society for the Prevention of Cruelty to Animals)—scratch below the surface and you'll find a real dog.
According to its latest IRS filing, SPCA International is $9 million in debt to its fund-raiser, Quadriga Art. Strange for a charity that told the IRS its professional fund-raising fees were zero.
Since the charity was started in 2006, Quadriga has assumed the up-front costs of its direct mail campaign, but donations haven't kept up with Quadriga's expenses. Despite keeping 75 cents of every dollar donated to SPCA, the fund-raiser says it is owed millions more. Last summer, Quadriga was hit with a record $24 million settlement by New York's attorney general for running a similar fund-raising program with another charity client. Quadriga admitted no wrongdoing.
SPCA International's founder, Pierre Barnoti, previously had been head of the Canadian SPCA. When he was dismissed from that position in 2008 (a result he challenged in court), the charity told the Montreal Gazette that it was $3.5 million in debt to Quadriga.
CharityWatch gave SPCA International an "F," and the watchdog organization's president Daniel Borochoff suggests Quadriga's gambit only works if the number of donors keeps rising. "And they won't give more when they find out how little money goes to the purpose," he said.
In its latest IRS filing, SPCA International said of more than $7 million in cash raised, just $78,000 was sent to "needy shelters."
Mr. Barnoti, chairman of SPCA International, was not available for comment. But interim executive director Meredith Ayan said the Quadriga arrangement disappointed because it was launched just as the economy tanked and charitable donations declined. Ms. Ayan said 100 percent of all online donations go straight to programs, such as a grant that reunites soldiers with dogs and cats they left behind in Iraq and elsewhere.
Ms. Ayan, who took over in July, said the charity is on track to spend more on its mission this year and reduce its debt to Quadriga. "To just look at our debt doesn't show the complete picture of our organization," Ms. Ayan said.
REWARD
As its name suggests, this nonprofit places puppies in prisons where trained inmates teach them to be service dogs for disabled veterans or bomb-sniffers for law enforcement. After two and half years of training, the specially bred Labrador Retrievers can follow 90 commands, even dialing 911. Prisoner trainers then spend 16 days teaching the veterans how to handle their new companions before they are sent home. The program's benefits go beyond the veterans who get the dogs for free. Prisoners gain dog-training and communication skills. Four former inmates have been hired by the charity.
Gloria Gilbert Stoga, founder and president, earns about $200,000 a year and raised more than $2.6 million for her cause last year. She's also attracted some high-powered backers, including Anderson Cooper and Henry Kissinger.
CUT
Mary J. Blige Foundation for Advancement of Women Now
This nine-time Grammy winner's charity may seem like a hit. The record tells a different story. According to its financial filings, the charity has run in the red since 2010.
Musicians at a benefit in 2011 had to take the charity to court to get paid. Scholarship recipients argued that they were short-changed.
Ms. Blige blamed the problems on people running the charity and vowed to set things straight. But the organization's IRS filings reveal that the board—Ms. Blige, her husband and two others—did not meet for at least two years in a row. Charity experts warn donors to be skeptical when public charity boards brim with family members. And regular meetings are not optional but mandatory. "It should be illegal for [boards] not to meet," said Doug White, director of the master's program in fund-raising management at Columbia University. "Boards … can't just skirt those responsibilities because it's inconvenient."
A new manager at Blige foundation argues it is turning around. Jennifer Rothenberg of Innovative Philanthropy said that since she took over management last year, the board has been meeting quarterly and the group now runs in the black. Ms. Rothenberg said since 2010, the charity has provided $500,000 in scholarships and $750,000 to a center that bears Blige's name at Westchester Jewish Community Services (WJCS) in Yonkers. Calls to WJCS were not returned. Its IRS 990 form does not mention a gift from the Blige foundation, though the organization is not required by law to identify its contributors.
REWARD
Keep a Child Alive aims the spotlight on its mission—helping families affected by HIV in Africa and India—not on its famous co-founder, Alicia Keys. And while Ms. Keys uses her star power to produce revenue-generating galas for the charity, she recruits professionals to run the programs. Chief executive Peter Twyman previously served as regional program director at Columbia University's school of public health where he oversaw HIV prevention initiatives in Africa. The charity's website is a model of transparency. Want to know how the organization spends its money? The latest IRS filings and financial audit are just a click away.
---

Several sites that offer information on charities also help donors pick winners. But some are of limited use.

---
Can't afford a $3,500 ticket to the star-studded Black Ball October 30 at the Hammerstein Ballroom, but still want to help? The organization's website offers plenty of ways for fans to contribute, from texting "ALIVE" to make a $5 contribution to donating air miles.
This charity's premise is simple: Providing people with housing ends homelessness. But earlier this month, Pathways was sued by five mentally ill clients and the Coalition for the Homeless, which claim that the nonprofit put its clients at risk of homelessness by failing to pay their rent. Pathways is supposed to pay private landlords for as many as 750 clients, using government grants and client funds.
According to the lawsuit, Pathways fell as much as two years behind in some payments, causing at least 200 pending eviction cases. Lucy Newman, one of the Legal Aid society lawyers representing the plaintiffs, said, "Pathways' job was providing housing and they failed at that horribly."
Ms. Newman said the state Office of Mental Health has canceled Pathways' contract and is transferring its clients to new service providers.
"We are working with the state to ensure a seamless transition for all consumers," a spokeswoman for Pathways said, "We believe the lawsuit is without merit. We will defend it vigorously."
A look at Pathways' latest IRS filing shows the group, which had a $1 million surplus in 2009, posted a $2.6 million deficit last year. Sam Tsemberis, who started the charity 22 years ago, has turned over the leadership to the former chief operating officer, Georgia Boothe, but he was still paid more than $280,000 in 2013. The filing says Mr. Tsemberis returned some of that in a $40,000 loan to the charity.
"You have to wonder who's making the decision about what [Mr. Tsemberis] is getting paid," said Daniel Borochoff, president of CharityWatch. "What kind of oversight does it have to allow it to get into such a deep deficit?"
REWARD
You want a return on your societal investment? Pledge $1 to St. John's Bread and Life, then watch 82 cents spent on food and programs. For nearly a decade, affordable housing advocate Anthony Butler has been in charge of the $3 million operation, which includes the largest soup kitchen in Bedford-Stuyvesant. He not only knows the names of the clients who walk in the door, Mr. Butler can tell you the last time the chef bought a spatula. It's all about controlling expenses, says Mr. Butler. He earns about $100,000 a year, at the low-end of nonprofit executive pay in the New York area. Entry-level employees, meanwhile, start at $13 an hour. Bread and Life has attracted some savvy donors, including Paul Tudor Jones II's Robin Hood Foundation.
CUT
Children's Leukemia Research Association
Of every dollar the Children's Leukemia Research Association (CLRA) in Garden City, N.Y., raised over the last decade, it allowed its telemarketers to keep an average of 70 cents. You would think after nearly 50 years in business this group would have found a more efficient way to raise money than dialing for dollars. But Allan Weinberg, who runs the charity from his waterfront condo in North Palm Beach, has said that a telemarketer on occasion hits the jackpot by contacting someone who wills the charity a major gift. Nearly $1 million of the charity's $1.4 million revenue last year came through bequests.
Roger Craver, a professional fund-raiser, said the right way to get bequests is to build up a relationship with donors, assuring them their work can go on after their life ends.
"If this charity is using telemarketers to get bequests, they might as well be playing the lottery," said Mr. Craver.
Last year, Children's Leukemia Research Association reported giving about $250,000 to researchers and patients, the biggest amount ever. But if donors want to know the details of the gifts, they'll have to hunt. The charity's website has no link to IRS filings or financial audits, just photos of people holding big checks.
REWARD
Formed last year by the merger of two charities, this organization has experienced leaders, strong foundation backers and cost-efficient health programs. Of about $11 million it spent on services last year, more than 40 percent was spent on HIV and hepatitis C prevention. BOOM!Health has big expansion plans, including a planned cafe, kitchen and wellness center for women, youth and the LGBT community in the Bronx. The charity's website makes it easy to donate by showing how far the dollars will go. Click on $25 and you've given one of the group's 8,000 clients a hygiene kit and toiletries for five weeks. Give $500 and you've paid drug co-pays for a Hepatitis C patient for nine months.
CUT
American Foundation for Disabled Children
Beware of charities that change their name—latching onto emotionally powerful causes—just to attract new donors. This Staten Island nonprofit has been claiming for nearly 25 years that it helps disabled kids with camp scholarships and supplies. A couple years ago it also started soliciting as Children's Cancer Survivors Foundation. Donors who look at the charity's stats won't be fooled. It routinely lets telemarketers and direct mail fund-raisers keep as much as 90 percent of the donations. Its biggest program involves giving away donated clothing. In 2012, when the charity netted less than $200,000 from more than $2 million cash raised, there were no grants made to children. Instead, the three-member board approved a $100,000 loan to an unidentified party.
John Cryan, the organization's only paid employee, did not return a call for comment. In mid-October, a secretary at the organization told a reporter that the charity is in the process of dissolving because of the directors' health issues. And the organization's website no longer works. So if you get a solicitation in the mail from this charity, toss it.
REWARD
Volunteer teams canvas street corners and housing projects to recruit kids for All Stars Project's after-school programs. More than 19,000 people participated in its activities last year. Adult volunteers from major corporations like Ernst & Young and MetLife prepare the organization's students for employment, then place them in paid summer internships. Gabrielle Kurlander, All Stars' president and chief executive, was paid about $360,000 in salary and bonus last year, but consider this: Since she took over in 1990, the charity's budget has grown from $200,000 to nearly $9 million and All Stars' projects have opened in San Francisco, Chicago, Newark, Dallas and Bridgeport.
CUT
This Brooklyn charity wants the blind to know they aren't alone. It wants everybody else's cars. Brothers Steven and Shrage Toiv run Heritage for the Blind, which reported raising just over $4 million in 2012 through the sale of donated cars. More than $2.4 million was spent on print and radio ads for the car donation program, or, as its IRS filing calls it, "a vehicle recycling program to help the environment."
A spokesman for the organization said the ads also remind listeners to get a vision screening annually and publicize the warning signs of blindness, thus fulfilling the charity's mission of promoting "eye health awareness."
The charity also operates a hotline to help the blind get assistance from other sources. That line doubles as a call center for people who want to donate their cars.
In 2012, the Toiv brothers paid themselves $135,000 each and Shrage Toiv took a $15,000 loan from the nonprofit, a practice discouraged by watchdog groups.
The charity also awarded $110,000 to Jewish Heritage for the Blind, a nonprofit that distributes religious materials in large print format. It's run by a relative of the Toiv brothers. Since 2010, Heritage for the Blind has been disciplined by regulators in four states and paid total fines of $8,300 for failing to register before soliciting donations.
CharityWatch's Mr. Borochoff said people should kick the tires of organizations soliciting donations of cars. "A lot of people will donate their cars because they want the tax deduction and convenience and they don't pay much attention to where the money goes," he said. "You want to know what they did with the money they raised. They can have a great name, but very little gets done."
REWARD
Founded by its legendary namesake nearly a century ago, HKI spends more than 85 percent of its budget on prevention of blindness and malnutrition.
That means giving Vitamin A capsules to kids in developing countries at a cost of about $1 a day and training doctors to perform cataract surgery in countries where many people have no access to the inexpensive yet effective procedure.
And it means giving poor kids in the U.S. free eye exams and 19,000 free pairs of glasses to students last year.
Kathy Spahn, HKI's executive director, is paid $320,705 a year to oversee the nearly $60-million operation.
HKI admits that not all programs work as originally planned. A home garden program in Nepal fell short of its goals for improving children's health because it failed to address water and sanitation issues. Now similar programs do. "Our ability to learn from our experiences," Ms. Spahn said, "helps make our program development stronger and more effective in the long term."
***
Kris Hundley most recently worked as an investigative reporter at The Tampa Bay Times. There she created with Kendall Taggart of the Center for Investigative Reporting, an award-winning series on "America's Worst Charities."