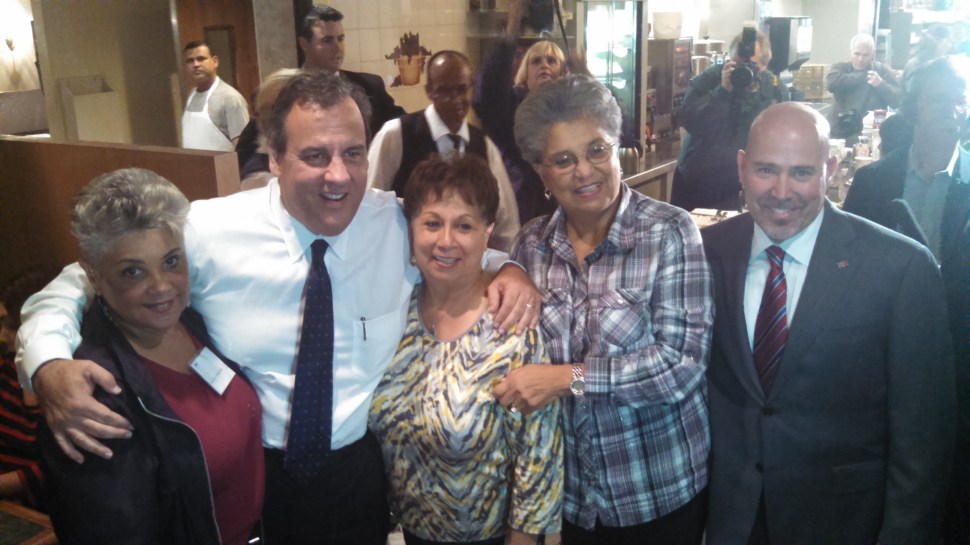 BORDENTOWN –  Gov. Chris Christie, appearing at a campaign stop with Republican congressional candidate Tom MacArthur in South Jersey this afternoon, was quickly bombarded with questions from reporters seeking to clarify recent comments he made at Tuesday's Chamber of Commerce event in Washington, D.C.
Christie, a potential 2016 Republican primary contender, has taken flak from media — and irked Democrats — over the past two days for parts of a speech he gave at the event, the Chamber's annual Legal Reform Summit, where he talked about his recent travels as head of the Republican Governor's Association. During his remarks there, Christie said Republicans need to win gubernatorial races this year so they're the ones controlling "voting mechanisms" going into the next presidential election — and later said he's "tired" of hearing about the minimum wage, arguing that President Barack Obama and national Democrats have targeted the issue only to turn out voters for the midterm election.
The first comment invariably lead to observers speculating as to whether Christie was indicating an openness to harsh new voters restrictions, as some national Republicans have advocated for in recent months, while the second had Democrats infuriated, prompting Labor Secretary Tom Perez to swat at the governor today for having "his head in the sand."
But asked today what he meant by Republicans controlling "voting mechanisms", Christie maintained that the comment had "no specific reference to voter ID laws."
"I was talking about Republican governors being in charge," Christie said after 15 minutes of a patron meet-and-greet here at the Mastoris Diner. "Voter ID laws are passed by legislatures. That's not at all what I was talking about. What I was talking about was, who's going to be in charge of the state when the votes are being counted."
"Who do you want to control the vote? Everybody read much too much into that comment. You know, who gets to appoint people, who gets to decide in part what the rules are. I'd much rather have Republican governors counting those votes," he said earlier.
He also reiterated his stance on the minimum wage, offering a position that varied little from the one he struck Tuesday — and blasting the president's "absolute myopic focus on this issue from an economic perspective."
"Again, I do not think parents in this country are sitting around their kitchen tables in this country saying to themselves, wouldn't it be better if the children could only make a higher minimum wage? I think parents have much greater aspirations for their children than that," Christie repeated.
Christie, who has opposed earlier legislation to raise the minimum wage in New Jersey, did a concede a $1 hike in November, when voters approved a constitutional amendment put on the ballot by the Democratic controlled Legislature over his own objections. On the national level, Obama has been calling on Congress to boost the federal minimum wage from $7.25 to $10.10.
"All the Democrats and the president want to talk about is minimum wage, and the reason they want to do that is because they have not had the kind of growth in this country that we should be having, in terms of wages and better jobs, and that's what parents really want for their children," he said. "People want greater opportunity in this country and better paying jobs, but the president wants to focus because he's a class warrior on the minimum wage. I don't believe that's where our focus should be. Our focus should be on creating better paying jobs."
MacArthur, for his part, said legislators must focusing on creating "real" employment opportunities that go beyond the minimum wage.
"That's what I'm focused on… creating opportunities in industries right here in Burlington and Ocean Counties," MacArthur told the room. A businessman from North Jersey, MacArthur is running against Burlington County Freeholder Aimee Belgard for outgoing U.S. Rep.'s Jon Runyan's seat (R-3) in New Jersey's third congressional district.
It was the second campaign stop for both MacArthur and Christie, who stumped for U.S. Senate candidate Jeff Bell in Morristown earlier this week.