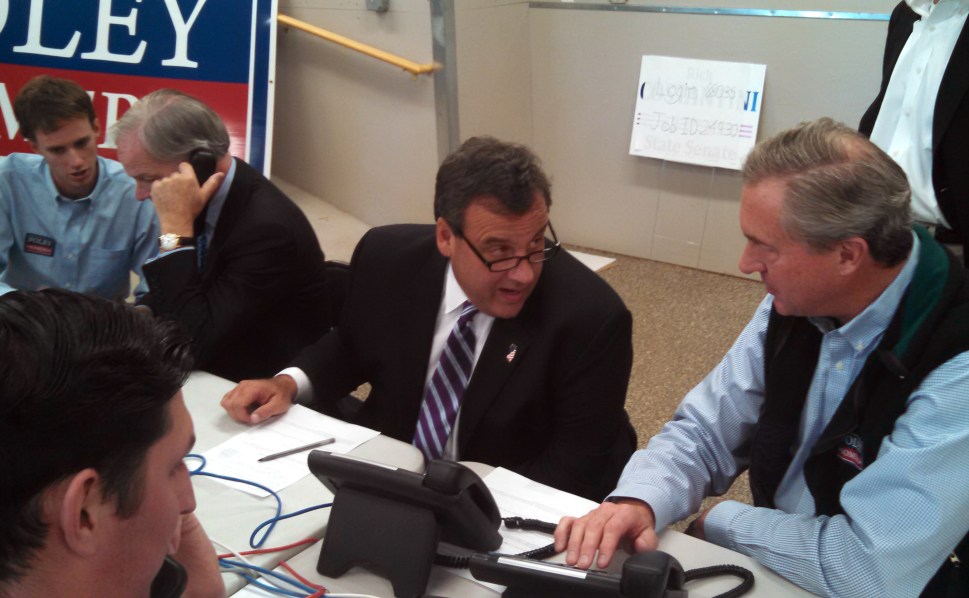 TRUMBULL, CT – Gov. Chris Christie bristled under the notion that his administration could have been implicated in allegations that the state violated its own pay-to-play laws by awarding lucrative pension fund management contracts to firms headed by top Republican political donors today, telling reporters at a press conference that any such accusations were "flat out factually incorrect."
"There's no appointed people in my administration that make those decisions," Christie responded when asked about the allegations, reiterating an earlier defense of his administration and brushing off the accusations as innaccurate. "Those decisions are all made by folks in the Department of Treasury who are career employees. And the appointed folks on the pension board, both Republicans and Democrats, don't make decisions about individual investments."
Stirred up earlier this summer with a series of reports by publications like Pando Daily and International Business Times, the controversy at issue centers on the investment of hundreds of millions of dollars of money from the state's pension and benefit fund with Wall Street firms and special hedge funds. Many of those firms are said to be headed by executives who donated to state and national Republican organizations that helped Christie get re-elected, including Charles Baker, an "executive in residence" at the venture capital firm General Catalyst who in 2011 donated $10,000 to the Republican State Committee.
The reports prompted the New Jersey State AFL-CIO to file a complaint with the State Ethics Commission calling for an investigation into the contracts — and specifically into Robert Grady, chair of the State Investment Council and a key Christie adviser who it alleges has "violated the Division's own rules barring politics in the selection and retention of such funds and investments, and has further created an appearance of impropriety." The AFL-CIO says fees paid to politically connected fund managers have more than tripled under Christie, to $398 million last year alone.
But Christie today scoffed at the accusations, arguing that his administration had nothing to do with the investment decisions. He also blasted the original reports on the subject — the first written by reporter David Sirota, who was fired from Pando Daily earlier this summer before joining IBT — as "more shoddy journalism from a fired former reporter who's now found a blog to take his garbage."
"So all of those are just factually incorrect," Christie said. "Nobody in my office had any input or discussion in any way with anybody from Treasury or the pension board for that matter about how we invest our pension funds."
He also said "nobody should be complaining" when it comes to the state's pension fund, lately burdened with millions in underfunded liabilities, given a high rate of anticipated returns– 7.9 percent — on the fund's investments.
"And over my fours years as governor we've made 12 million over the 7.9 percent," he added. "So the investments have gone very well."
Christie made his comments today during a campaign stop with Republican Tom Foley, who's running to unseat Connecticut's Democratic incumbent governor Dan Malloy in November's gubernatorial election.