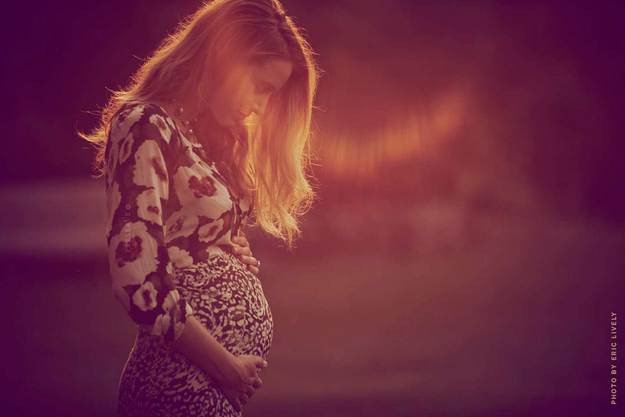 It was a battle of the two-percent-body-fat bumps this morning as flawless fashion specimens Coco Rocha and Blake Lively both announced their pregnancies using their respective online outlets.
Ms. Lively took to her new lifestyle site, Preserve, which has since crashed. There's actually no verbal confirmation of the pregnancy; instead, there's a tastefully filtered photo of Ms. Lively gazing downward toward her abdomen in a field. (If this is all a hoax, it wouldn't be the first we've seen of Ms. Lively's singular sense of "humor.")
There's also a lengthy meditation on what family means, penned by one of Ms. Lively's blogger minions:
With family on our mind, we looked to the origin of it all — to the women in our lives who are right there, at that special moment; at the creation of family.
Today we celebrate them. With food to fill their tummies (as if that needs more filling), presents to soothe their tired (and swollen) soles, toys to warm their baby's souls, projects to provoke them, and decorations to inspire creativity and merriment in all.
So apparently, family means buying stuff from a certain quirky lifestyle website.
Not to be outdone, the supermodel Ms. Rocha unleashed a head-scratcher of an announcement of her own on Instagram and Facebook:
It's a little too… anatomical. But then, so is pregnancy. Ms. Rocha's video is actually quite an apt metaphor for gestation, especially compared to Ms. Lively's paean to the material markers of a new baby.
In Ms. Rocha's version, you spend nine months swirling around in a nondescript room, thoughts vacillating from joy to confusion to abject terror, as scary baby music plays in the background and everyone stares at you. The camera zooms into your stomach. It is then that the true uncertainty takes hold. Deep, Coco!
So congratulations to Ms. Lively, Ms. Rocha and their respective husbands, Ryan Reynolds and James Conran. We expect gorgeous, floral-drenched maternity spreads in American Vogue for both fashionplates and their offspring this time next year.