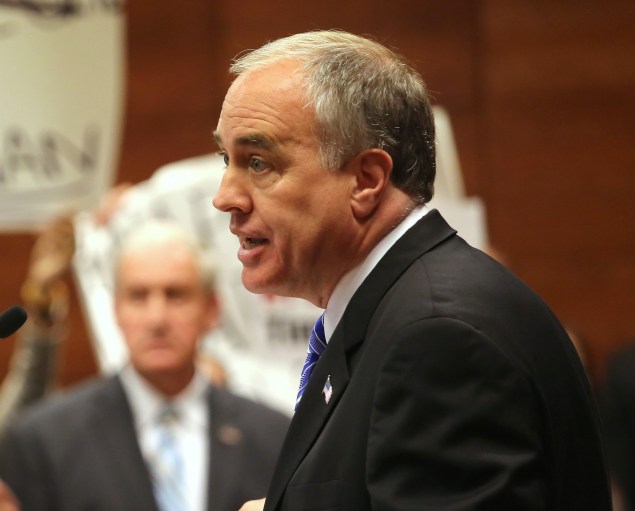 Of the three Democrats on the statewide ticket for re-election this year, Comptroller Thomas DiNapoli is enjoying the widest lead, according to a new Quinnipiac University Poll released today.
While Gov. Andrew Cuomo has little to worry about — he's got a 20-point lead overall against GOP challenger Westchester County Executive Rob Astorino, who more people deemed unfavorable than favorable — Mr. DiNapoli's lead is even wider than the governor's and that of Attorney General Eric Schneiderman.
"You can color New York Democratic blue and throw away the crayons,"  Maurice Carroll, assistant director of the Quinnipiac University Poll, said in a press release. "Attorney General Eric Schneiderman and State Comptroller Thomas DiNapoli both have solid leads.  Normally, the attorney general has a higher profile than the comptroller, but DiNapoli has the best lead of any of the three top Democrats.
Mr. DiNapoli is currently leading his Republican challenger Bob Antonacci by a margin of 56 percent to 28 percent — and enjoys nearly even support among men and women, according to the poll.
"Is that a reflection on him or on his Republican challenger, Bob Antonacci?" Mr. Carroll asked.
Of the three pols, Mr. Schneiderman has the smallest lead, but it's still in the double digits — he's up 46 percent to 34 percent over Republican challenger John Cahill. Despite a focus in his first term on issues like the housing crisis, Mr. Schneiderman has struggled with name recognition in earlier polls. In recent weeks he's been holding campaign rallies, and on Sunday stumped at a Brooklyn church with Mayor Bill de Blasio.
Mr. Cuomo's comfortable lead against Mr. Astorino — 51 percent to 31 percent — is buoyed by a 32-percentage-point lead among women in the state, according to the poll. The governor, along with his candidate for lieutenant, former Congresswoman Kathy Hochul, has launched a Women's Equality Party ballot line and has spent the weekend traveling around the state in a bus bearing the party's name, emphasizing his commitment to passing a 10-point Women's Equality Act in Albany.
"New York Gov. Andrew Cuomo got a head start on the Quinnipiac University poll with his weekend campaign bus ride touting women's issues," Mr. Carroll said. "A monster lead among women voters powers him past Westchester County Executive Rob Astorino."
Mr. Astorino, meanwhile, continues to struggle to define himself — at least in a positive way — to voters, according to the poll. More voters deem their opinion of him unfavorable than favorable, 29 percent to 27 percent. And another 43 percent said they don't know enough about him to form an opinion.
The poll was taken from October 1 through October 6, and has a margin of error of 2.9 percentage points.