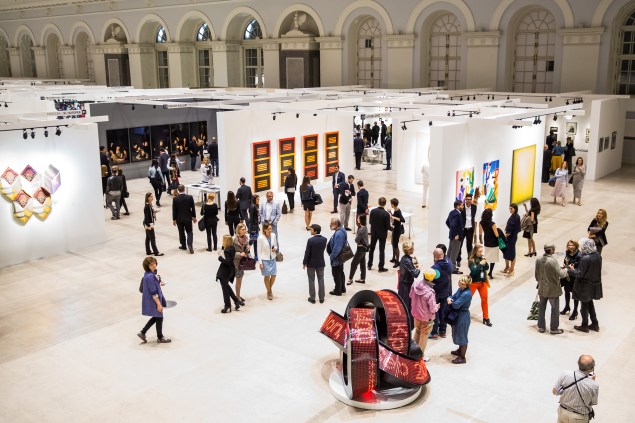 MOSCOW—It was well after midnight at a restaurant here dotted with little canopies and works by George Condo and Damien Hirst when a crew of waiters rolled out a giant cake in the shape of Russia. Everyone at the party, which was celebrating the opening of Cosmoscow, the country's largest—actually, due to recent events, the country's only—international Contemporary art fair, started slicing out regions off the motherland to devour. Natalia Vodianova, the supermodel and philanthropist who last month graced the cover of Vanity Fair, was fist pumping on the dance floor to "All About the Benjamins." "It's like Ibiza in here!" Ms. Vodianova yelled into my ear. 
At one point an older woman grabbed the microphone and started rambling in Russian. "That's my mother-in-law," said Andreas Rumbler, a chairman at Christie's and frequent gavel guy at the house's auctions in New York. By which he meant: she was the mother of his wife, Sandra Nedvetskaia, the former head of Christie's Russia and now the co-director of Cosmoscow.
She kept on going in Russian, so I asked Mr. Rumbler for a translation. He turned to me—Mr. Rumbler looks like a prince in an animated Disney movie, and speaks with a wonderfully blended Zurich-by-way-of-Eton accent—and said, so matter-of-fact, that she was talking about how Russia was going to take over the world.
"You look at these oligarch kids, and they get the best education—Yale, Cambridge—and they're not nerds," he said. "They work hard, they play hard. And then they go run Goldman Sachs."
Perhaps this is right, and perhaps Russia will take over the world. It's been two decades since Russia's slide into privatization created a slew of billionaires (there are currently 111) and such growth only increased in the Vladimir Putin era, even as accusations of fraud and more grisly forms of malfeasance followed. But regardless of where they got the funds, they are clearly spending it. For the past 10 years, as their wealth has increased, Russian billionaires have bought NBA teams, private jets, the world's biggest yachts and some pretty pricey Picassos.
But something they don't really own is Contemporary art. And that's about to change.
***
In the few days that I was back in the U.S.S.R. (well, fine, it was my first trip) I saw a series of exhibitions and events that point to something big happening. It appears the country is on the verge of an art renaissance, that it could be an international destination for major curators and collectors, an incubator for the next crop of the market's biggest artists—and all this, surprisingly, despite what's still a fairly restrictive political environment.
Remember, this is Moscow. It's not like other worldly, cosmopolitan cities. Every morning I ate breakfast (caviar, blini, smoked sturgeon) staring out at the boxy outline of the Kremlin, where unknowable, horrifying secrets are locked up. The presence of Mr. Putin haunts the place, and whenever he's in town, a flag flies above his office and helicopters (Mr. Putin doesn't do cars) zip through the sky. The neutered print press run meaningless stories about light bulbs on the front page. Don't even think of discussing the invasion of Ukraine without getting blank stares. Why complain when nothing will happen—or, really, if something may happen, to you, for complaining. Voices drop when people talk about the past. And everywhere on the streets people seem ultra tense, as if they could be jailed for years for jaywalking. Just strolling freely through the Red Square gave me a giddy thrill, as if I were there in secret, as if I were working reconnaissance for Moscow's most notorious new resident, Edward Snowden. (I did try to arrange a visit with Comrade Snowden through a friend who works with him, but no dice.)
But Russia's past aside—or rather, Russia's past obliterated—the generation raised post-Perestroika is in a position to foster a varied, exciting and explosive art world. There's already evidence that Moscow is starting to embrace the daring Contemporary art that's featured in fairs around the rest of the world. The Moscow Biennale of Contemporary Art, for example, began in 2005 and has flourished since, last year occurring at the same time as the country's first John Baldessari show, "1+1=1", at the Garage Museum of Contemporary Art. It was co-curated by Garage's Kate Fowle alongside Hans Ulrich Obrist, that reliably peppy globetrotting emissary of the new. Red October is a multi-level compound in a reclaimed chocolate factory—which sounds exactly like something that would open in Brooklyn, right?—with a spiffy-looking art book store, an hip ex-pat bar and the Lumiere Brothers Center for Photography. Similar installations and gallery spaces are popping up in St. Petersburg and elsewhere. It's not all about aesthetics, of course. ArtTactic, a Paris art-market analysis firm earlier this year noted slyly in a report that there are "advantages" to art as a "tangible and moveable asset " for Russian collectors. But, regardless of the reasons, "the Contemporary art scene is exploding in Russia," noted the BBC earlier this year.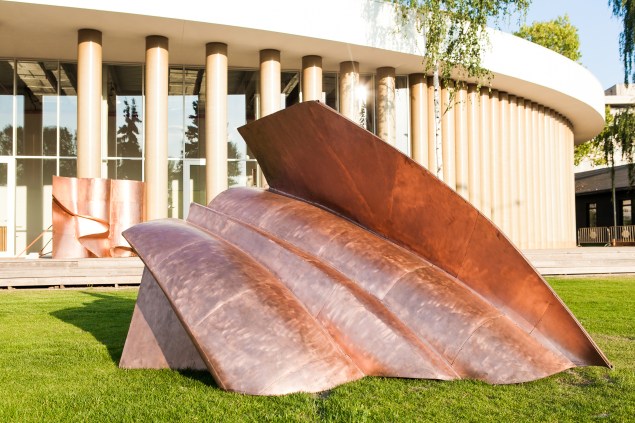 And speaking of Garage: it's the Gorky Park institution that's gained world renown due to its wide-ranging exhibition program and, in some part, due to its founder, Dasha Zhukova. She goes out with one of those aforementioned oligarchs, Roman Abramovich, who has purchased a $900 million soccer team, a $400 million yacht, and a $90 million Francis Bacon. The show up at Garage, "The New International," was a wonderful reflection on work of border-crossing artists of the 1990s, featuring work by Shirin Neshat, Felix Gonzalez-Torres and Dahn Vō. Though forward thinking and fiercely independent, even Garage can chafe with the brutal culture.
"There was a discussion of Ukraine but they cancelled it because it wasn't good timing after 100 people were killed," said Anton Belov, the director, while I was standing in the library looking at models of the new space for the museum, which is designed by Rem Koolhaas and set to open in spring 2015.
Yet there is hope to show progressive, dangerous art in a country where displaying a picture of two men kissing will earn you a hefty fine and Pussy Riot members are jailed. "We have a gay artist, we had a Marina Abramovic show here with naked people, and we never had a problem," Mr. Belov said. "Like, there's problems in Russia, of course, but we don't have problems."
***
The current Moscow can't help but be mired in this ugly past, and from out of that history comes Cosmoscow, the fair that held its inaugural edition in 2010. It took four years to find a suitable location for its second appearance, and in that time the only other major fair in Russia, Art Moscow, collapsed under financial straits.
Cosmoscow looks like it will avoid that fate. While many of the galleries are from Moscow and St. Petersburg, nearly half are from Western Europe and, in the case of Michael Werner Gallery, from New York City. There's also a talks program that recruited Elena Soboleva, a specialist at fair partner Artsy, to come all the way from New York.
The fair's Collector's Lounge is a fast snapshot of what's going on in Russia, the seismic shift. There's a Cecily Brown and a Christopher Wool from 2003 on view—both of which were bought by their current owners on the primary market. And there's a series of Christopher Williams photographs, and an Urs Fischer installation. Who are these forward-thinking collectors? There's Konstantin Grigorishin, a metals billionaire, Dmitry Kostygin, an online retail billionaire, and a slew of other bigwigs.
The leadership behind Cosmoscow—along with Ms. Nedvetskaia, there's the fair's founder Margarita Pushkina, who at her most excited resembles a spunky heroine from a children's book come to life—is just acting on that interest. Ms. Pushkina said: "I've been living with Contemporary art for all my life, and we think we need a platform in Russia."
Another local cheerleader, Olga Vashchilina, chimed in to explain that Cosmoscow is capitalizing on the shift in taste that's happened in the past decade: collectors who had been snapping up Fabergé object after Fabergé object have been converting to the church of Contemporary art. Of course, as a fair organizer, she has every reason to believe in this new religion. But whereas in the past a big collector would hang some big and obvious Impressionist stalwart in the dining room, she said, they're embracing button-pushing artists—and they want the younger generations, the ones who will get sent off the Cambridge and Yale, to embrace them as well.
"They want to educate their children about these types of works, so they place them in prominent places around the house," Ms. Vashchilina said. "They love it, and they treat it like babies. They tell me 'I don't want breakfast without my Cecily Brown.' "
The dealers seem to see the change as well. A representative at Galeria Javier Lopez told me they had a collector in mind when they brought the Alex Katz works that populated their booth (The works saw shoppers, but no buyers). And the new interest in the Contemporary is the reason the Michael Werner Gallery decided to trek out to Russia: a Werner staffer told us they had seen Ms. Nedvetskaia at Art Basel and she convinced them that Moscow was ready to buy the more outré stuff. "We all wanted to come to Moscow—we have collectors here," said the dealer.
At Werner, a Moscow-based collector purchased Portmanteau, a work by Marcel Broodthaers from 1965, which also featured at its booth works by James Lee Byars and Sigmar Polke. The Broodthaers is a coat rack with an eggshell piece on top. A price was not discussed, but they did say the booth's tags capped at €3 million.
Russia's collectors are mostly male. "Ninety percent of collectors are men, and Russian men need to make the decisions themselves," said Ms. Vashchilina. "They don't want people telling them who to buy." This seemed to be the case once the fair opened to VIPs: there were hulking, menacing, unsmiling, extremely scary dudes who looked like they could crush, say, a tweed-wearing American reporter with a quick wrist flick. And with them were tiny uniformly elegant young women. Right on, Paul: those Moscow girls make me sing and shout.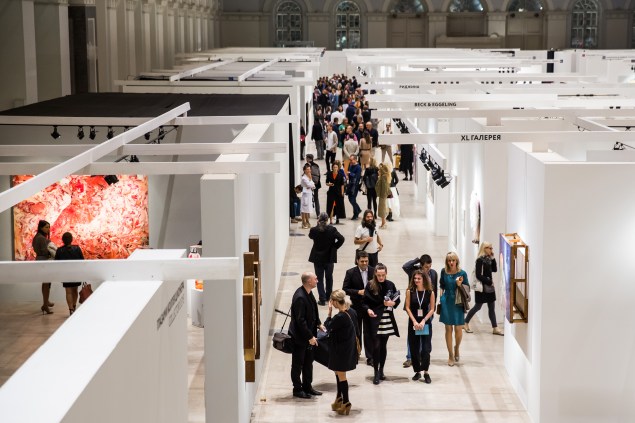 But were all these boys buying? "People take their time here," Ms. Nedvetskaia said. "It's not like in Basel, where everything is pre-sold." Indeed, the scattered sales indicated that the Russian collectors are just starting to come around.
The biggest hit of the fair was Triumph Gallery, which was founded in Moscow in 2006 and seemed to have the most rock star panache of any of the local galleries. A dealer there, Yana Smurova, told me that the large-format pieces in the gallery by The Recycle Group went very quickly. "We have a very loyal client," the very tall, very glam Ms. Smurova told us, coyly.
Then I looked at the works that sold. One is called They Killed Kenny, Stan, the other, They Killed Kenny, Cartman. They depict characters from "South Park" as little angels, iconography, done in the fashion of the Russian Orthodox Church.
***
Earlier in the week, Maria Baibakova invited me to her birthday party. She wrote an address into the notes app on my phone, and told me to trust her. I had every reason to: Ms. Baibakova is the founder of Moscow-based Baibakova Art Projects, the daughter of billionaire oligarch Oleg Baybakov, and a collector who buys John Baldessari and Tracey Emin and Richard Prince. Plus, the last time I went to one of Ms. Baibakova's parties, it was at a stately lodge in the middle of the Black Forest, in Germany, during Art Basel. That was pretty fun.
"Did you find it O.K.?" Ms. Baibakova asked me when I arrived. Not exactly. The given address brought me to a Chinese Food joint called Lucky Noodles, and not until spotting a series of back doors and black curtains did I find the low-ceilinged speakeasy that Ms. Baibakova's bash had taken over.
After acquiring a vodka, I split a smoke with Ms. Nedvetskaia and asked her if the fair had been a success. She gave an emphatic yes.
"The scene is still emerging, and what's more exciting then that?" she said.
Suddenly the music cut off, and again I saw men wheeling out a giant cake, this time for Ms. Baibakova, who looked at it and threw up her arms.
"It's Malevich!" she said.
Looking down I saw that the birthday cake was a meticulous replica of a Malevich's Suprematist Composition (blue rectangle over the red beam), the most expensive piece of Russia art in history. Triumphantly, everyone dug in.
Then I rode a horse home to the hotel, because that's a totally insane thing to do. Remember—this is Moscow. And what's more exciting than that?