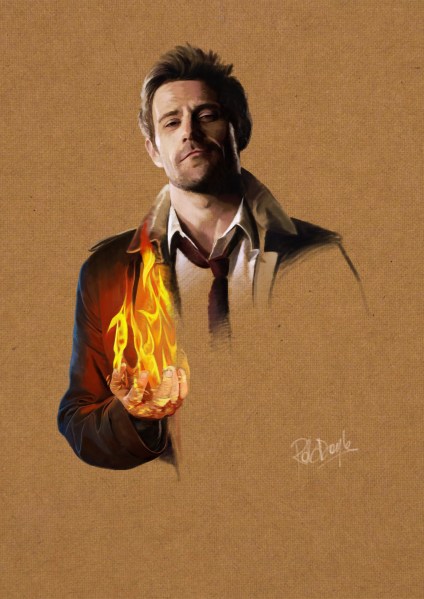 DC Comics' latest television incarnation Constantine premieres tonight on NBC, with the arduous task of taking over what I call the Hannibal slot – that Friday 10pm start time that's a full two hours outside "family hour," where the rules about cutting off parts of your own face and feeding it to people are slightly more lax. A character like John Constantine — essentially a horror character rooted in gross-out exorcisms and demons with violent tendencies — will feel right at home in the Hannibal slot.
In a phone conversation with Constantine executive producer and writer Daniel Cerone, I ask what lengths the writers room went to push the boundaries.
"Well, we're working right now on an upcoming story, and there's a pitch where there's a particular demonic force that makes you see things that aren't there,"  Mr. Cerone begins, clearly relishing the idea.
"And one of our writers came up with this sequence where there's this girl," he continues. "And she goes to the freezer, and gets like a popsicle or something, and she's licking it with her tongue and there's a certain trick of the light and she looks in the mirror and sees that actually she's licking the end of a knife, and her tongue has been split in half and she's bleeding all down her mouth. And you're like, 'Ahh!'"
Ahh, indeed.
But according to Mr. Cerone, Constantine won't be all tongue-slicing and demonic possession. Thanks to the beauty of a balanced writers room, there will be light checkered in with the dark.
"It's a situation where some writers are very, very, very aggressive," Mr. Cerone said. "And then other writers might be softer, and think more character and more humor than the other writer. So then the aggressive writer pitches in like 'how can we make the humor seem scarier?' Or more 'how can we boost up the terror element?' That's where it's been really nice to have a writers room in the first place."
Much of the pre-premiere controversy has been that the character of John Constantine wouldn't be controversial enough. The original comic book character, created in 1985 by revolutionary comics writer Alan Moore in Swamp Thing, was not the proto-typical good guy. He was a chainsmoker. He aged in real time as his own title, Hellblazer, continued throughout the years. He was promiscuous, and starting in Hellblazer #51 it was subtly noted that his promiscuity didn't only extend to women.
But die-hards took up arms when it was suggested that NBC's John Constantine wouldn't smoke OR be bi-sexual. Mr. Cerone and co-executive producer David S. Goyer addressed these concerns at the Television Critics Association's press tour. "He is a smoker in the show, we're not shying away from it, but we're not glorifying it," Mr. Goyer said.
"We're on network television, so we're limited to what we can do and what we can show. But within that framework we're going to be very honest to the character," Mr. Cerone added. "I believe Constantine has a very healthy sex life, we're not going to see that on TV either."
When talking to me about the mettle of John Constantine's character traits, Mr. Cerone put it in far blunter terms. "You know, [John] is a right bastard, is what he is," he told me. "I mean look, we are bound by the FCC and Broadcasting standards. But outside of that, he is the same character from the comics. Be it his dark view of the world, be it his promiscuity, his smoking, whatever, he's a very aggressive, in-your-face character that makes extremely difficult decisions, that isn't above sacrificing his closest friends."
While Mr. Cerone assured me that the often near-impossible to reach Alan Moore did not have input on the series (Mr. Cerone laughed and simply said "no" when I asked if the creator was involved), much of Constantine is culled directly from the source material. And there is no shortage of source material. Vertigo's Hellblazer ran unimpeded from 1987 to 2011, finally ending as DC's longest running series with Hellblazer #300.
"[The writers] are all vociferous readers of the comics. I mean we have almost three decades worth of material to work with," Mr. Cerone said. "DC's West Coast offices are literally a block away from us, and we were allowed to go and raid their shelves. And we came back with armloads of books, and we just read and read."
As to John's original home, I had to ask whether we'd ever see a small screen appearance of Swamp Thing himself any time soon. "Oh man, I don't want to mislead anybody down that path at all. There are no current plans for that," Mr. Cerone said quickly.
He laughed, and added, "I don't know, do you want to see Swamp Thing? I don't think I ever thought Swamp Thing would ever work on film at all until I saw, what was his name? In Guardians of Galaxy? Groot or whatever his name is?"
Dancing baby Swamp Thing…confirmed?