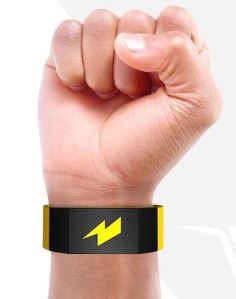 You've probably heard of Pavlok, the habit-changing device that literally shocks you into doing the things you're too lazy to do. Team Betabeat touted it as terrible, but that's only because going to the gym is the last thing we want to do after a long day of bringing readers the lowdown on high tech.
It turns out that a lot of people who are plagued by such laziness believe they found the answers to their problems in this wearable device. In fact, so many people want to turn their lives into a personal psychology experiment that Pavlok's Indiegogo campaign reached full funding within one day of its launch.
The campaign went live yesterday, and by this morning, the $50,000 goal had been met. It only took a few hours for the $99 early bird special to sell out, which brought in nearly $10,000 alone.
So what horrendous habits will all of these people change with their nifty new shock bracelets? In addition to shocking you into working out, Pavlok can also help you break your habits of biting your nails, wasting time online, hitting the snooze button and eating fast food. If you'd rather pick up positive practices, you could also use the device to encourage yourself to eat healthy, meditate, learn a new language or wake up early.
If you'd prefer to not be shocked like a dog chasing a squirrel out of the yard, you can also set the device to beep, vibrate, take your money or post to your Facebook account — it's your choice.
But no matter what you choose, Pavlik should put you on track to be a better you, even if it has to drain your bank account or literally torture you.