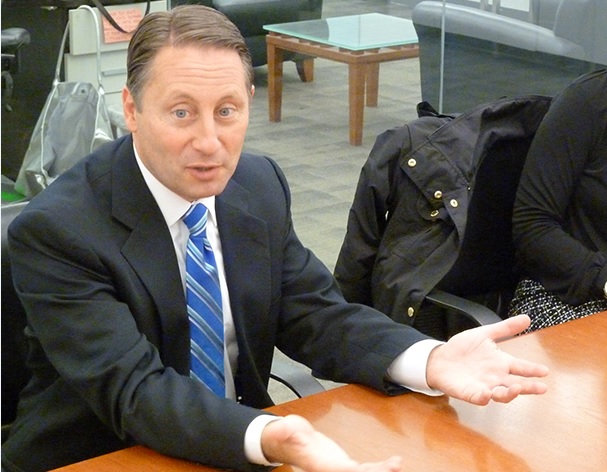 Gov. Andrew Cuomo and his Republican rival, Westchester County Executive Rob Astorino, clashed bitterly during what's likely to be their only televised debate–sidelining the two minor party candidates and refusing to stay on topic, battering each other over their respective federal legal problems, records on taxes and allegations of racial and gender prejudice.
The two tangled at the forum in Buffalo over United States Attorney Preet Bharara's investigation of Mr. Cuomo's abrupt disbandment of and alleged interference with the anti-corruption Moreland Commission, the Department of Housing and Urban Development's racial discrimination suit against Mr. Astorino for his efforts to prevent their alteration of zoning laws in Westchester and over who was the real tax cutter at the table. Both ignored Green Party candidate Howie Hawkins and Libertarian contender Michael McDermott, and moderators trying to keep them on topic.
Mr. Cuomo–who has largely ignored the badly-trailing Mr. Astorino on the campaign trail–came out swinging at his opponent in his opening statement, attacking him as a far-right sexist, racist xenophobe for his pro-life views, and for his conflicts with HUD.
"One of the viewpoints in this race is an ultra-conservative philosophy that attacks women, minorities and immigrants and I reject that," Mr. Cuomo said, while playing up job growth and tax reduction during his four years in office.
Mr. Astorino used his initial remarks to attack what he called Mr. Cuomo's "corruption," claimed the incumbent had increased taxes and created an inhospitable business environment and alleged the governor used his policies to reward his campaign backers.
"The privileged and the well-connected are doing very well under Andrew Cuomo's term, but the rest of us, not so much," said Mr. Astorino, doubling down on the attack moments later. "The governor gives out tax credits with a wink and a nod to corporate interests and developers and as a reward he gets big checks for his massive warchest."
Mr. Cuomo defended his record on reducing income and corporate taxes, while attacking Mr. Astorino for helming heavily-levied Westchester–a theme he returned to many times over the course of the evening, even when asked about different topics.
"You know what he got after five years, they are the number one taxed county in the United States of America," Mr. Cuomo said, repeatedly disputing Mr. Astorino's assertion that he had cut taxes in the county where both candidates live. "The taxes did not go down, it's the highest-taxed county in the country. You'll say it was the towns and the villages, bleh bleh bleh. It's a shell game."
The governor also attacked Mr. Astorino for fighting HUD's $20 million racial discrimination suit.
"The federal government is trying to enforce the civil rights laws, that says you can't discriminate against someone because of the color of his skin," said Mr. Cuomo. "It's a disgrace it's happening in this state."
The GOP challenger appeared prepared for the attack, and parried, pointing out that HUD sued the county during the administration of his Democratic predecessor–when Mr. Cuomo's top aide, Larry Schwartz, was deputy county executive and called the legal action a "garbage lawsuit." Mr. Astorino then accused the governor of trying to turn attention away from the criminal investigation into the Moreland Commission, which Mr. Schwartz reportedly pressured into not looking at groups tied to Mr. Cuomo.
"Don't listen to his nonsense. When he throws out the race nonsense, it's because he has no ideas," said Mr. Astorino. "They're trying to go after zoning and trying to equate it with racism."
"You are looking at a person who may be indicted after this Election Day comes and goes," Mr. Astorino continued, demanding the governor divulge details about the extent of the investigation. "There's only one person here who has a criminal defense team here, and it's not me. It's Andrew Cuomo. Once again, would you like to tell the people of New York if you've been subpoenaed and your staff has been subpoenaed?"
The governor would not answer the question. Mr. Cuomo argued that the Moreland Commission was nothing more than a way to pressure the State Senate and Assembly into passing a new campaign finance law–though many argue the new law is insufficient.
"I wanted the commission to get a law passed. That's why I impaneled it, I said to the legislature, when you pass the law the panel will go away," Mr. Cuomo said, noting Mr. Bharara had characterized some of Mr. Astorino's campaign trail claims about the case as "false and misleading."
"That's federal speech for 'you're lying," said Mr. Cuomo.
This may have been Mr. Astorino's only chance to directly engage the governor, as Mr. Cuomo would only agree to one televised debate and one on the radio, while Mr. Astorino insisted on multiple on-screen face-offs. As a result, their campaigns could only agree on one forum.