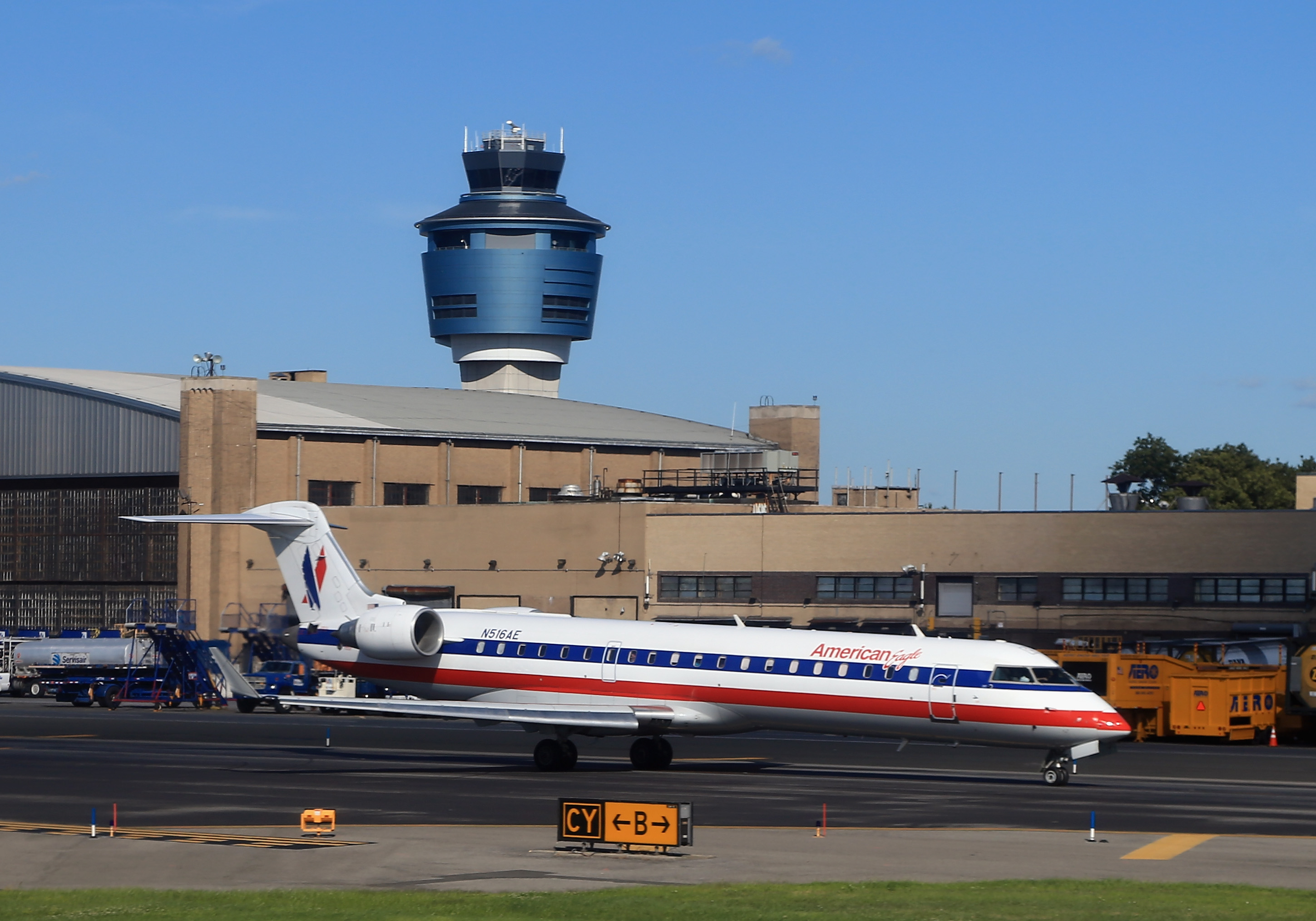 Appearing with Vice President Joseph Biden Jr. today, Gov. Andrew Cuomo vowed to dramatically reshape the city's two aging airports and turn two other little-known airports in major economic hubs.
The vice president and governor touted the value of infrastructure investment, with Mr. Biden providing the sweeping rhetoric and Mr. Cuomo the nuts-and-bolts of what could come to the airports: a Long Island Rail Road and ferry link to LaGuardia Airport, tax free zones at small airports in the city's suburbs and a speedier transit option for John F. Kennedy Airport on the southern tip of Queens.
"This is basically a no-brainer, I really mean it," Mr. Biden said, speaking at Vaughn College of Aeronautics and Technology, a small school footsteps from LaGuardia Airport. "Investing in infrastructure is all about jobs."
"The United States of America ranks 28th in the world among advanced nations in transportation infrastructure," Mr. Biden said at one point in a rambling speech where he also compared Mr. Cuomo to Abraham Lincoln. "It's ridiculous."
Mr. Cuomo appeared to delight in pointing out that Mr. Biden once compared the shabby LaGuardia to a "third world country." The Democratic governor, up for re-election in a couple of weeks, said he all but agreed, announcing that a design competition would be held to eventually overhaul the aging airport–competitions for all four airports, including Republic in Long Island and Stewart in the Hudson Valley, will begin in 30 days and last 60 days, Mr. Cuomo said. Three finalists will receive $500,000.
Mr. Cuomo was vague on details. Tax free zones, a favorite tool of Mr. Cuomo's, would be established at Stewart and Republic Airports to encourage business investment and take on some of the traffic that LaGuardia and JFK now absorb. He touted the idea of a rail link, with no apparent means of funding it, to LaGuardia, along with a ferry. He would also increase the speed and efficiency of transportation to JFK, now served by a rail link from an LIRR hub in Jamaica, Queens, and add food and retail options to the airport.
He did not tell reporters how the cash-strapped state, Port Authority or Metropolitan Transportation Authority would pay for these upgrades, but told reporters all options "were on the table," including new tolls on bridges.
"The front door for business and tourism are the airports," Mr. Cuomo told the audience before Mr. Biden spoke. "Airports themselves, let alone the front door, are a very big business."
He added, "Many people never leave the airport. We must modernize our airports if we want to keep our competitive advantage and grow."
There was plenty of chest thumping for the two prominent pols, who were also joined by Queens Congresswomen Grace Meng and Carolyn Maloney on stage. For Mr. Cuomo, it was about taking time to promote his work on making the construction of a new Tappan Zee Bridge a reality. Mr. Biden said he was optimistic that America, through lagging in infrastructure investment, could eventually outpace its competitors in China and the European Union–and overcome the partisan gridlock paralyzing Congress.
Like President Barack Obama in speeches this year, he tried to mix a degree of sunny optimism with the frustrating reality that many Republicans–and, according to polls, Americans–are souring on the president and his agenda.
"Folks, we are on the cusp of a gigantic new opportunity," Mr. Biden said, referring to the ability of America to funnel more money into job-creating infrastructure projects. "I have more certainty about the future of this country than I ever did in my entire life."