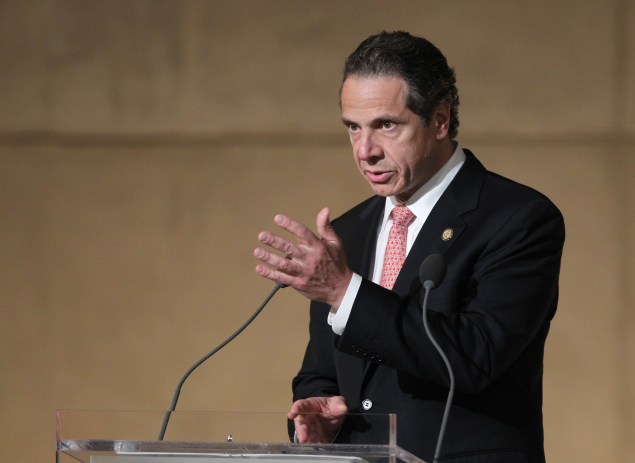 At a meeting or Baptist leaders in Harlem, Gov. Andrew Cuomo said he'd look to create a "faith-based office" in state government if re-elected to a second term in Albany.
"When you do community development, it's the same rule that you use when you're building this church: you build on rock. Well, in many places, the church, the ministry is the rock. Build on the rock," Mr. Cuomo told the crowd gathered at the Mt. Neboh Baptist Church for the United Missionary Baptist Association's convention.
Mr. Cuomo said he'd discussed the idea with Congressman Charles Rangel, who also attended the church service, and said the office would reach out to churches and other faith groups across the state.
While he offered few details during his remarks, Mr. Cuomo's campaign said an "Office of Faith-Based Services" would work with based-organizations to provide education, health, workforce trainings, and food programs and social services to communities in need.
The office would be part of the governor's new State Nonprofit Coordinating Unit, and would help connect faith-based groups with grant opportunities, to work with government agencies to get resources, and connect them with the Empire State Development Corporation to encourage the development of faith-based businesses.
The plans were met with applause from the black clergy gathered in the church, who had already cheered on Mr. Cuomo's promises to focus on social justice in his next term — saying anyone who believed the state had social justice now was living "in the state of denial, not in the state of New York."
"I want to run again. I want to get another four years and I want to develop a justice agenda that says we understand there's an injustice, we understand that government is a vehicle for justice, and we understand that government has an obligation to affirmatively attack the injustice," Mr. Cuomo said.
That agenda would include reforming what Mr. Cuomo said amounted to two schools systems in the state–one for the rich, and one for the poor. He said he's continue to support charter schools and would demand better of public schools, promising to evaluate teachers and schools and make bureaucracy work for students.
Mr. Cuomo also vowed to increase the percentage of state contracts awarded to women and minority-owned businesses, and to expand a program to subsidize firms that hire minority employees.
"We have too many young men on the street who can't find a job, who can't find a dream," Mr. Cuomo said. "I would rather subsidize their wages at a private company and get them training now, rather than see them get into trouble and wind up paying for a prison cell or something else," Mr. Cuomo said.
There was one catch to pursuing his agenda, Mr. Cuomo told the crowd, a little "technicality" — he'd need their help to win re-election in November.