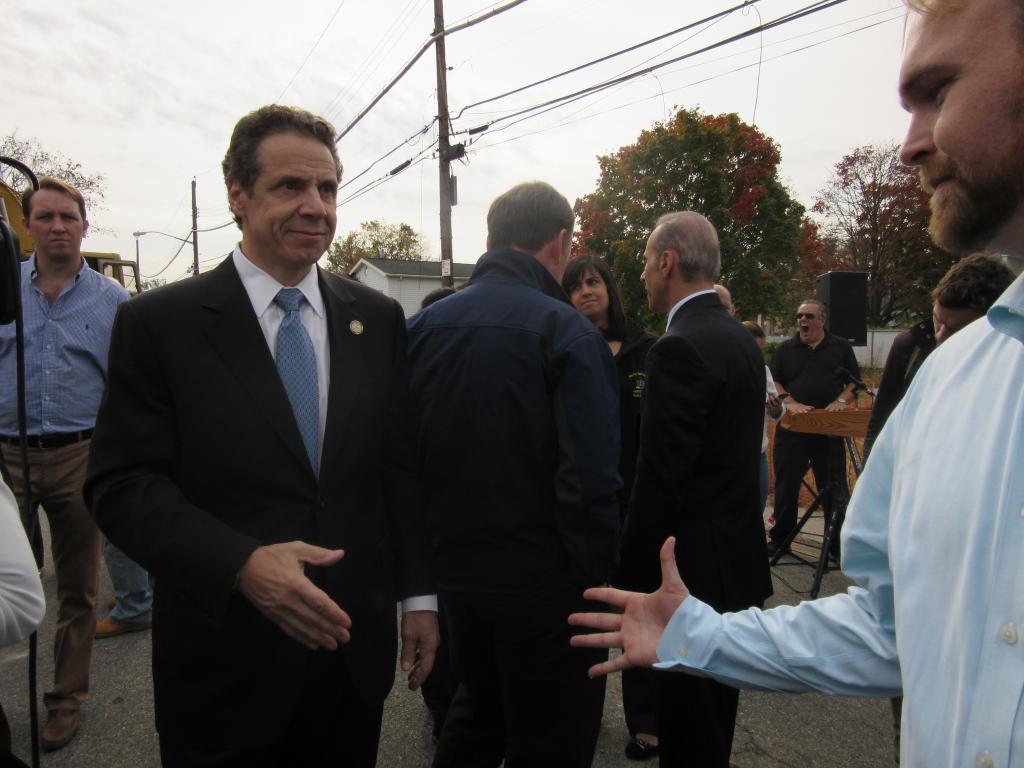 Gov. Andrew Cuomo seemed to belittle and mock the labor-backed Working Families Party in a radio interview this morning, while promoting his new Women's Equality Party.
Mr. Cuomo has long had a fractious relationship with the left-leaning WFP, which endorsed him for governor for a second time at its June convention only after he committed to campaigning to flip the State Senate into Democratic hands–a promise many feel Mr. Cuomo has not lived up to. The governor then filed petitions to create a new "Women's Equality Party," which many insiders view as an effort to siphon votes from the WFP in order to keep it from receiving the 50,000 votes it needs to maintain its ballot line.
Mr. Cuomo appeared to allude to the Working Families Party as a "fringe" organization on the Brian Lehrer Show this morning, and danced around saying its name. He also asserted that the Women's Equality Party is only an effort to pass the 10-point Women's Equality Agenda, a bundle of anti-harassment and anti-discrimination statutes that includes the right to an abortion–a sticking point for Senate Republicans–which the governor argued would be a feminist triumph.
"The Women's Equality Party, the Women's Equality Agenda, is something that is very important to me. I think it can be a national precedent. And it empowers women in a way that's never been done. It's almost amazing when you think about it. We've formed every kind of fringe party for every kind of reason. We have Democrat, Republican, Green, Red, White, Blue, Working People, Working Short People, Working Tall People," Mr. Cuomo said. "We've never had a women's party. This is the home of Seneca Falls! Let the women make their voice heard. And that's what the women's party is about."
Mr. Cuomo grudgingly acknowledged he was also running on the WFP line, naming last after the Democratic and Independence parties. He dismissed claims that the WEP would hurt the WFP both as "a really tortured analysis," and ultimately declared it irrelevant.
"To say to women in this state, you should consider organizing to make your voice heard, when the women just had their right to choose questioned–which is a fundamental right for women," he said. "To say to them you shouldn't organize to make your voice heard, so the legislature passes the Women's Equality Act for some tortured political analysis, I think misses the point. I'm here to make social change, I want to this Women's Equality Act, I want to help women, and I think organizing women helps to do that. There are Democratic women who vote on the Democratic line who can vote on the Women's Equality line, there are Republican women who can vote on the Women's Equality line. It's 50,000 votes that sets up a party, there's going to be over four million votes cast. But I would be less concerned, and I am less concerned with the internal political machinations of who has political power, and I'm more interested in social change."
Mr. Cuomo pitched voting on the WEP line as the best way to strike at Senate Republicans for not passing the entire Women's Equality Agenda.
"I want people to vote on the Women's Equality Party, that would be publicizing the Women's Equality Agenda, which is something that I want to get passed. I couldn't get it passed last year, and I'm looking to build support for that agenda," he said. "If the legislature wants to tell the women of this state to go to heck, I'm going to let the women of this state know that they were told to go to heck. And that's what the Working–the Women's Equality Party is all about."
The WFP would not directly address Mr. Cuomo's comment, but instead noted the number of prominent female leaders supporting the party.
"The WFP is proud to have progressive women leaders from Gloria Steinem and Congresswoman Nydia Velazquez to Cynthia Nixon, Public Advocate Tish James, and Council Speaker Melissa Mark-Viverito all urging women to join them in voting on the WFP line," said the party State Director Bill Lipton. "That's because Working Families Party has a track record of delivering for women and families — from choice and equal pay to raising wages, paid sick days, and universal pre-K."
During the Democratic primary, longshot challenger Zephyr Teachout–whom the WFP briefly entertained running against the governor–slammed the WEP as a "sham party," noting that 11 of the 17 candidates on the line are male. She also pointed to reports that Mr. Cuomo colluded with the Republicans and the breakaway Independent Democratic Conference to allow the GOP to continue to control the upper house of the state legislature–and thus block the Women's Equality Agenda from passing.