Andrew Cuomo deserves another term as governor of New York.
Despite a couple of blips, the most obvious being his mishandling of the Moreland Commission, Mr. Cuomo has shown leadership on a range of economic, political and cultural issues. New York led the way on marriage equality because of his leadership. The state finally took important steps toward desperately needed pension reform during his watch. And the state introduced a creative series of tax incentives to encourage economic development in struggling upstate New York with his encouragement.
Voters should give Mr. Cuomo four more years to extend his achievements, initiate meaningful political reform in Albany, and figure out a strategy to bring thousands of jobs to the old manufacturing cities north of Westchester County.
But Mr. Cuomo can make this kind of progress only if he focuses exclusively on matters close to home. That's another way of saying that Mr. Cuomo can't make decisions based on his presumed ambition one day to be president of the United States.
The region already has one governor who seems to be making policy decisions based not so much on the needs of his state but on the opinions of his party's voters in Iowa, New Hampshire and South Carolina. And perhaps not surprisingly, Chris Christie's approval ratings have slipped below 50 percent just two years after his popularity peaked in the aftermath of Superstorm Sandy.
If, as expected, Mr. Cuomo handily defeats his Republican rival, Westchester County Executive Rob Astorino, he inevitably will be mentioned as a possible candidate for the Democratic Party presidential nomination in 2016. (There's another New York Democrat whose name is mentioned occasionally in that conversation, in case you haven't heard.) But Mr. Cuomo cannot allow the siren call of national politics to govern his decisions. He'll have a vast reserve of political capital when his second term begins, and that capital should be expended on issues close to home. After all, there's no shortage of problems to solve, from school reform to economic development to the state's crumbling, outdated infrastructure.
A Record of Achievement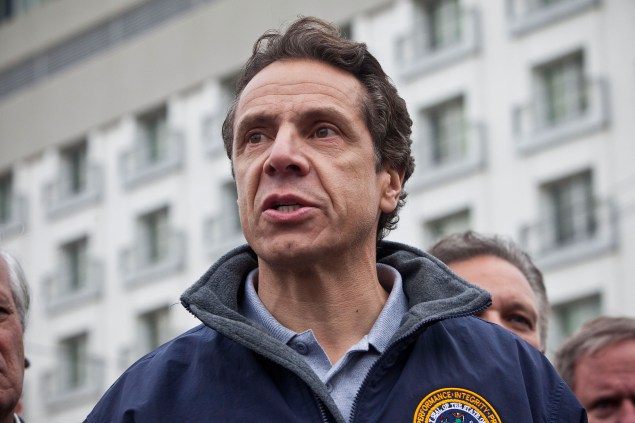 Upon taking over as the state's chief executive in 2011, Mr. Cuomo adopted Al Smith, the four-term governor and presidential candidate in 1928, as his role model. Smith, known for his progressive reforms as well as his administrative efficiency, often taunted opponents by telling voters, "let's look at the record." Inevitably, this inspection worked out in Smith's favor.
Likewise, Mr. Cuomo can point to his record over the last four years with confidence that voters will share his enthusiasm.
Under Mr. Cuomo's watch, the state has had a budget delivered on time and without major tax increases every year. That's a singular achievement on its own, since Albany was notoriously late in completing its budget year after year, leading municipalities to borrow money in place of late state funds. And credit Mr. Cuomo with resisting calls—loud, persistent and utterly wrong-headed calls—to raise taxes on wealthy New Yorkers. The Occupy movement may have been born in New York, but happily it made no impact on state fiscal policy.
Mr. Cuomo also sided with moderates in the State Senate, to the consternation of ideologues in his own party. It was with his cooperation that four moderate Democrats broke with their own party to combine with Republicans to control the State Senate. Mr. Cuomo came under attack from other Democrats, and he has since withdrawn his support for the Republican-moderate Democrat ruling coalition. But his willingness to put fiscal sanity and pragmatic problemsolving ahead of partisan gain was a sure sign of leadership.
The governor also took on the state's powerful public employee unions as he successfully pushed for pension reforms that will save local governments an estimated $80 billion over the next 30 years. New hires since 2012 have been required to pay 4, 5, or 6 percent of their pension contribution, depending on their salary range. That marked an increase from 3 percent, but if you consider this a modest achievement, you have never negotiated with New York's public employee unions.
As mentioned earlier, Mr. Cuomo did New York proud with his principled fight for marriage equality in New York. Getting that bill through the traditionally more-conservative State Senate required every ounce of political muscle and every bit of personal charm Mr. Cuomo possesses. And it worked. Can one person truly make a difference in politics? Mr. Cuomo's leadership on gay marriage shows that the answer is an unequivocal, "yes."
On economic development issues, Mr. Cuomo deserves credit for helping to guide the city back to recovery and—despite what you might hear from some quarters in City Hall—prosperity. The upstate economy, however, remains stagnant as the old manufacturing centers of Buffalo, Syracuse, Rochester and smaller cities continue to struggle to reimagine themselves for the 21st century. Mr. Cuomo's "START-UP NY" program, which offers 10-year tax exemptions to new businesses, was a creative response to the upstate dilemma. Mr. Cuomo has sought to link start-ups with the research and development facilities of the state's colleges and universities—a bright idea.
Suffice it to say that under Mr. Cuomo's watch, New York has been heading in the right direction, with the unemployment rate dropping from nearly 9 percent to today's 6.4 percent. Unlike some neighboring states, especially New Jersey, the state's finances are solid. In fact, Moody's and Standard & Poor's upgraded the state's credit rating earlier this year. New Jersey's credit rating, by contrast, has been downgraded eight times in the last five years.
A word here about Mr. Cuomo's opponent, Mr. Astorino. He is an honorable public servant who has run a quixotic campaign against a popular and well-funded incumbent. He has nothing to be ashamed of personally, but his party has allowed itself to slip into irrelevancy at the statewide level. That does nothing to help reinvigorate Albany's notoriously dysfunctional political culture.
The Next Four Years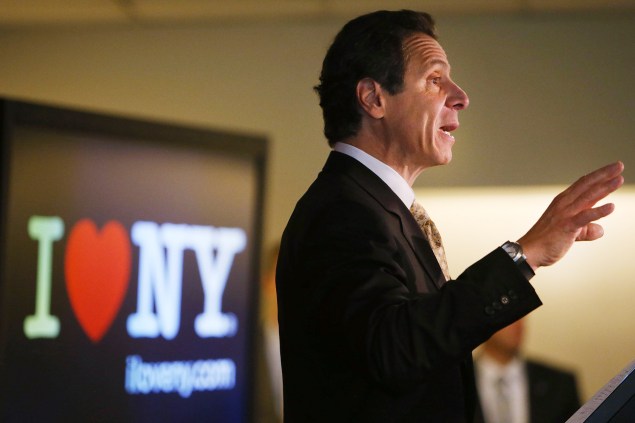 Mr. Cuomo campaigned as a reformer four years ago. It was a curious position, given that he has been a political insider since his father was elected governor in 1982. Nevertheless, he said all the right things about breaking Albany's cycle of corruption. Regrettably, his words were not followed by dramatic action.
In his second term, the governor will get another shot at fixing state politics. It will require the same kind of leadership and hands-on attention to detail that he showed in the gay marriage debate. He will also have to protect New Yorkers from legislators who take their cues from the state's politically potent public employee unions. The unions will be looking to raid the treasury in the coming years with demands for bigger pensions and other perks, and legislators from both parties will be more than happy to accommodate them. Mr. Cuomo has to make sure the state's interests are placed ahead of the unions' demands and the political interests of state lawmakers.
The next four years may see the completion of several key infrastructure improvements begun on Mr. Cuomo's watch, including replacements for the aging Tappan Zee and Goethals bridges. These projects are expensive but necessary. And the work can't stop with ribbon-cuttings in three or four years. From Buffalo to Binghamton, Syracuse to Staten Island, the infrastructure designed and built during Al Smith's time in office is showing its age. Smith and his protégé Robert Moses reimagined New York for a new century. Mr. Cuomo has the chance to do the same, although good luck finding a new Robert Moses.
It is no exaggeration to say that Andrew Cuomo knows state government better than anybody in Albany. For that reason, he is the best choice to lead the state over the next four years.