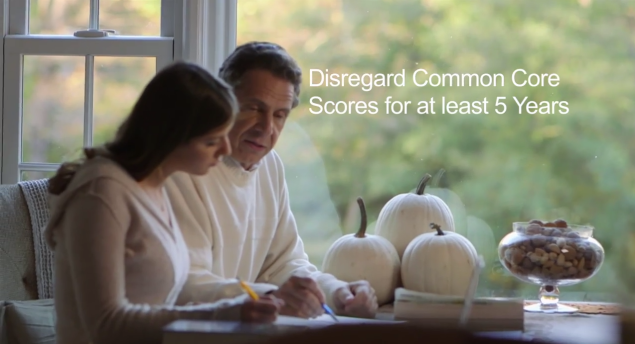 Gov. Andrew Cuomo touts his education agenda in a new television ad released today that shows him helping his daughter with homework and advocating a delay in using Common Core exams to measure students.
"Education is the gift we give our children, and they deserve the very best. Over the years, I've helped my kids by just being there," Mr. Cuomo says in a voiceover during the ad. "That's why I want real teacher and school evaluations; to stop over-testing our children; not to use Common Core scores for at least five years, and then only if our children are ready."
The ad shows Mr. Cuomo dressed in a white sweater and working with his daughter at a table beside a large window, decorated with three white pumpkins reminiscent of the "tablescapes" often suggested by his girlfriend, Sandra Lee, on her Food Network television show.
Mr. Cuomo's mention of Common Core — and delaying the use of exams based on the controversial curriculum to measure student progress — touches on an issue that has left many parents frustrated at their own kitchen tables during homework help time. Mr. Cuomo's GOP opponent, Westchester County Executive Rob Astorino, has sought to capitalize on parent anger about the curriculum, which is aimed at increasing college readiness, running on a "Stop Common Core" party line and calling for the rollback of the curriculum.
Mr. Cuomo's promise for "real teacher evaluations," meanwhile, comes after the governor said at a recent campaign appearance that the teacher evaluation system agreed to during his first term will need more work. The evaluations, based in large part of standardized tests, have been a particularly thorny issue in New York — especially in New York City, where the United Federation of Teachers and former Mayor Michael Bloomberg missed multiple deadlines set by Mr. Cuomo before finally ending a bitter and protracted fight with an agreement in 2013. Teachers unions have long resisted evaluations, particularly when they are based on students' performance on standardized tests.
Mr. Cuomo also pledged to invest $2 billion for new classroom technology in the new ad, and dropped a line that is likely designed to resonate with parents who are frustrated with their school systems: "And I still believe the best education equipment is the kitchen table, and the best teacher is the parent," Mr. Cuomo says.
The ad marks the second time Mr. Cuomo has featured his family in a TV spot — all three of his daughters and Ms. Lee were featured in a recent ad about the Women's Equality Act.
Watch the ad below:
[youtube=http://www.youtube.com/watch?v=gJarD8z323o&w=560&h=315]