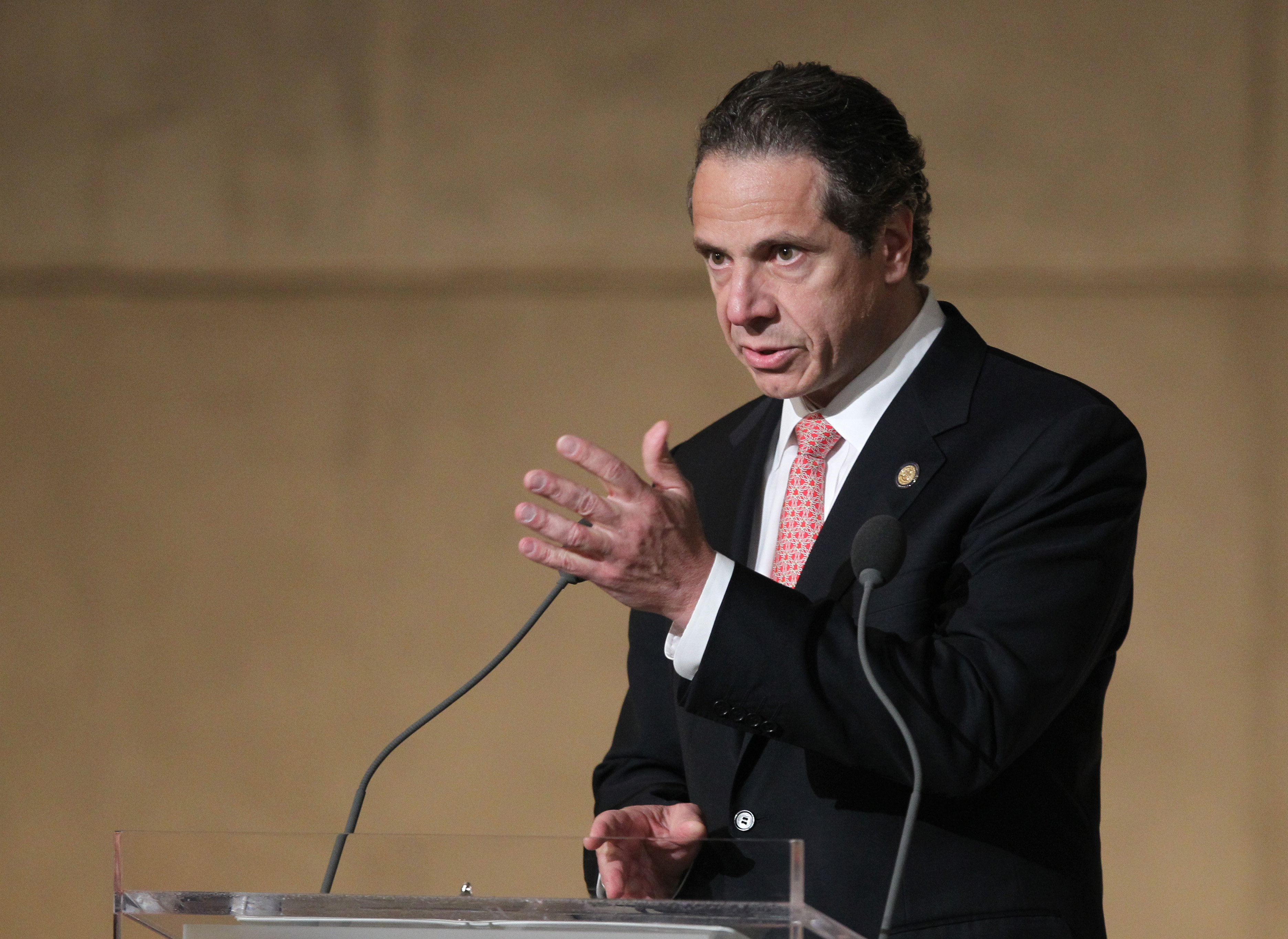 Gov. Andrew Cuomo took to the airwaves this morning on national and local morning shows to again urge calm after a man was hospitalized in Manhattan with the deadly Ebola virus.
"So far, so good," Mr. Cuomo told Fox 5's Good Day New York when asked for an update, "and everything's OK."
City officials revealed last night that Dr. Craig Spencer, who had been working with Doctors Without Borders in Ebola-ravage Guinea, tested positive for Ebola last night after being taken by ambulance from his West Harlem apartment to Bellevue Hospital Center on Manhattan's East Side.
Dr. Spencer went bowling at the Gutter in Williamsburg Wednesday night with his fiance and two friends — and took the A, 1, and L subway lines and an Uber car. But officials have strenuously cautioned the public that Dr. Spencer did not have a fever at that time, and while he was fatigued, showed no other symptoms. The virus is only contagious when someone is symptomatic; even then it can only be spread through contact with bodily fluids.
"As soon as he felt the fever coming on, he presented himself at Bellevue, and from there all the proper protocols were handled," Mr. Cuomo said on CBS This Morning.
The governor appeared on all three national network morning shows, as well as the local Fox show and on CNN. New York City Health Commissioner Dr. Mary Bassett appeared on MSNBC this morning.
Mr. Cuomo did offer some new infomation — Dr. Spencer's fever when he went to the hospital Thursday was 100.3 degrees, not the 103 degrees that has been reported.
But the morning show hosts pressed Mr. Cuomo on common fears of the public — including fears about why emergency responders wore Hazmat suits if the disease is hard to catch.
"I would rather err on the side of caution," Mr. Cuomo said. "I'd rather be over-prepared, over-deployed, and let them accuse me of having spent too much time preparing for what actually happened, than get caught short."
So far, the disease has only spread within the United States to healthcare workers, who are much more likely to be exposed to bodily fluids — two nurses in Dallas were infected while caring for a Liberian national who was diagnosed with the illness in Texas. While Mr. Duncan came into casual contact with dozens of people there, Mr. Cuomo noted, "the overwhelming majority of people never got ill."
On CBS, Mr. Cuomo told Charlie Rose he was more worried about the worry associated with Ebola's arrival in New York.
"It would be the anxiety if anything," Mr. Cuomo said.
Mr. Cuomo and Mayor Bill de Blasio both separately spoke to President Barack Obama by phone last night, according to the White House. Mr. Cuomo also noted this morning the CDC was on-site at Bellevue and healthcare workers there felt they had what they needed to remain safe.