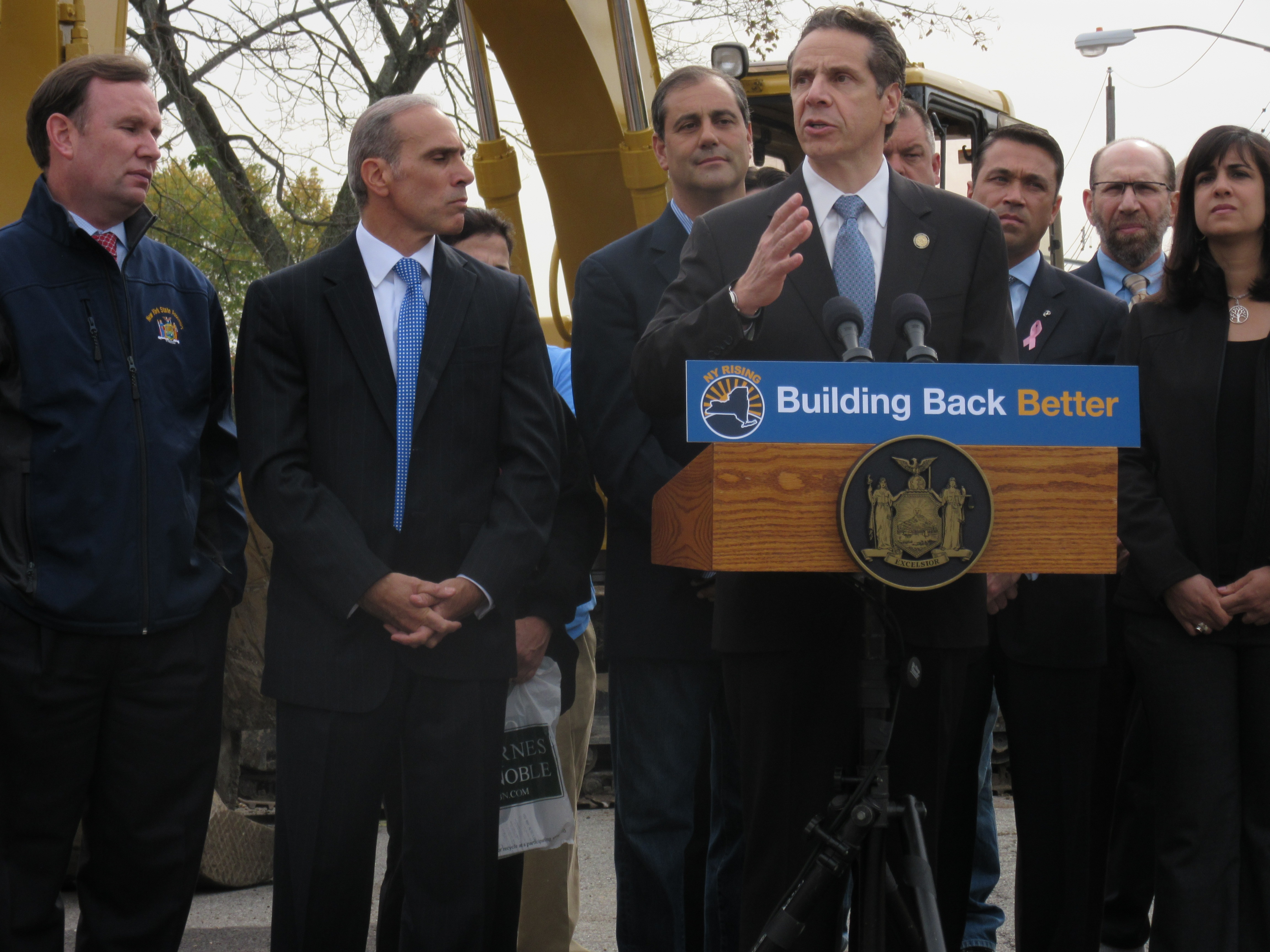 Gov. Andrew Cuomo today fended off claims that his quarantine on health workers returning from the Ebola battlefields of West Africa will deter future aid to the ravaged continent–and announced a proposal for a benefits package to encourage more volunteers to head to countries fighting the deadly disease.
Mr. Cuomo and his New Jersey counterpart Chris Christie have come under increasing fire from the Centers for Disease Control and Prevention, international medical organization Doctors Without Borders and even President Barack Obama for their policy of confining returning health professionals to their homes for 21 days, which the critics claim will dissuade specialists from traveling to assist in West Africa.
Mr. Cuomo, speaking at an event in Staten Island, noted that the Army was instituting even more restrictive measures on their personnel working in Ebola-infested regions, denying them even contact with their families–and promised New York would duplicate the military's policy of compensating overseas workers for their time.
"If [Mr. Obama]'s critical of the quarantine, then he has to be highly critical of the Army's policy," Mr. Cuomo told reporters today. "I agree with the president, whose point is, 'don't discourage medical workers.' And that's why we'll go the added step of actually putting together a package which I don't think any other state has done, and which I don't think the federal government has done."
Mr. Cuomo said he and his aides were meeting with hospitals and other medical organizations to hammer out a package that would guarantee doctors traveling to the nations of Guinea, Liberia, Sierra Leone and the Republic of the Ivory Coast–where Ebola has now killed thousands–a continued income, benefits and job security.
"I don't believe that there is a clash between getting doctors to go to West Africa and an effective quarantine. I don't believe one is the enemy of the other. I agree that we need to get doctors and nurses to go to West Africa. That's ground zero, that's where there's the war on the virus, we have to win the war there. I am actively working to encourage doctors to go," he said. "I'll pay and provide financial incentives. We're looking at putting together a package analogous to military reservists, who when they get called on duty, they still get pay, they still get benefits and they can't be hurt in their current job. We'll be very creative and very aggressive about doing that. We'll get healthcare people to West Africa and still protect the public health here. And I don't believe the quarantine of three weeks is going to make a significant difference, or is the enemy of getting volunteerism."'
Mr. Cuomo was hesitant to attack the CDC and its approach to Ebola, though, arguing that his and Mr. Christie's policies are designed for the more heavily urbanized northeast.
"Ours are what I regard as more protective than the CDC minimums, and I'm totally comfortable with that," Mr. Cuomo said, noting he had announced his initial response policies before the federal government announced its. "I think it fits for New York. You have to remember, the CDC is making a policy nationwide. I'm interested in the protection of New Yorkers. And, frankly, New York has different needs than some other states. And New York is different than Nebraska. And I don't mean anything pejorative about that, it's just different. It's geographically different. the density is different. So I don't know if one-size-fits-all works here."
Mr. Cuomo said the state would also work out a way to reimburse professionals for their time in the quarantine.
"We will pay you to stay at home for the 21 days, if you're not paid, but you have to stay at home," Mr. Cuomo said, noting that most of the doctors working overseas are emergency room employees. "We'll figure out a fair compensation rate. We'll sit down with them and talk it through and figure out a fair payment rate."